I recently visited Corsair's HQ in Fremont, California. Corsair is mostly famous for its memory, but since the company entered the power supply market, it has grown strong there as well. Since I am the power supply guy at AnandTech, I was mostly interested in that area, which is why I met up with George Makris and Robert Pearce. George is in charge of power supplies at Corsair together with the very talented Padma who has designed power supplies for over 20 years now. We visited the facility with its R&D department for power supplies and memory and their huge testing area where all of the memory gets sorted. There is also still a small production line in Fremont where we could see the production of some memory modules.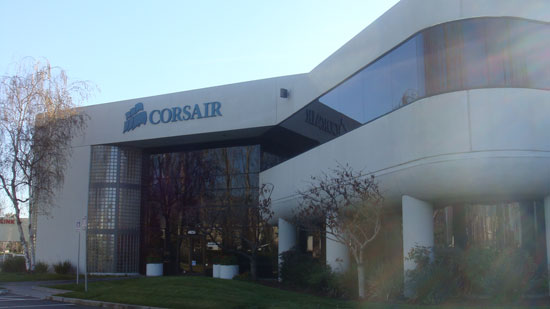 Corsair has some thermal chambers in a testing room that are used for systems and power supplies alike. There is a Chroma 8000 in that room too, which enables Corsair to rate their power supplies at 50°C as stated on most of their labels. There is a large R&D department as well. Here we found shiploads of the latest hardware, like i7 systems with endless amounts of the latest graphics cards. There are other new products as well that Corsair will be bringing to market very soon, but they've asked us not to show those right now.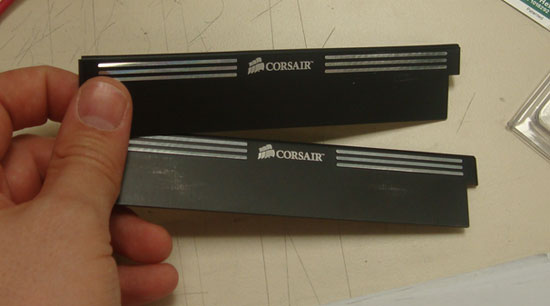 Corsair will be using these new heatspreaders for some of their upcoming memory modules.
Most of the production for computer components is done in Asia nowadays, and Corsair is no different. However, one difference is that according to Corsair, they are testing 100% of the first batches of power supplies rather than a smaller percentage. We also had a look at the old memory production facility, where today only one line survives to produce a very small amount of ram. To attach the heatspreaders to the memory, companies like Corsair make use of frames that can hold up to five memory modules. In this way they know all of the heatspreaders will always have the same position on the memory since the heatspreader is the only part that still needs manual work. The aluminum plate receives two lines of special glue that will melt under heat later once attached to the memory modules. Once the heatspreader is attached to the module it just receives a final sticker and it's done!