Prelude to a New Year-
There are numerous changes occurring around the lab in how we review product. Put simply, a return to the basics is the mantra for the motherboard team in 2009. We discussed some of these changes in our first X58 roundup. In fact, our first retail experience reviews will be published next week. As we discovered during the new review process, testing every single hardware or software feature on a board with several dozen top selling components in various combination's has proven to be a bit time consuming. But we think the efforts are worth it and will expand this type of testing as we progress through 2009. More on the details in a week or so.
In the meantime, we will also provide quarterly updates on some of the products we review during the year to see if the manufacturer has addressed any potential problems, improved performance/stability/compatibility, and customer service aspects related to the product. Our goal here is to provide an ownership experience summary and to see which suppliers just talk the talk or those willing to walk the walk when it comes to product support.
We sometimes forget one of the most important aspects when it comes to purchasing a product is customer service, technical support, and warranty procedures when that shiny new trinket arrives in the lab. Well, no more, and expect us to call out a few suppliers in the coming weeks when it comes to overall support of a product. I know of one that already has me mad as hell from a consumer viewpoint, but that is a discussion for another day.
EVGA X58 SLI - Return to Greatness
This is our third and final look at the EVGA X58 SLI motherboard. Put simply, in the first set of X58 boards that we received, this was the one board that intrigued us most. After a history of releasing motherboards based on NVIDIA chipsets only, this was their first Intel offering. Not only that, but a fairly new team was assembled to design and manufacture this board.
The board was raw when it first arrived in our labs but we recognized its potential right away. Unfortunately, it took some time before EVGA could address numerous problems with the BIOS and the new E-Leet software utility. We are happy to report that this board is in great shape now, although we still have a couple of problems with it. Problems that should be ironed out in the upcoming ultra-enthusiast based X58 Classified product.
Raja and I feel like we could disassemble and reassemble this board in our sleep after spending a thousand plus hours between the two of us testing it. The board feels like a fine pair of broken-in shoes to us now. We feel comfortable and self assured that this product will do what's asked of it and do it well. This is not say it is perfect, we still have a couple of annoying problems with it that keep it from receiving our highest honor.
Speaking of those problems, the first one is the S3 resume bug that occurs when the board is clocked with a high BCLK setting. While EVGA has worked on improving the resume features when the board is overclocked, it does not always work right. We have found with the latest BIOS that the board typically resumes from S3 state when the BCLK is kept below 166 or so, not always, but generally nine out of ten times in our testing. Anything higher and it is a crapshoot if the board will resume properly. This is a hardware limitation based on the Clock Generator utilized by EVGA.
Our second problem is that the BIOS recovery system does not always work when trying to recover from a failed overclock. This is frustrating at times but fortunately EVGA includes a couple of clear CMOS buttons if the board hard locks. Lastly, a more accurate report of real voltages; especially VTT/Uncore. Reading VTT voltage with a DMM from the measurement pad adjacent to the DIMM slots reveals a significant level of offset between the DMM and the values reported in the BIOS or E-Leet application.
If you stick to the formula of adding the BIOS set mv scale to a base value of 1.10V, it will get you closer to actual load voltages reported at the measuring pad (although the droop/offset will increase as you apply more voltage). We thought it important to highlight this as the Nehalem architecture is sensitive to the delta between VDIMM and VTT voltage, remember VTT must be kept within 0.5V of VDIMM. We also noticed thinner traces on the VTT line that can increase droop under load.
On average, our two boards had actual VTT readings about 0.10V under what was set in the BIOS. Also, VDimm tended to droop about 0.025V under load. Once we understood this, it was easy to get this board to clock as well as or better than the other X58 boards. In regards to the memory ratio problems we had in our roundup, those have been fixed and this board now offers BIOS features and memory performance comparable to the other X58 enthusiast level boards. With those gripes out of the way, the EVGA X58 SLI is pretty much as good as it gets for a first generation board built to support a new CPU architecture.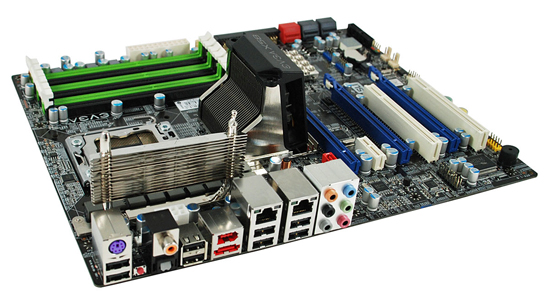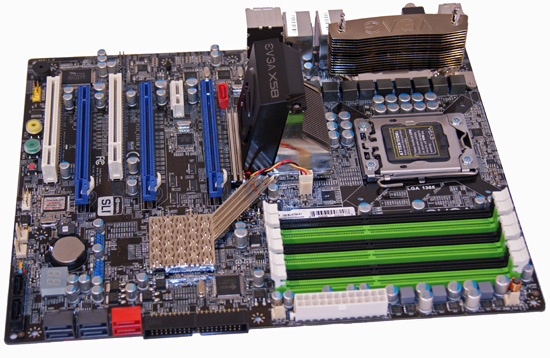 Award Time-
All that said, we are honored to present our Silver Editors Choice award to EVGA for the X58 SLI motherboard. We actually considered the Bronze award due to a few lingering problems discussed earlier. However, after some serious debates on the merits of our award level, it was an easy decision due to the fact that EVGA has some of the best technical support and customer service in the business. The quality of components, stability, compatibility, performance, software features, and overall value of the EVGA X58 SLI is simply outstanding. While these attributes are very important, ultimately we believe customer support now and in the future should be a major factor when purchasing a product. In this regard, you just will not find anyone better than EVGA.
Overall, the progress EVGA has made since our original review is incredible. While one could argue the board was released in a beta state, you would be right on that point, it takes a certain amount of determination and dedication to address the number of problems this board faced. We feel like at this time that EVGA has addressed those problems to the best of their ability considering the hardware components utilized. We still expect some fine tuning for memory performance and additional tweaks for S3 recovery, but the board is about as solid as it will get at this point. As it stands, the EVGA X58 SLI is a great board for the enthusiast and one we highly recommend now.