Remember the NVIDIA GeForce 9300/9400 launch a few weeks ago, yeah we forgot about it also, until NVIDIA called last week to remind us this product was no longer on life support. All joking aside, this product introduction turned out to be a paper launch for the most part with ASUS being the only partner that delivered boards into the retail channel, and barely at that. Over the course of the last week, supply is finally catching up to demand with a variety of boards being available through most channels now.
In the meantime, we had this small thing called the i7 launch and it has consumed us for the past few weeks, too much so to be honest. Instead of completing our IGP Chronicles Part 4 with a final look at the GF9300 and AMD 790GX product lines, we ended up waiting and waiting and waiting on the GF9300 product to show up for review. In hindsight, this was the wrong direction to take after it became obvious that the product was being delayed without "officially" being delayed. Apologies are in order for the wait, but fortunately we received our retail review samples from MSI, EVGA, and Gigabyte today. We should have the Zotac GF9300 here by Friday. Our i7/X58 motherboard coverage starts in a couple of days and with those boards tested and out of the way, we can get back to covering product that most of us afford.
We really liked the GF9300 in our launch coverage and considered it to be the ideal chipset for the HTPC and SOHO markets. We had a few problems (growing pains) with the chipset, BIOS, and drivers, but for the most part our concerns have been addressed with the latest driver and BIOS releases. We are still experiencing problems getting CAS4 stable but based on initial testing with the new boards today, it appears the product has matured quickly. This development, along with decent supply, has us strongly recommending the GF9300 product now.
Of course the question now is which motherboard to recommend. We still have significant testing to complete but the Gigabyte GA-E7AUM-DS2H has caught our eye in early testing.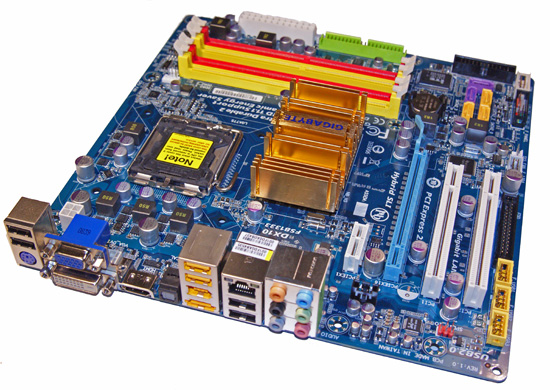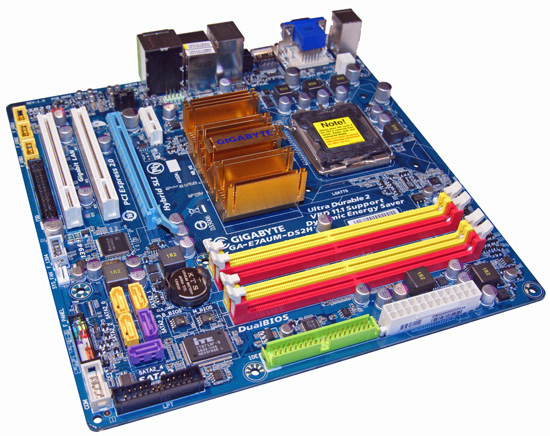 The GA-E7AUM-DS2H features the speedier GF9400 chipset, four DDR2 DIMM slots with 16GB support, Realtek RTL-8211CL Gigabit LAN, Realtek ALC 889a HD audio codec, 5 3Gb/s SATA ports and 1 3Gb/s eSATA port (RAID 0, 1, 0+1, 5, and JBOD), IEEE 1394a via a T.I. TSB43AB23 chipset, an x16 PCIe 2.0 slot, one x1 PCIe slot, and two PCI slots. Gigabyte covers most of the video standards with VGA, HDMI, and DVI-D outputs. All in all, a full featured uATX board that appears to also be a decent overclocker. Our E8400 has reached a stable 450FSB in early testing and the performance of this board is already at the top compared to other boards in this category.
That is it for now, we will be back as soon as possible to wrap up our IGP series. In case this makes any difference in your purchasing decision before Black Friday, we will be recommending the GA-E7AUM-DS2H in our upcoming buyer's guide.