We have been busily preparing an X58 motherboard roundup and overclocking guide that will be published shortly. During the course of testing over the past few weeks we have encountered more than our fair share of problems. Problems ranged from poor GPU driver support to BIOS releases that had difficulty booting 12GB memory configuration much less offering a decent performance or overclocking experience.
We are still not pleased with multi-GPU performance on the X58 platform and even less pleased that we do not expect to see several problems fixed until December. That is a story for another time, but had we known ahead of time the number of problems we would encounter, our graphics card of choice for motherboard testing would not have been from AMD.
As for the motherboards, well we are finally at the point with the latest BIOS releases that we would not hesitate to purchase an X58 platform now. Our latest BIOS releases from ASUS, MSI, Gigabyte, and Intel are finally up to speed, not that they are perfect, but certainly worthy of stable 24/7 operation. Memory compatibility and performance is greatly improved, on-board peripherals are working properly, and overclocking capabilities are up to speed now. We are utilizing the following BIOS spins for our two roundups, ASUS P6T-Deluxe (0901), ASUS Rampage II Extreme (0602), Intel DX58SO (2724), MSI Eclipse (1.121), and the Gigabyte GA-EX58-UD5 (F3D). One note of interest is that we had several problems with our Rampage II Extreme board in regards to memory compatibility and overclocking. The 0602 BIOS certainly improved the situation but ASUS has updated the board and retail units will incorporate the latest component updates.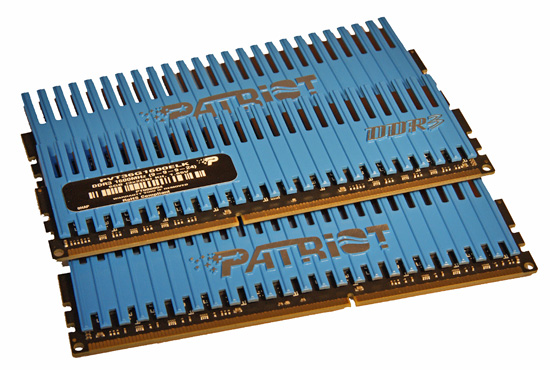 In the meantime, we have burned through our credit lines at Newegg purchasing various DDR3 memory kits that are specified for use with the X58 platform. Our latest purchase was 12GB of Patriot Memory PVT36G1600ELK featuring 9-9-9-24 timings at DDR3-1600 on 1.6V or so. Patriot also offers the PVT36G1600LLK kit that features timings of 8-8-8-24 at DDR3-1600 speeds on the same voltages along with additional overclocking headroom.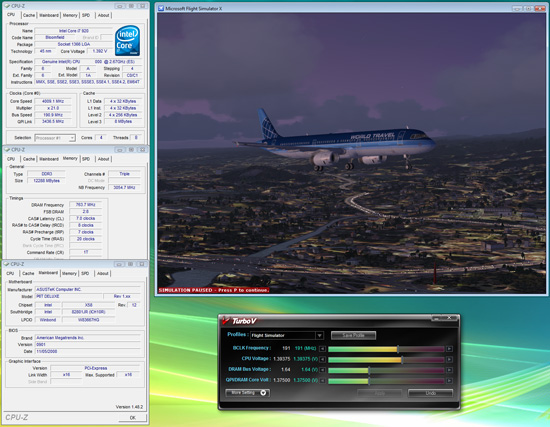 One of our new benchmark tests is Microsoft's Flight Simulator X with the Acceleration expansion pack. FSX is multi-core aware and the i7 is a perfect match for this normally CPU intensive game. Utilizing the ASUS P6T-Deluxe, i7 920, CoolIT System's Freezone Elite, Sapphire HD 4870, and 12GB of Patriot's latest memory we were able to push the system to a 24/7 benchmarking friendly 4009MHz (21x191) with memory speed at DDR3-1528 on 7-8-7-20 1N settings. Our settings consisted of 1.3975V VCore, 1.64V VDimm, and the secret sauce setting of QPI (VTT) voltage at 1.3750V. Our FSX settings were run at Ultra High with AA/AF/DX10 enabled in order to stress the CPU and GPU during the benchmark sessions.
Keeping VCore, VDimm, and VQPI in proper sync is the key to a stable overclock at voltages that will not shorten your processor's lifespan, well not by that much from what we can tell at this point. Intel's guidance continues to be not setting VCore past 1.55V, VDimm past 1.65V and VQPI (uncore to us) past 1.315V when overclocking. Kris will go over this in detail shortly, but in my experiences so far, getting these three voltages too far out of sync will quickly cause problems as one of our i965 processors can attest to now. Keeping them in sync and tweaking a few other settings will result in a finely tuned system that is capable of running settings higher than Intel's guidance although it is a warranty buster. At this point we like to keep VCore and VQPI (VTT) within 0.0250~0.0375V of each other as you clock up, generally speaking, once you exceed about 1.3V on VCore it is time to start syncing these settings and others in the BIOS.
For us, VQPI (VTT) is one of the most sensitive settings in the BIOS and one that will reward the user with higher bclk and mclk capabilities quicker than most other settings (except VCore/VDimm, although clock skews and amplitude are critical tuning settings also). When tweaking the BIOS, raising VQPI will generally allow memory speeds to either increase or memory timings to decrease without raising VDimm at certain gates. Depending on the memory utilized, you can even trade off higher VQPI for lower VDimm and improved timings, it's all a balancing act. In fact, our Corsair DDR3-1600 6GB kit is capable of running at DDR3-1066 on 5-5-5-15 timings with 1.58V VDimm and VQPI raised slightly to 1.2125V.
The same holds true for running VCore slightly lower when you are looking for the highest possible overclock without exceeding the capabilities of your cooling solution. While the cascade and LN2 users will see different results and can push settings a lot further, for those of us on air or water, these settings are critical to getting the most out of this platform in a 24/7 environment.
We will be back shortly with additional results. In the meantime, we had excellent results with our first X58 specific memory kits from Patriot Memory and the retail Core i7 920 that features unlocked memory multipliers.