While NVIDIA, ATI and manufacturers like EVGA offered proprietary software control of their graphics products over the years, manufacturer endorsed voltage adjustments have been missing for GPUs. In the past, third party programs like ATI Tool fulfilled this role for supported ATI cards, while NVIDIA users have been left to hard mod their cards with potentiometers or pencils or other things that go bump in the night – thus voiding the card's warranty. ASUS figured direct manipulation of GPU voltages would be a unique market opportunity for an ODM. So ASUS is introducing a new line of graphics cards featuring a new software tool; together these will be known as MATRIX. We think it will be a pleasant change to drop the need for two or three separate programs just to get granular level of control over a graphics card. We hope MATRIX offers just that when it is released this month.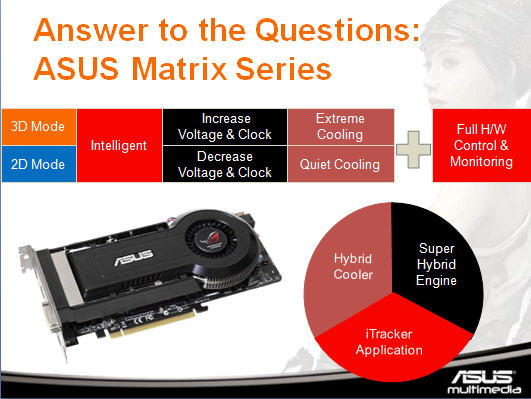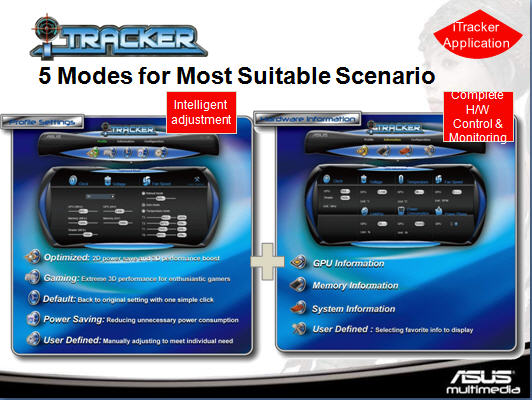 Like its peers, the MATRIX software utility allows adjustment of GPU, shader and memory clock speeds and also fan speed control profiles for specific scenarios. Although in this instance we see fan control being offered on a more comprehensive level.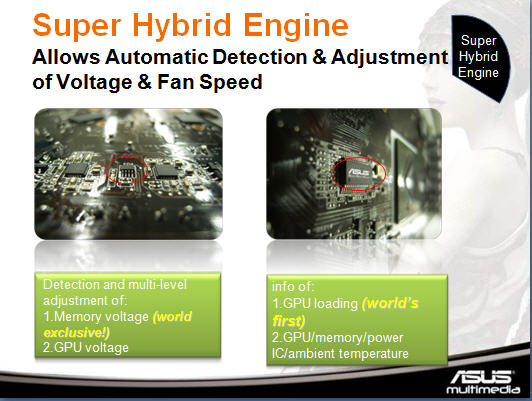 On the hardware side, MATRIX cards feature discrete controller ICs that can offer a very granular voltage adjustment scale with up to 80 programmable steps.
Naturally, the maximum level of voltage available is going to be limited by the capabilities of the pre-installed air-cooling system. It'd be foolish to allow a range that exceeds the potential of the supplied cooling system without some form of lock to prevent over-zealous users from succumbing to misadventure. Hence users with sub-zero cooling capabilities will still have to resort to hard voltage modifications to get their fix. It's no surprise that ASUS had to look beyond reference designs to provide sufficient cooling before even considering any kind of overvolting control.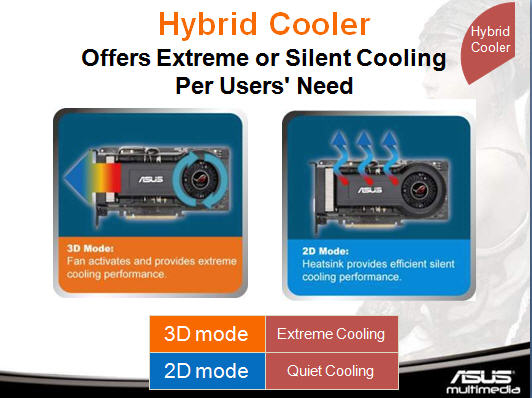 ASUS calls this the Hybrid cooler, the slides suggest a hefty enough heatsink that allows full fan redundancy in 2D mode (it'll obviously have a limit based upon ambient temps) while the fan can step-in and ramp up for demanding 3D situations. If ASUS can get the balance between temperature, performance, and noise right, a high performance uATX based gaming rig is not out of the question.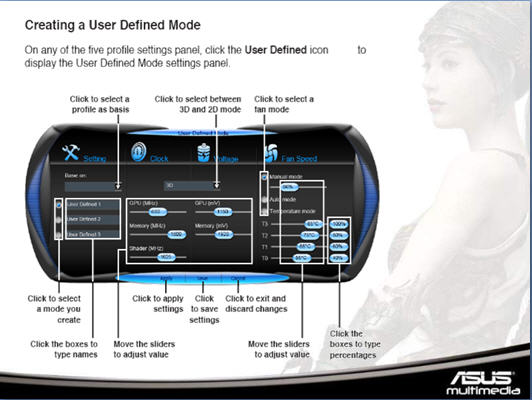 Fan control is nothing new to those of us familiar with ATITool and Riva Tuner, although the ASUS GUI seems to be far more intuitive at first glance than the readily available third party solutions.
So what are the claimed gains of combining all the above features into a single well executed software tool?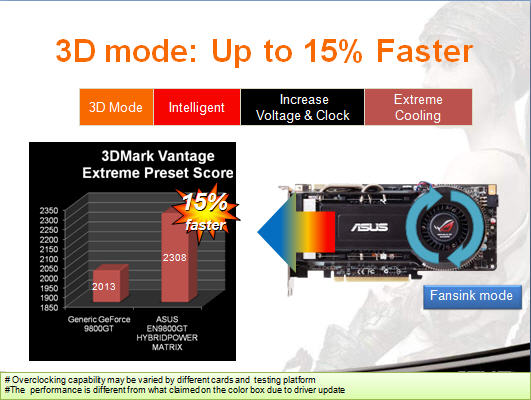 First off, ASUS is expecting the automatic overclock technology to improve certain benchmark scores up to 15% or possibly more depending on the card, driver, and application. While manual tuning will always result in the highest possible scores, it is nice to see a design that will take a card almost to its limits and then scale back almost instantly without any user involvement.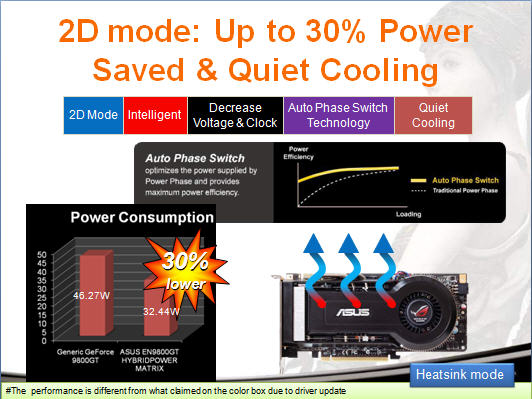 Downclocking in 2D mode has been a feature of video card drivers for some time. Intel's VRM 11.1 motherboards power delivery specification ushered in a range of new PWM controller ICs capable of switching off power phases when a CPU is idling. As a GPU power circuit works on the same principles, it's perfectly logical for companies to go ahead and use the power phase on/off manipulation capabilities of these controllers to also power graphics cards. Once again, the benefit of having a one-click GUI system with flexibility for user control pulls MATRIX ahead of the crowd.
What about price?
No doubt, the added features will add up to a quicker relief of currency in your wallet. Current pricing for a standard 9800GT 512M is around the $129 mark. GTX, GTX+, and 1GB cards are available from $169-$200 with current rebates. We think users would be willing to pay a small premium over stock and perhaps even pre-overclocked 512M cards for the extras, but ASUS will have to be near current prices to make MATRIX an attractive option on the 9800GT (first chipset design to be released). If it's close enough and all the features work as advertised, we are looking at a very serious new contender in the mid-range market.
As soon as we get our hands on review samples, we will put them through their paces in a variety of scenarios and report on exactly how well Matrix works. What we are seeing here is the next step in the evolution of video card design. Thanks to companies like ASUS, we've seen the death of the motherboard volt-mod for the most part. There's just really no need for them anymore - all of the voltages we could or would want to control are basically available in the BIOS now, ready for manipulation in just a few seconds. Only the most "hardcore" users even think of modifying their boards anymore via hardware or with custom BIOS routines. Now, with the help of ASUS' MATRIX technology we may finally see the same come to pass with video cards. Bravo.