We're hard at work on our MacBook Air review but stopped to answer a question that we've seen asked a lot online: how well does Apple's USB Ethernet dongle work?
In the interest of keeping the MacBook Air thin, Apple neglected to include an Ethernet port on the machine itself. And to keep the motherboard small, there's not even an Ethernet PHY you can use. While it'd be nice if you could get Wi-Fi coverage everywhere you went, chances are that sometimes you'll want to plug in, even if only for performance reasons.
Apple anticipated our complaints and started shipping a $30 USB Ethernet dongle, specifically for MacBook Air users. Unfortunately, the $30 dongle (made up of a few dollars of parts at best) doesn't ship with the notebook - it's optional. We snagged one of these dongles to see if you indeed get full Ethernet performance out of it.
Installation is simple, just plug it in and it works. The version of Leopard that ships on the MacBook Air is OS X 10.5.1 build 9B2324 whereas all other Macs run with build 9B18. Only the version of OS X shipping with the MacBook Air features driver support for the USB Ethernet dongle; Windows will recognize the device but lacks driver support as well.
Since there is no Ethernet PHY on the motherboard, the USB Ethernet dongle is actually a network controller encased in plastic, with a USB cable sticking out of one end. Sticking it in the MacBook Air causes OS X to detect the device and ask you if you want to configure it. Configuration is as simple as telling it you want to use DHCP or supply your own static IP.
The dongle is USB 2.0 compliant, which should be more than enough to handle the bandwidth of the thing given that it only supports 10/100 and not GigE (we'll complain about that more in the full review). The question is - is it just as good as a standard integrated Ethernet port? To find out we tried transferring a 10GB file from a file server in the lab to a few Macs, the results are below: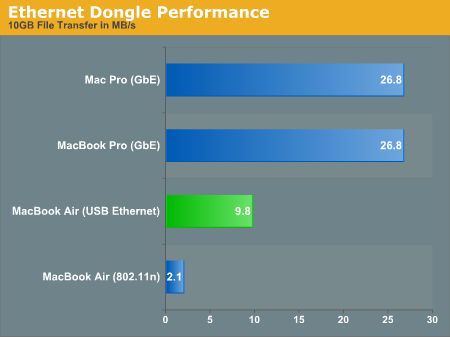 At 9.8MB/s we're just under 80Mbps which is respectable for 10/100; we did see the transfer peak at 11MB/s. The wireless numbers are absolutely horrible, but we tested a few rooms away from our 802.11n access point. The GigE numbers are perfect examples of why Apple needed to ship a 10/100/1000 dongle and not just a 10/100 piece.
Tomorrow our SSD arrives and we'll work on swapping out the hard drive in this thing.