As I mentioned in our
Core 2 Extreme QX9770 Preview
, my chip got pretty hot. Both Gary and I had QX9770 samples that could barely run at 3.2GHz without added cooling, not to mention that both of our CPUs consumed significantly more power than the highly overclockable QX9650 we reviewed just a few weeks earlier.
Here's a graph from the review, showing how my QX9770 stacked up against the QX9650: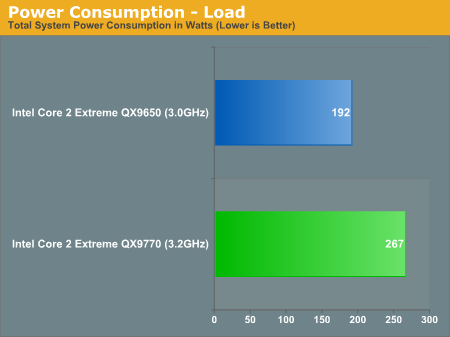 I had a meeting with Intel today to discuss the issues and they provided some insight. The chip I have should run at a 1.2875V core voltage, but as you'll see from the below CPU-Z screenshot, it did not: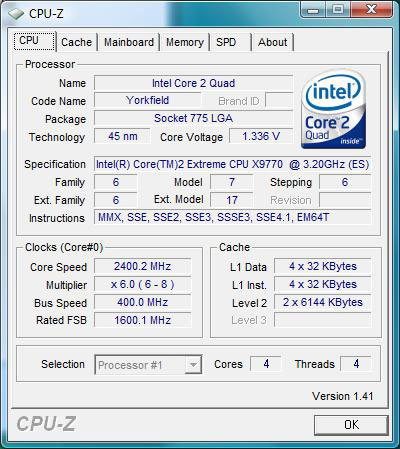 Now the 1.336V core voltage alone isn't enough to make up for the power difference I reported, but it was responsible for some. Why was my chip running at a higher core voltage? The BIOS was set to auto-detect the core voltage but it appears that there may be something wrong with the way the ASUS P5E3 Deluxe BIOS handles the QX9770.
Gary just forwarded me a new BIOS revision that supposedly fixes the problem, but that doesn't put us in the clear just yet. Intel is going to get back to me within the next day or so with a full analysis of whether or not I have a bad chip, or if the higher core voltage alone is the only abnormality in what I saw.
Even at a lower core voltage my QX9770 ended up consuming around 30W more power than the QX9650, but it's quite possible that I have a really bad QX9770 and a really good QX9650. Individual chips, even at the same frequency, can have vastly different operating voltages - which we already knew. But it's also possible to get a range of power consumption between chips at the same frequency and same voltage; meaning that it's possible to have two QX9770s with the same operating voltage, but significantly different power consumption characteristics.
I always figured that voltage was the primary determinant of how two otherwise identical processors performed from a power perspective, but it turns out I was wrong.
In any case, it looks like the QX9770 issues may not be nearly as big of a concern as I originally thought. At this point it looks like a BIOS problem + hotter than normal chip, but I'll let you know if Intel comes back with anything different.
On a related note, it looks like Intel will eventually begin shipping its Extreme processors with a better heatsink; I should have one in the coming weeks. Now if Intel could only do something about that damned mounting system we'd be getting somewhere.