Virtualization & Consolidation
VMmark - which we discussed in great detail here - tries to measure typical consolidation workloads: a combination of a light mail server, database, fileserver, and website with a somewhat heavier java application. One VM is just sitting idle, representative of workloads that have to be online but which perform very little work (for example, a domain controller). In short, VMmark goes for the scenario where you want to consolidate lots and lots of smaller apps on one physical server.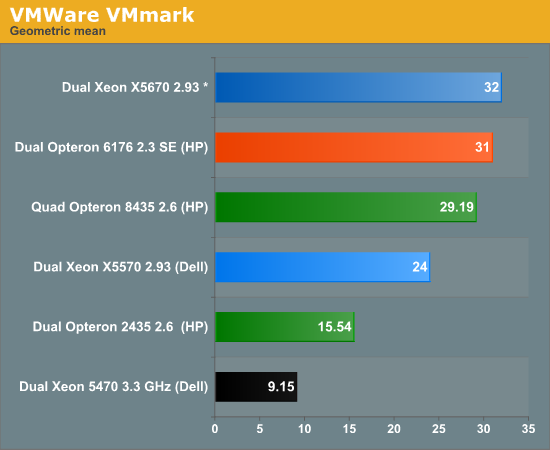 (*) preliminary benchmark data
Cisco has produced the first VMmark score for the Xeon X5600 series. The Cisco server with two X5680s at 3.3GHz achieved an impressive 35.83 score with 26 VMmark tiles. Twenty-six tiles, that is good for 156 VMs! Based on this number we can estimate where the Xeon X5670 will land. The 6174 numbers are based on AMD's own preliminary data.
VMmark is a clear victory for the Intel CPUs. Contrary to the SAP market, AMD can play the pricing card here. As long as you do not require dynamic resource scheduling, the software licences costs are nowhere like those of typical ERP projects. So the pricing of the hardware matters more. Also, contrary to other applications, there is no bonus for single threaded performance. The usage models of Databases, 3D Animation software and other all include scenarios where a number of cores will be idling while the others are working very hard. In a virtualization scenario where you are running tons of VMs, single threaded performance does not matter. So while Intel is clearly winning here, servers based on the newest Opteron might still be on the shortlist of those looking for good performance per dollar.