Lenovo ThinkPad T410 Specifications and Features
You probably have a pretty good idea of what a ThinkPad Classic laptop looks like, but features are still important. The T410 is available with CPUs ranging from an already fast i5-520M up to the i7-620M, with or without discrete graphics. Every standard feature is available, along with several extras catering to business and enterprise users. Given the target market, the pricing and build quality are higher than most consumer laptops, but the current sale puts the T410 in reach. Looking for a laptop to last you through the next four or five years? Look no further.
Lenovo ThinkPad T410 Specifications
Processor
Intel Core i5-520M (2.40GHz/2.93GHz Turbo 3MB L3)
Core i5-540M (2.53GHz/3.07GHz Turbo 3MB L3)
Core i7-620M (2.66GHz/3.33GHz Turbo 4MB L3)
Chipset
Intel QM57
Memory
2x1GB to 2x4GB DDR3-1066/DDR3-1333
2x2GB DDR3-1066
Graphics
NVIDIA Quadro NVS 3100M
Intel HD Graphics IGP
Display
14.1" LED Matte 16:10 WXGA+ (1440x900)
14.1" LED Matte 16:10 WXGA (1280x800)
Hard Drive(s)
320GB 5400RPM HDD
250GB-500GB 7200RPM HDD
128GB SSD
320GB Seagate Momentus 7200.4 ST9320423AS
Optical Drive
8x DVDR SuperMulti
Networking
Gigabit Ethernet (Intel 82577LM)
Intel WiFi Link 6200 AGN
ThinkPad 802.11bgn
Intel WiFi 1000/6300 or WiMAX 6250
Mobile Broadband
Gobi 2000 3G with GPS (Optional)
Bluetooth (Optional)
Audio
HD Audio (2 speakers with mic/headphone jacks)
Battery
4-cell
6-Cell 2.6Ah
9-cell 2.8Ah 94Wh
Front Side
Flash Memory Card Reader
Cover Latch
Left Side
Smart Card (Optional)
Hard Drive Bay
3 x USB 2.0
DisplayPort
Ethernet
VGA
Cooling exhaust
Right Side
ExpressCard/34
WiFi On/Off Switch
1 x eSATA
Headphone jack
Ultrabay Slim Optical Drive (DVDRW)
1 x Powered USB 2.0
Mini 1394a FireWire
Kensington Lock
Back Side
56K Modem
AC Power Connection
Cooling exhaust
Operating System
Windows 7 Home Premium 32/64-bit
Windows 7 Professional 32/64-bit
Windows 7 Ultimate 32/64- bit
Dimensions
13.13" x 9.41" x 1.09-1.26" (WxDxH)
Weight
4.91 lbs (with 6-cell battery)
Extras
2MP Webcam (Optional)
89-Key keyboard
5-in-1 Flash reader
Warranty
1-year depot warranty
2-year and 3-year available
Accidental damage and onsite available
Pricing
Starting at $1265
On sale through March 31, 2010 starting at $919
Review system: $1940 (on sale for $1494)
In terms of features, the T410 includes everything you'd expect, plus a few extras not found on competing laptops. It has four USB 2.0 ports, with one port that you can set up to provide power even when the laptop is off (i.e. for charging a cell phone, iPod, or similar device). It has an eSATA port and mini-FireWire, providing all the external interfaces users are likely to need. An optional docking station connects via the bottom of the laptop, providing for additional USB and video outputs. The T410 includes a VGA output with DisplayPort as the digital output option; single-link resolutions will work fine with a simple adapter, but if you want to run a high resolution 2560x1440/2560x1600 LDC you'll need an active adapter—which can cost $100. Ideally, you'll want an external LCD with native DisplayPort support if you plan on using an external display (Dell LCDs like the U2711 or U2410 are a good option), or else grab a docking station for DVI support. The Lenovo T410 also has an optional Smart Card reader for business users, ExpressCard/34, and a flash memory reader. The optical drive is in an Ultrabay Slim SATA bay that's 9.5mm high, and with an optional adapter you can easily remove the DVDRW for a second HDD/SSD.
As mentioned, the CPU options are quite limited compared to many companies: you can get an i5-520M on the "low end" (which is hardly a slow CPU), a midrange i5-540M like our test unit, or you can go all out with the i7-620M. Note that the 620M is still a dual-core plus Hyper-Threading design, not to be confused with the quad-core plus Hyper-Threading CPUs like the i7-720QM. The only discrete GPU available is NVIDIA's Quadro NVS 3100M. Unlike the Quadro FX line that's optimized for workstation duties, the Quadro NVS is in essence a long-term availability (18+ months) business equivalent of the GeForce line. The NVS 3100M has similar specs to the G210M/G310M: 16 SPs (CUDA cores) and 64-bit memory interface running at around 1600MHz. The exact clocks on the NVS 3100M in our test system are 606/1468/1620 core/shader/RAM; the last G210M laptop we looked at had clocks of 606/1468/1580, so the only difference is in the RAM clock. Also note that driver updates will have to come from Lenovo, which is keeping with the corporate IT target audience.
One feature that definitely stands out for the mobile crowd these days is the LCD. First, the LCD is a matte panel—hallelujah! Like many business laptops, the ThinkPad Classic bucks the glossy trend in every way, so you won't need to worry about fingerprints or smudges on the chassis or LCD. Going a step further, the LCD also bucks the 16:9 aspect ratio trend, providing users with a very usable WXGA+ (1440x900) native resolution. Personally, this is the perfect resolution for 14" laptops, and it's great to get something other than a standard 1366x768 LCD. (WXGA 1280x800 panels are available on some of the T410 models; the WXGA+ is a $30 upgrade.) Unfortunately, while we love the matte panel and the higher resolution, contrast ratio is poor, as are the viewing angles. The LCD is still perfectly useable, but outside of providing a good working resolution, it doesn't impress.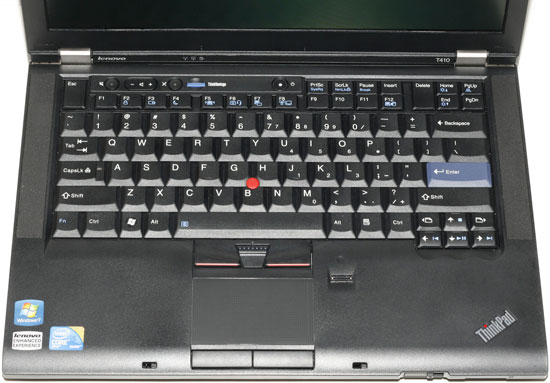 The input options on the T410 are worth some discussion as well. The T410 comes with the standard TrackPoint device with a multi-touch touchpad, and our test unit includes an optional fingerprint scanner. Some people love the TrackPoint device and others dislike it; personally, there's no beating a regular mouse for accuracy, but I was able to use both the TrackPoint and touchpad without any complaints. The touchpad has a nice lightly textured surface that enables you to feel the edge of the tracking surface without having to look at it, and the multi-touch features worked flawlessly. If you don't like either the touchpad or the TrackPoint, you can use the included software (Fn+F8) to disable either one or both devices. My only issue with the touchpad is the placement of the two buttons; they're located on the curved edge of the chassis, a little too close to the edge for my taste. My natural instinct is to reach a bit higher up, which puts my finger partly on the touchpad and causes problems. This is a minor complaint, however, and one I'm sure I would adapt to if the T410 was the only laptop I used for an extended period of time.
Perhaps my favorite aspect of the T410 is the keyboard. Forget chiclet keyboards or keyboards with flat keys packed too close together in order to have "100% standard" key size. The T410 includes beveled and contoured keys that feel very much like a regular desktop keyboard. In comparison to other laptops, this is easily the most comfortable keyboard for typing that I've used on a laptop in a very long time—and it fits this into a 14.1" chassis! There's far less hand and finger fatigue for me after typing on the T410, and keys have a satisfying "click" without requiring too much force. The only complaint I have is a minor one with the keyboard layout: the Fn key. Some prefer this key to be in the bottom-left corner, but I like to have the Ctrl key there, with the Fn key moved in one spot. (Edit: Thankfully, you can switch this in the BIOS, as readers pointed out.) The new T410 keyboard also adds some convenient features like double-sized Esc and Delete keys to make them easy to find, and dedicated Home/End/PgUp/PgDn keys. Another cool feature is a quick "zoom" function accessed via Fn+Space that swaps between the current resolution and 800x600 in about half a second. We'd prefer a 16:10 aspect ratio for the lower resolution (i.e. 1024x640), but if your vision isn't great it's still a quick way to zoom in on smaller text without the need to use the change resolution dialog.
Overall, the ThinkPad T410 is exactly what we would expect from the classic Lenovo laptop. It's very comfortable to use, built extremely well, and it delivers excellent performance courtesy of the Core i5 CPU and discrete GPU. There are a few options missing from the T410 that some users might want, but Lenovo caters to these desires with other models. If you'd prefer switchable graphics so that you can get better battery life, the T410s (shipping in April) adds that feature, but it costs quite a bit more—it also has a multi-touch LCD option and a couple Intel SSDs to choose from. If you have no need for a discrete GPU, the T410 is available without the Quadro NVS for about $100 less.