I'm trying my hands at a new feature here on AnandTech called This Just In.The idea is simple: when something that's not under NDA shows up at my doorstep, I'll snap some pics and post it for you all to see. Something to gawk at while whatever it is I'm working on gets reviewed. It'll give you a glimpse into what I'm working on and at the same time, it'll make sure I take photos of the product early in the review process rather than waiting until 2AM the morning the review goes live.
I'll start off with something that we're not necessarily reviewing, but something that will be used in a couple of upcoming reviews. As you may have heard, NVIDIA is launching a brand new pair of graphics cards tomorrow: the GeForce GTX 480 and GTX 470. In preparation for tomorrow's review we needed to update our GPU testbed power supply, in case a pair of these cards ended up pushing the limits of our existing 850W PSU. So we asked around for something a bit beefier. That's not to say that we needed it, but we wanted to be safe just in case.
Antec was kind enough to set us up with one of its best - the TruePower Quattro 1200: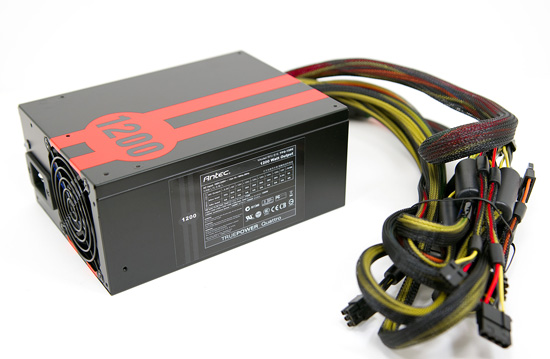 An 80 Plus Silver rated 1200W power supply, this thing should be more than enough to handle a pair of any single GPU graphics cards on the market. And thus far in our testing, it has been.
The 80 Plus Silver rating means that at 20% and 100% load the PSU is guaranteed to be 85% efficient, and at 50% load it'll be 88% efficient. Higher efficiencies keep heat and power costs down, which is always a good thing. Below 20% the efficiency drops off and thus this won't be a great PSU for lower end systems. Most of our testbeds idle at 50 - 150W which is less than 13% of the PSU's load capacity. This thing is built for the very large, very power hungry desktops and workstations.
The PSU ships with both permanent and modular cables. A pair of PCIe cables (each with 6-pin and 6+2-pin) are attached, and you get another modular pair as well. The ATX and ATX/EPS 12V connectors are obviously permanently connected, as are single strands of molex and SATA connectors. The rest are bundled modular cables.
Swapping graphics cards can be a bit cumbersome thanks to the large capacitors at the end of the PCIe power cables, and idle power of our GPU testbed is higher with the 1200W unit thanks to the low idle of most modern day GPUs/CPUs, but so far it has been performing well in our tests.
You'll see exactly what it's been powering in about 24 hours.