The First Test: Sequential Read Speed
The C300 can break 300MB/s in sequential read performance so it's the perfect test for 6Gbps SATA bandwidth.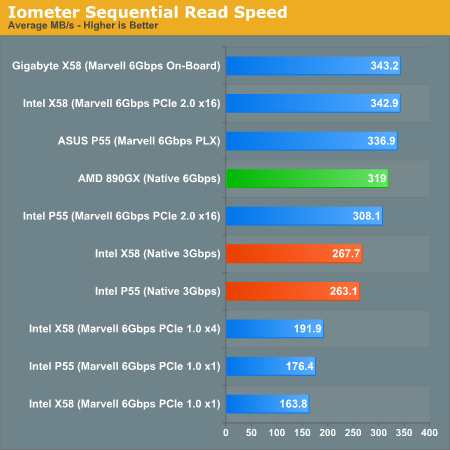 Intel's X58 is actually the best platform here, delivering over 340MB/s from the C300 itself. If anything, we're bound by the Marvell controller or the C300 itself in this case. AMD's 890GX follows next at 319MB/s. It's faster than 3Gbps SATA for sure, but just not quite as fast as the Marvell controller on an Intel X58.
The most surprising is that using the Marvell controller on Intel's P55 platform, even in a PCIe 2.0 x16 slot, only delivers 308MB/s of read bandwidth. The PCIe controller is on the CPU die and should theoretically be lower latency than anything the X58 can muster, but for whatever reason it actually delivers lower bandwidth than the off-die X58 PCIe controller. This is true regardless of whether we use Lynnfield or Clarkdale in the motherboard, or if we're using a P55, H55 or H57 motherboard. All platform/CPU combinations result in performance right around 310MB/s - a good 30MB/s slower than the X58. Remember that this is Intel's first on-die PCIe implementation. It's possible that performance is lower in order to first ensure compatibility. We may see better performance out of Sandy Bridge in 2011.
Using any of the PCIe 1.0 slots delivers absolutely horrid performance. Thanks to encoding and bus overhead, the most we can get out of PCIe 1.0 slot is ~192MB/s with our setup. Intel's X58 board has a PCIe 1.0 x4 that appears to give us better performance than any other 1.0 slot for some reason despite us only using 1 lane on it.
Using one of the x1 slots on a P55 motherboard limits us to a disappointing 163.8MB/s. In other words, there's no benefit to even having a 6Gbps drive here. ASUS PLX implementation however fixes that right up - at 336.9MB/s it's within earshot of Intel's X58.
It's also worth noting that you're better off using your 6Gbps SSD on one of the native 3Gbps SATA ports rather than use a 6Gbps card in a PCIe 1.0 slot. Intel's native SATA ports read at ~265MB/s - better than the Marvell controller on any PCIe 1.0 slot.