ASUS N61Jv-X2 3DMark Performance
Before we get to the gaming tests, here's a look at theoretical graphics performance as measured by the various 3DMark iterations. With 48 SPs and 22GB/s of memory bandwidth, the GT325M is a big step up from most of the other GPUs. For these entry-level and midrange laptops and notebooks, the next closest competitor is the G210M-equipped ASUS UL50Vf, followed by the HD 4330 in the Inspiron 15. The GT325M has nearly three times the shader processing power of the G210M with over twice the memory bandwidth, so we should see a very large gap between the N61Jv and the rest of the competition (and let's not even discuss the old GMA 4500MHD performance). That said, the GTX 260M and 280M are likewise a big step up from the GT325M… but of course those GPUs don't support Optimus Technology.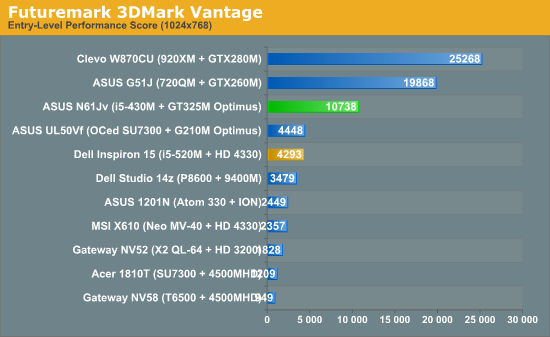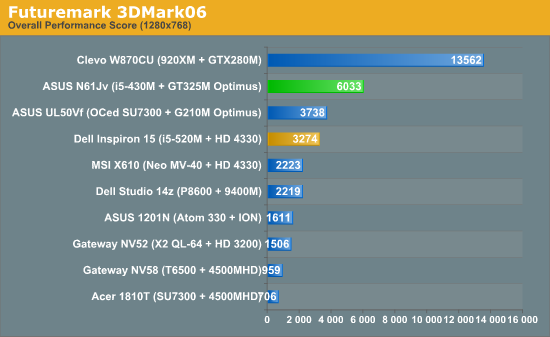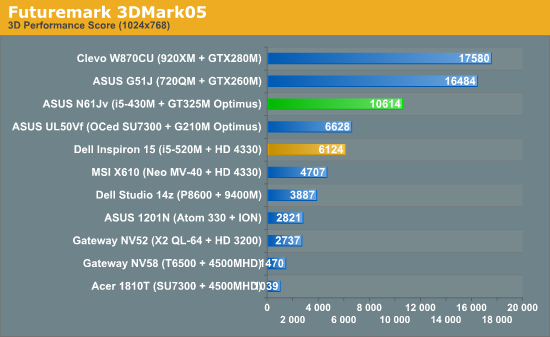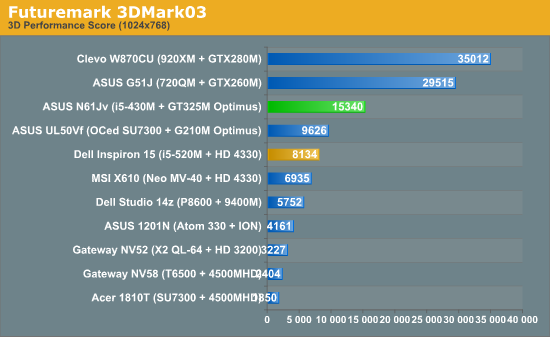 The lead over the HD 4330 ends up being 73% in 05, 84% in 06, 89% in 03, and a whopping 150% in 3DMark Vantage. Considering Vantage represents the state of the art in gaming a lot better than the earlier 3DMark tests, we expect Medium and High detail settings to correlate better with it rather than with the earlier 3DMark versions. Note that we tested at 1280x768 in 3DMark06 since none of these laptops support the default 1280x1024 setting without an external LCD; we also tested 3DMark Vantage at the "Entry" defaults (1024x768) since most of these laptops can't handle the "Performance" defaults—the N61Jv is a likely exception, though again it lacks support for the default 1280x1024 resolution. But enough about 3DMark; let's look at some actual gaming results.