Fallout 3 Game Performance
Bethesda's latest game uses an updated version of the Gamebryo engine (Oblivion). This benchmark takes place immediately outside Vault 101. The character walks away from the vault through the Springvale ruins. The benchmark is measured manually using FRAPS.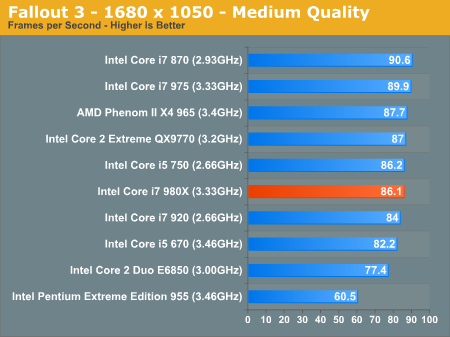 Gaming performance is a mixed bag with the Core i7 980X. In some cases it'll be a bit faster than the 975 due to its larger L3 cache, but in some cases it'll be slower because of the L3 cache's higher latency. This is one of those cases.
Left 4 Dead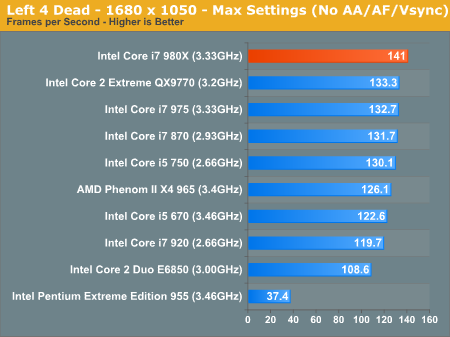 The tables are turned in Left 4 Dead where the 980X's 12MB L3 cache gives it a 6% performance advantage over the Core i7 975.
FarCry 2 Multithreaded Game Performance
FarCry 2 ships with the most impressive benchmark tool we've ever seen in a PC game. Part of this is due to the fact that Ubisoft actually tapped a number of hardware sites (AnandTech included) from around the world to aid in the planning for the benchmark.
For our purposes we ran the CPU benchmark included in the latest patch: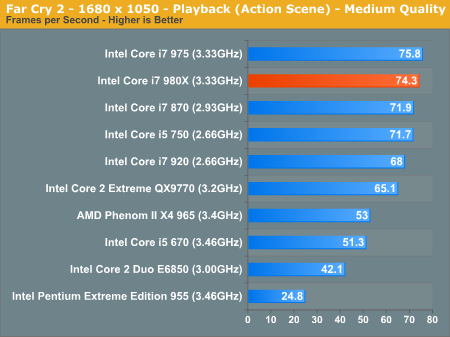 Even today's most threaded titles aren't enough to occupy the Core i7 980X's six cores, it falls slightly behind the 975 in FarCry 2.
Crysis Warhead