The gaming/performance figures tell a familiar story: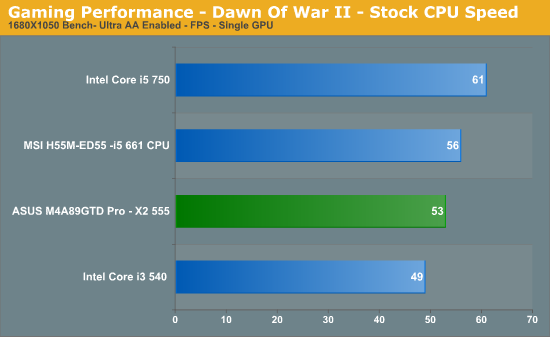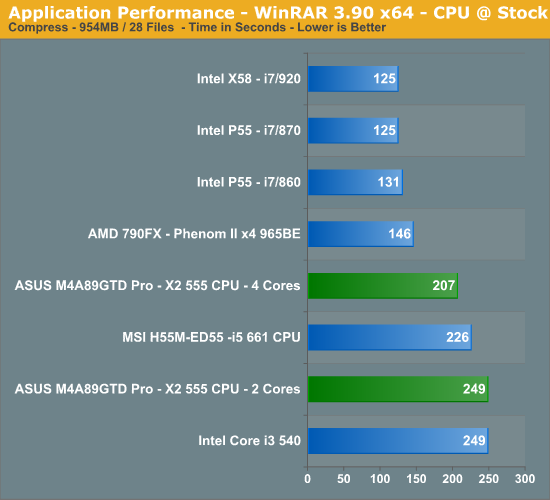 Power Consumption
Our power consumption testing utilizes the same batch of components under similar circumstances in a bid to monitor variances between idle and CPU load conditions. We install the vendor supplied power saving utilities on each board and enable power saving modes that don't involve any kind of underclocking or CPU core frequency modulation in order to run an apples to apples comparison.
ATX PSU switching losses are absent from our figures because we monitor power consumption directly at the DC rails of the PSU. Total system power consumption will vary depending upon the efficiency of your PSU.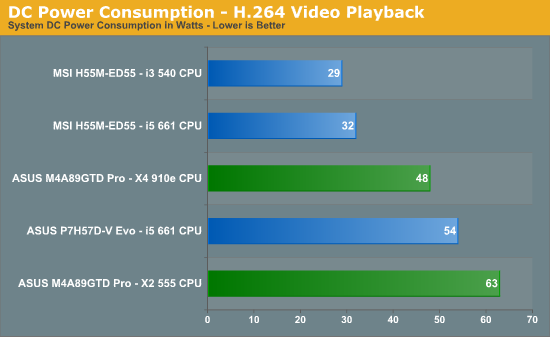 While AMD processors can't keep up with Intel's for power consumption, the M4A89GTD Pro turns in a respectable performance against ASUS's ATX sized Intel equivalent P7H57D-V Evo. The X2 555 falters slightly in these tests due to a high stock VID of 1.35V. The soon to be released X4 910e operates at 2.6GHz with 4 cores with a 65w TDP hence the lower consumption numbers.
You can under-volt the X2 555 somewhat to reduce its power draw, although we found our sample was not capable of running at 3.2GHz at a VID lower than 1.25V. As a quick experiment, we overclocked the 910e to 3.2GHz whilst maintaining a 1.15V VID and it came through our benchmark suite without a problem - whilst pulling only a few extra watts of power. The X4 910e is definitely a superlative bin.
DPC Audio Latency
We're often asked to include a DPC latency screenshot by audio enthusiasts, here's what the M4A89GTD Pro manages: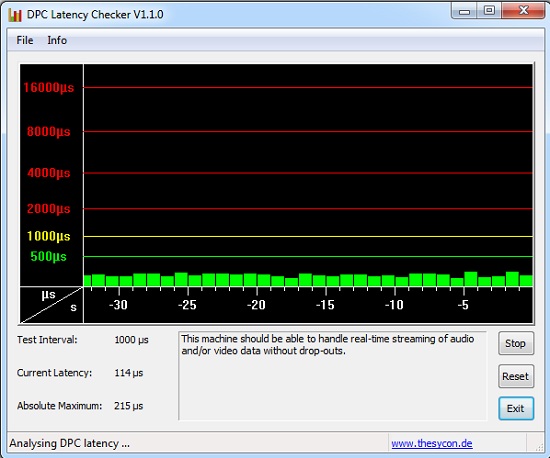 Overclocking
Although we managed to hit target frequencies with all of our processors, the most exciting processor to overclock out of the bunch was the X2 555. Unlocked to 4 cores, we ended up with a stable 301 base clock; a shade over the 4GHz mark running 8GB of our Corsair Dominator GT's @ CAS 6-7-6-20 1T DDR3-1604MHz: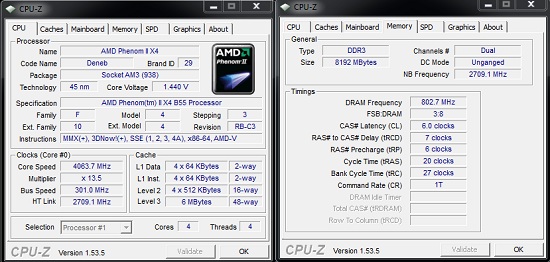 For those that like to benchmark and chase numbers for fun, base clocks up to 390MHz are possible if you use Turbo-V to increase bus speed within Windows (POST maximum up appears to be limited around 370 MHz).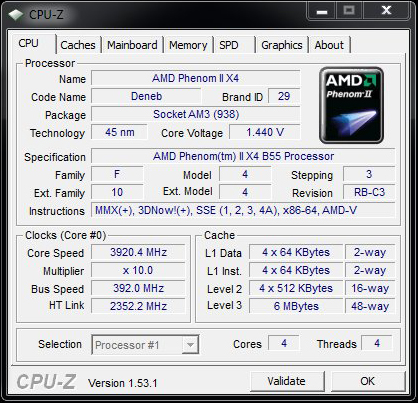 It's a pretty good show from ASUS considering the Hyper modules are rather picky about operating parameters on this motherboard. Using more 'realistic' modules, expect to see 4GB maximums fall in the region of DDR3-1800~1900 MHz at CAS 8, while good 8GB kits should hit the DDR3-1800MHz mark on the 0402 BIOS.