Say Goodbye to ACC, Say Hello to ASUS
One thing AMD neglected to mention in its press presentation about the 8-series chipset was the fact that it removed support for Advanced Clock Calibration (ACC) from AMD's BIOS. You may remember that ACC was the nifty tool that first let us overclock Phenom processors higher, but later allowed us to unlock disabled cores on Phenom II X2, X3 and Athlon II X3 processors. You heard it right, apparently ACC is gone.
Well, not exactly. Apparently ASUS has figured out a way to unlock cores despite not having easy access to whatever it is ACC did. And you have three ways to enable it:
1) Turn this switch on: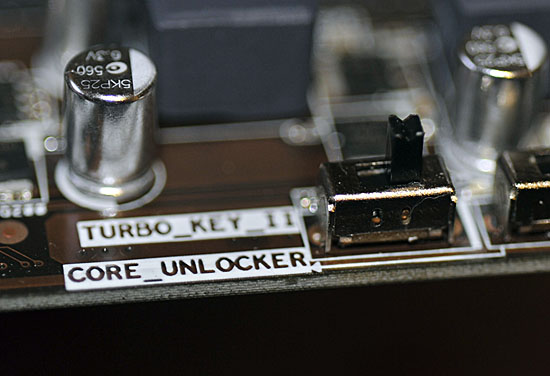 Technically it's the switch to the right of this one, but you get the point
2) Hold the "4" key during POST

3) Or enable it in the BIOS
Nifty. As far as I can tell, ASUS and ASRock are the only companies implementing ACC at this point. I suspect the rest will follow once they figure out how to do it.