Better Suited for USB 3.0?
A little known fact is that Intel's P55/H55/H57 chipsets run their PCIe lanes at 2.5GT/s. Meaning that a PCIe x1 lane off the chipset only offers 250MB/s in each direction. Aggregate bandwidth is 500MB/s, but that's only attained if you're reading at 250MB/s and writing at 250MB/s.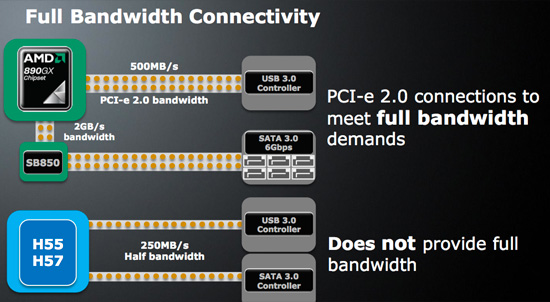 AMD runs all of its PCIe lanes at 5.0GT/s, so a single PCIe x1 slot offers 500MB/s up and 500MB/s down.
Neither AMD nor Intel have integrated USB 3.0 controllers, so they must rely on NEC's PCIe-to-USB3 controller. AMD's 890GX chipset offers roughly twice the bandwidth between the chipset and the USB 3 controller.
Today that doesn't amount to anything. No currently available USB 3.0 peripheral can saturate PCIe 1.0 speeds, but down the road AMD's approach will avoid any bottlenecks. I'd expect this to start being a problem towards the end of 2010 and into 2011 as we start getting more ONFI 2.0 NAND equipped SSDs that can boast 300MB/s+ read speeds.
USB Performance
No chipset launch article is complete without a never-before-seen problem and we think we hit our quota. We stumbled across an issue using Sharkoon's USB QuickPort and our ASUS M4A89GTD Pro motherboard; hot-plugging the device into a USB 2.0 port results in a system crash whether you're in the OS, during POST or within BIOS. The USB 3.0 ports will occasionally work with the drive and we did manage to scramble a quick test (see the graph at the bottom of the page), although the symptoms are largely the same (system hangs, loss of display).
Now, the Sharkoon QuickPort comes with its own power adapter (which it needs to work) and is fully USB 2.0/3.0 compatible, so it should not draw excessive current from the USB ports. There's always the chance that we've got a faulty unit, but bear in mind that it works perfectly with nine motherboards featuring various chipsets.
One thing we noticed is that the M4A89GTD Pro seems to cut power to other USB devices briefly when plug we plug the QuickPort cable into a socket. We tried plugging the drive in while the motherboard is powered down, doing so does allow it to post and enter the OS. After that, Windows finds our USB hard drive and proceeds to load drivers. Trouble is that the drive is not displayed in the 'My Computer' menu, and trying to access the drive via the Disk Management snap-in does not work either; we're continually greeted with a refresh error.
We're leaning towards the notion of a faulty motherboard at present. ASUS have been notified and have dispatched a new board which should arrive with us shortly. In the meantime, all we've got to show for our efforts is 1GB file transfer time over the AMD SB850 vs. Intel's H55/H57 to the NEC D720200F1 USB 3.0 port using a couple of 1TB Western Digital Caviar hard drives. We know it's far from an ideal test but will have to suffice for today - sorry folks!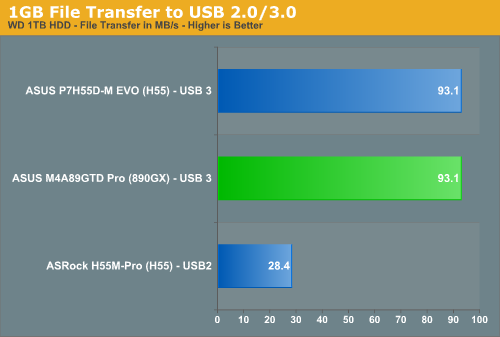 There's little to divide the boards in a one 1GB file transfer using the SATA HDD's, it's obvious that the drives are a bottleneck. We're aiming to put a couple of 6G SATA drives through their paces on these boards in the near future so we get a better idea of what USB 3 technology can do.