Testbed Setup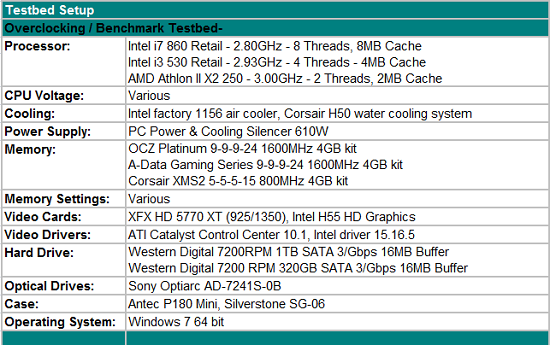 We used 2x2GB 1600MHz memory kits from A-Data and OCZ to test the memory compatibility of ZOTAC's newest motherboard. The operating system was installed on a 320GB WD hard drive while the applications were stored by a 1TB WD hard drive. A fresh installation of Windows 7 64-bit was applied to every motherboard before testing.
Intel's factory heatsink handled the processor cooling duties at the factory frequencies. During overclocking we used a Corsair H50 Hydro cooler to cool the processor although it was hardly needed.
When testing the ZOTAC 8200-ITX we relied on the nVidia chipset for graphics. The H55-ITX used an overclocked XFX 5770 for all tests except where noted. We used the same XFX HD 5770 for all of the DFI MI-P55 tests as well.
While testing the Intel-based motherboards we tried to keep the DDR3 timings as similar as possible. Unfortunately, due to a bug in the H55-ITX BIOS we had to run the CAS latency at 10. Memory frequency on these boards was set at 1333MHz due to fact that the i3 530 does not natively support 1600MHz RAM. Interestingly, the BIOS on the H55-ITX has an option for 1600MHz but choosing it prevents the system from POSTing. However, when the i3 530 was overclocked the memory frequency was bumped up to 1500MHz while using the same timings.
We used two ZOTAC motherboards for our wireless performance test. Our review motherboard, the H55-ITX, has wireless-n capabilities while the other board, the ZOTAC 8200-ITX, uses the older wireless-g standard. We measured the time it took both test systems to transfer a 1GB movie file. In order to simulate a typical HTPC environment the test systems were separated from the wireless-n router by thirty feet and two insulated walls.
For our lone AMD board all benchmarks were run using 4GB of 800MHz DDR2. The main RAM timings were set at 5-5-5-15 while any additional sub timings were left on auto.
We ran two sets of gaming benchmarks on the H55-ITX motherboard. One set uses Intel's HD graphics while the other uses a HD 5770 from XFX. We have included these to demonstrate the viability of using i3 530's integrated GPU for graphics.
Power Consumption
For our system power consumption tests we measure the watts being pulled out from the wall socket by the entire system. Keep in mind that power consumption at the wall can vary for a specific system based on the efficiency of the power supply being used. For these tests every power saving option in the BIOSes were turned on.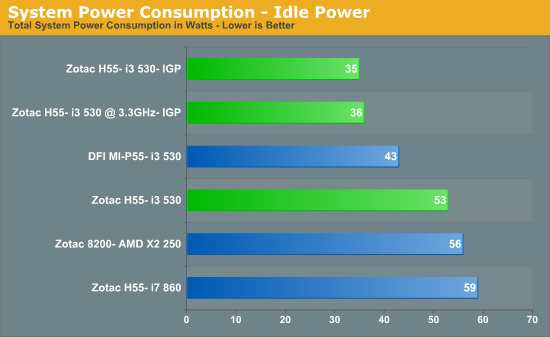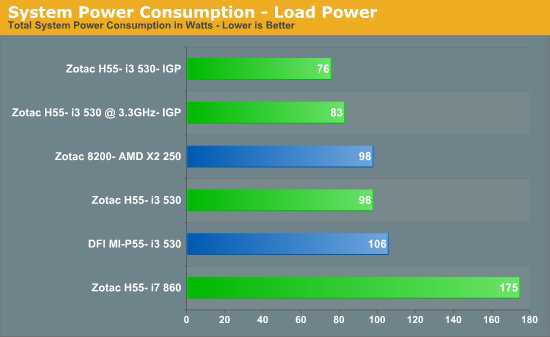 The Zotac H55-ITX put down some of the lowest idle power consumption numbers that I have ever recorded on a desktop. System consumption under 100% CPU load was very mild as well. Numbers this low would make the H55-ITX ideal for a system that is rarely shutdown, like a HTPC.