Zotac's H55-ITX WiFi can be purchased from a handful of retailers for around $140-$150.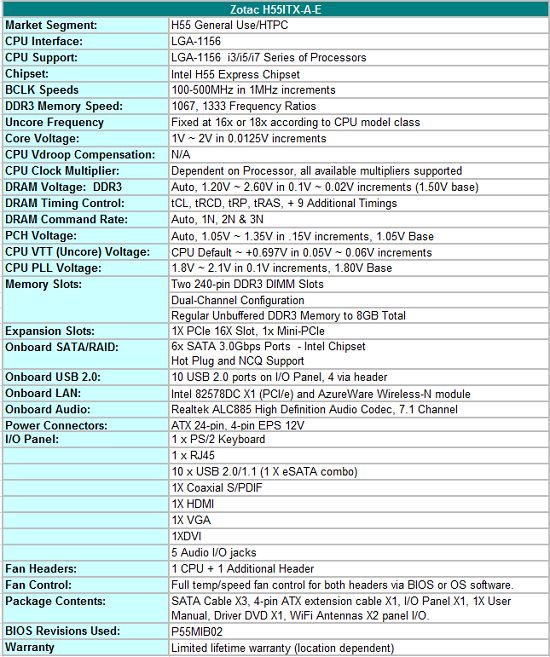 The H55-ITX offers support for the entire line-up of socket 1156 processors. The board also comes packaged with a robust Realtek ALC888 audio codec which will be a boon to audio enthusiasts. Networking for the H55-ITX is handled by Intel's 82578DC and an AzureWare 802.11n wireless card which is mounted in a mini-PCIe slot.
The board comes bundled with the following accessories:
- 3x SATA cables
- 1x 4-pin ATX extension
- 1x I/O panel
- 1x User Manual
- 1x Driver DVD
- 2x WiFi Antennae
- DVI to VGA Adapter
- Quick setup manual
BIOS
The H55-ITX's BIOS is intuitive and easy to navigate in typical AMI fashion. A mild number of overclock settings are available as well as adjustment for an i3 processors GPU core voltage although the GPUs frequency cannot be modified. Furthermore, CPU VTT voltage can be monitored but not modified which is probably wise due to the already low maximum power delivery of the H55-ITX. Your typical array of general BIOS features such as power management and boot settings are listed as well.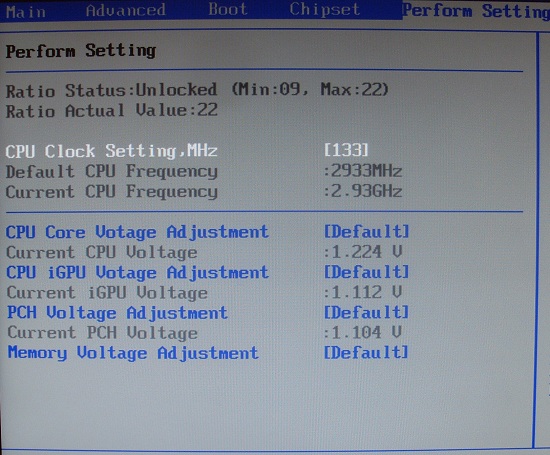 The H55-ITXs BIOS can be updated in the Windows environment using a provided flashing utility. Personally we prefer DOS based flashing utilities due to the system stability provided outside the Windows environment.