Board Features
Intel's MSRP for the DH57JG is set around $125; the board should be in retail channels within a couple of weeks.
Intel DH57JG
Market Segment

General Use/HTPC

CPU Interface

LGA-1156

CPU Support

LGA-1156 i3/i5 Pentium/Clarkdale Series of Processors Only

Chipset

Intel H57 Express Chipset

BCLK Speeds

133-240MHz in 1MHz increments

DDR3 Memory Speed

800, 1067, 1333 Frequency Ratios

Core Voltage

Fixed at Stock Processor VID

CPU Vdroop Compensation

N/A

CPU Clock Multiplier

Stock Multiplier or Stock Multiplier with Turbo Only for Clarkdale. Multiplier Control available for Lynnfield Only.

DRAM Voltage (DDR3)

Auto, 1.20V - 1.70V in 0.05V increments (1.50V base)

DRAM Timing Control

tCL, tRCD, tRP, tRAS

DRAM Command Rate

N/A

PCH Voltage

N/A

CPU VTT (Uncore) Voltage

1.1V - 1.25V in 0.05V increments

CPU PLL Voltage

N/A

Memory Slots

Two 240-pin DDR3 DIMM Slots

Dual-Channel Configuration

Regular Unbuffered DDR3 Memory to 8GB Total

Expansion Slots

1 x PCIe X16 Slot

Onboard SATA/RAID
4 x SATA 3.0Gbps Ports - Intel ICH >Hot Plug and NCQ Support, RAID 0, 1, 5, 0+1 Suport & Intel Matrix RAID Technology Support
Onboard USB 2.0

12 USB 2.0 ports (6) I/O Panel, 6 via brackets

Onboard LAN

Intel 82578DC X1 (PCIe)

Onboard Audio

Realtek ALC889 High Definition Audio Codec, 7.1 Channel

Power Connectors

ATX 24-pin, 4-pin EPS 12V

I/O Panel

1 x RJ45

6 x USB 2.0/1.1 (1 x eSATA Combo)

1 x Optical Toslink

6 Audio I/O Jacks

Other Onboard Connectors

1 x Serial, 1 x S/PDIF, 1 x FPA, 1 x FP Connector, 3 x USB Headers (6 ports supported)

Fan Headers

1 CPU + 1 Additional Header (Both 4-pin)

Fan Control

Temperature related fan control offered (2 settings) - controls both headers (adjusts 4-pin fans only) - via BIOS only

Package Contents

SATA Cable x 2, I/O Panel x 1, User Manual, Driver DVD

Board/BIOS Revisions Used

Board Rev: N/A, BIOS Version: 0217

Warranty

3 Year Standard
The only notable component choice on the DH57JG is the Intel 82578DC NIC, rather than the standard Realtek offering included by most vendors at this price point. Realtek is not absent from Intel's choices altogether though, the ALC889 codec is used to supply 7.1 HD audio. Unfortunately, Intel have not licensed any Dolby upscaling features like you find on Gigabyte's H55/H57 m-ATX boards, which is a bit of a kicker.
Included with the board you get the following peripherals/items:
- 2 X SATA cables
- 1 X I/O backplate
- 1 X User manual
- 1 X Driver CD
We'd have preferred the addition of a couple of extra SATA cables seeing as Intel have opted to use the H57 chipset, which supports RAID.
There's nothing exciting on the software CD either; it contains system drivers and Intel's "Silent Install" GUI only. Silent Install is included to make driver installation quick and easy, you just tick the drivers you want, provide the software with your Windows login (if need be) and leave the machine alone for the rest of the installation process.
BIOS
BIOS options for overclocking are rather limited, although some of the limitations seem to fit the mini-ITX form factor well based upon what we've seen to date. Voltage control is on offer for CPU VTT and VDIMM only, there's no option to change processor Vcore on tap. We understand the decision to omit voltage increases for Vcore, but feel that Intel should have included a small selection of under-voltage options for ulta low power consumption lovers. On that subject, multiplier ratio control is also absent for Clarkdale CPU's when using the current public BIOS. Although Lynnfield CPU's do get multiplier change options by disabling SpeedStep - we think Intel should allow multiplier changes on the Clarkdale's too.
The only other suggestion we have is for the performance section of Intel's BIOS; the CPU VTT and VDIMM options should be moved from the advanced menu of the DRAM timing page so that you don't have to access memory timings just to set voltages.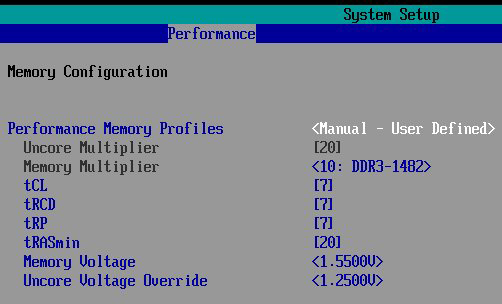 If you do push BCLK too far the BIOS watchdog will attempt to recover and boot into safe mode allowing you to change any offending settings. There were a couple of instances where we pushed BCLK past 150 MHz and the board got caught in an endless reboot loop that could only be cleared by setting the BIOS jumper to safe-mode. Trouble is that it can be a little fiddly getting to the jumper in a cramped PC case so it would have been better for Intel to place the jumper on the rear I/O panel for ease of use.
Fan control is automatic and varies according to CPU core temperature. You get two options to control the speed ramp and damping slope which can be set to less/more aggressive to suit the efficiency of your heatsink . The system fan header speed is also controlled by CPU temperature, but you'll need a 4 pin PWM fan to take advantage of this feature; using a 3-pin fan results in what appears to be a fixed speed operation.
BIOS flashing is made very easy by Intel; a built in flash routine is included in the BIOS that can be used with USB pen drives or HDD's. If you head over to the Intel support site, you get no fewer than four different flashing options, ranging from burning a CD image to downloading an executable file that instigates a BIOS flash from Windows. Unlike other OS level flashing routines though, Intel's utility reboots the motherboard and automatically flashes the BIOS outside the operating system – it's very slick.