Sequential Read/Write Speed
Using the latest build of Iometer I ran a 3 minute long 2MB sequential write test over the entire span of the drive. The results reported are in average MB/s over the entire test length: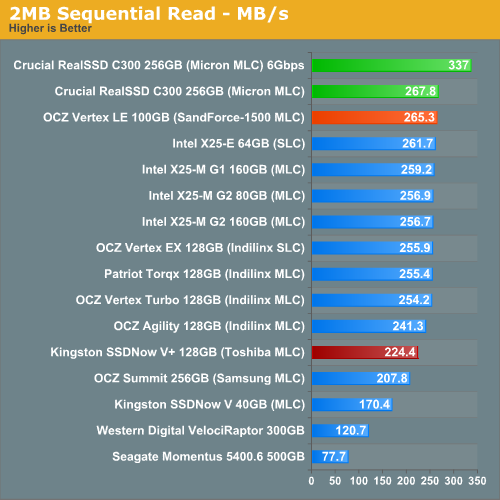 Saturating the bandwidth offered by 3Gbps SATA, the Crucial RealSSD C300 and OCZ Vertex LE are the fastest you can get. However, pair the C300 with a 6Gbps controller and you'll get another 70MB/s of sequential read speed.
The Toshiba based SSDNow V+ does a bit better than the Samsung based OCZ Summit at 224MB/s. You're still better off with an Indilinx drive though.
Despite being based on an architecture that was first introduced in 2008, the X25-Ms are still able to nearly saturate the SATA 3Gbps bus.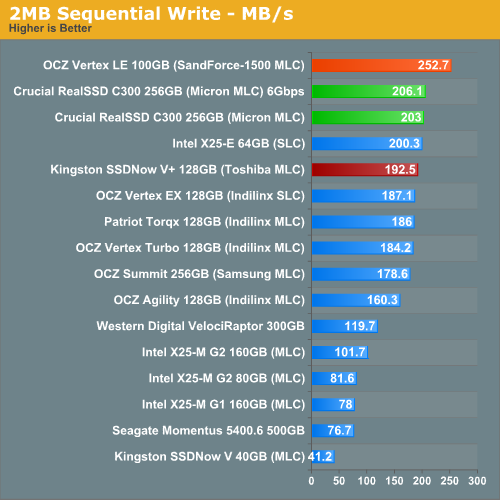 The sequential write speed of the SandForce SF-1500 controller is just ridiculous. OCZ is able to virtually saturate the SATA 3Gbps bus at 252.7MB/s. In the past it would take us two SSDs or a whole crapton of hard drives to get that sort of sequential write throughput. The RealSSD C300 is a distant second place at ~200MB/s, which is still not bad. Kingston's SSDNow V+ actually does well at 192.5MB/s here.
The Intel drives are still banished to the bottom of the chart with their <= 100MB/s sequential write speeds.