10.3: Eyefinity Bezel Correction, Grouping, & Per-Display Controls
Following CrossFire Eyefinity support across the board in Catalyst 10.2, Catalyst 10.3 finally enables per-display color controls - which is particularly handy if you don't have a set of identical displays: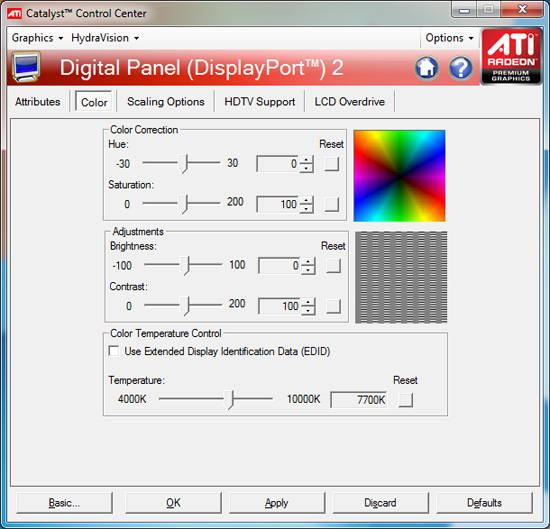 Each display gets color correction, saturation, brightness, contrast and temperature control. To test this I had a triplet of identical Dell 24" displays connected via HDMI, DisplayPort and DVI. An artifact of the premature nature of the drivers was that I couldn't control color temperature on the display connected via HDMI.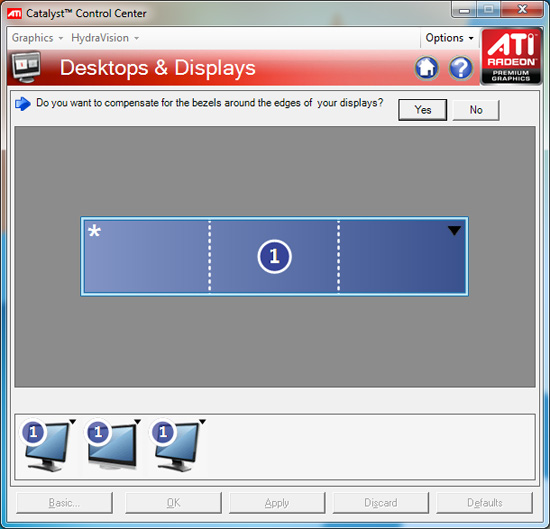 Another feature for users with sub-optimal display setups is bezel correction. If you have particularly thick bezels, or displays of differing bezel thickness, Catalyst Control Center now lets you compensate through a fairly easy to use tool.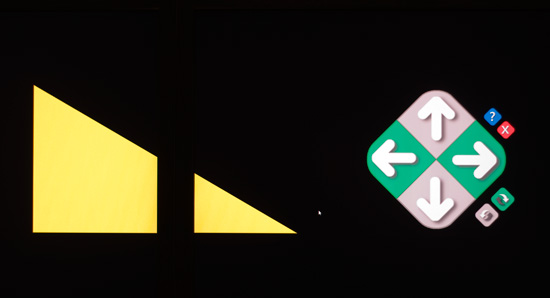 What you're seeing above are two displays, the bezel divides the yellow triangle. Using the controls on the right you adjust to compensate for bezel thickness. Below is what it looks like on all three displays:

The one key feature that AMD needs to enable support for is real-time aspect ratio correction in games. Unfortunately, despite AMD's efforts, Eyefinity remains something that is poorly supported by many important titles. Yes you'll get full resolution support in most games, but what you'll end up with is a super wide resolution with content stretched to fit it. Currently Widescreen Fixer is one of the best ways to force aspect ratios not properly supported by games.
The easiest way to get around the aspect ratio issues is to simply run in 3x1 portrait mode: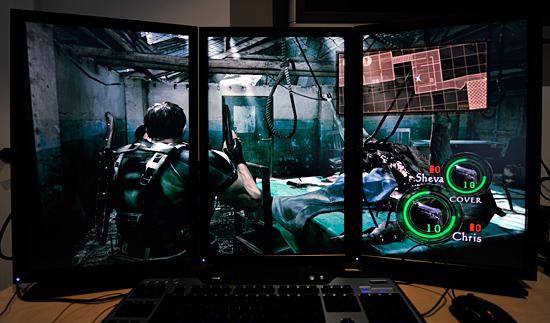 My three 16:10 panels rotated in portrait mode offer a 1.875:1 aspect ratio, not too far off of the 1.6:1 native AR. In landscape mode the aspect ratio is an out of this world 4.8:1 and causes many games to let you play in a very high resolution distorted world: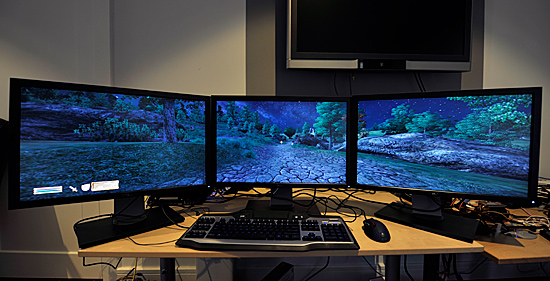 AMD has apparently done nothing to fix this as recently released titles like Bioshock 2 are simply unplayable in 3x1 Landscape Eyefinity mode. The most important Eyefinity feature we're lacking is developer support at this point. AMD has had a tremendous headstart over NVIDIA in the DirectX 11 GPU generation, to not have this working by now is unacceptable.
The final Eyefinity features supported by Catalyst 10.3 are support for multiple groups and fast switching between Eyefinity modes. Multiple Eyefinity groups could be used to support configurations like one single large surface made up of two monitors and one additional monitor as a desktop extension. This becomes more useful as you get into 4, 5 and 6 display configurations which should be enabled sometime this year.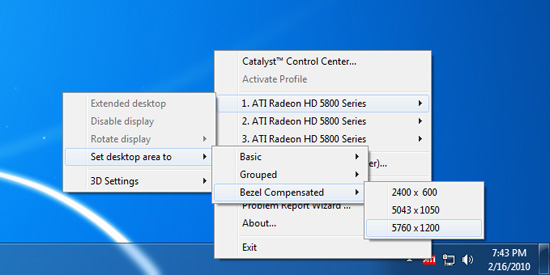 It's pretty quick to switch between cloned and single large surface display mode (in case you're tired of your start menu being multiple feet to your left but still want to keep the immersive gaming mode). Just a right click and an unnecessarily deep couple of menus and you're there.
You're also supposed to be able to define profiles that include your Eyefinity configuration, to allow you to switch between 3x1 and 1x3 for example if you happen to be some sort of crazyperson and like to reorganize your monitors frequently. Unfortunately neither groups nor profile switching worked reliably for me. The last profile I would create seemed to overwrite the previous one. AMD has until March to finalize the drivers, so I'm guessing these bugs will be gone by then (famous last words).