Overclocking the i3 - 4GHz with the Stock Cooler
I've become a fan of stock voltage overclocking over the past few years. As power consumption and efficiency has become more important, and manufacturing processes improved, how far you can push a CPU without increasing its core voltage appears to be the most efficient way to overclock. You minimize any increases in power consumption while maximizing performance. You really find out whether or not you've been sold a chip that's artificially binned lower than it could have.
With Bloomfield, Intel hit a new peak for how far you can expect to push a CPU without increasing voltage. AMD followed with the Phenom II, but Lynnfield took a step back. Thanks to its on-die PCIe controller, Lynnfield needed some amount of additional voltage to overclock well. Clarkdale is somewhere in between. It lacks the crippling on-die PCIe controller, but it's also a much higher volume part which by definition shouldn't be as overclockable.
The Core i3 530 runs at 2.93GHz by default, with no available turbo boost. Without swapping coolers or feeding the chip any additional voltage, the most I got out of it was 3.3GHz (150MHz BCLK x 22). Hardly impressive.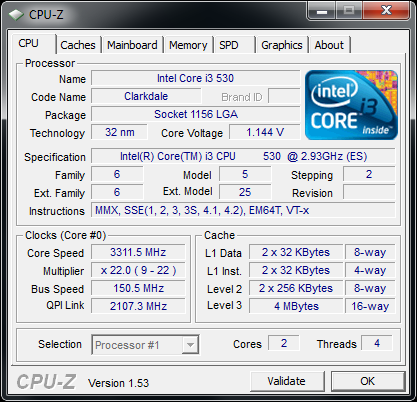 I added another 0.16V to the CPU's core voltage. That's just under 14%. And here's what I was able to do: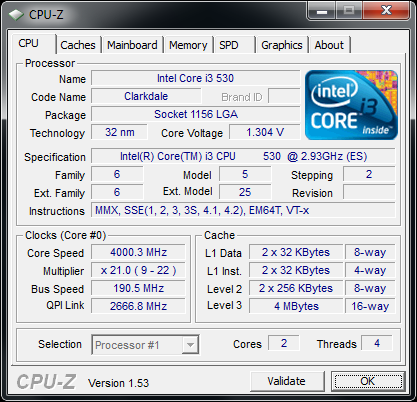 That's 4GHz, stable using the stock heatsink/fan. Part of the trick to overclocking this thing was lowering the clock multiplier. Despite always keeping the QPI and memory frequencies in spec, lowering the clock multiplier on the chip improved stability significantly and allowed me to reach much higher frequencies.
I could push beyond 4GHz but that requires more voltage and potentially better cooling. With a stable 4GHz overclock, I was happy.
If you'll remember from my review of the processor, my Phenom II X2 550 BE managed 3.7GHz using the stock cooler and a pound of voltage. Unfortunately it's not enough to challenge the overclocked 530.
| | | | | | | |
| --- | --- | --- | --- | --- | --- | --- |
| CPU | x264 HD 3.03 - 2nd pass | 7-zip KB/s | Batman: AA | Dawn of War II | Dragon Age Origins | World of Warcraft |
| Intel Core i3 530 @ 4GHz | 18.4 fps | 2822 | 192 fps | 62.7 fps | 115 fps | 92 fps |
| AMD Phenom II X2 550 @ 3.7GHz | 10.4 fps | 2681 | 170 fps | 50.9 fps | 63 fps | 60.8 fps |
| AMD Phenom II X4 965 (3.4GHz) | 22.2 fps | 3143 | 196 fps | 54.3 fps | 109 fps | 74.1 fps |
Even an overclocked Athlon II X4 630 isn't going to dramatically change things. It'll still be faster in multithreaded applications, and still the overall slower gaming CPU.
If the Core i3 530 is right for you, overclocking is just going to make it more right.