Saving Power at Low Load
Measuring idle power is important in some applications as operating system schedulers may choose to "race to idle", i.e. perform the task as quickly as possible so the CPU can return to an idle state. This strategy is only worthwhile if the idle state consumes very little power, but lots of server applications are running at relatively low but almost never "zero" load. One example is a web server that is visited all around the globe. Thus it is equally interesting to see how the processors deal with this kind of situation. We started Fritz Mark up with two threads to see how the operating system and hardware cope with this. First we look at the delivered performance.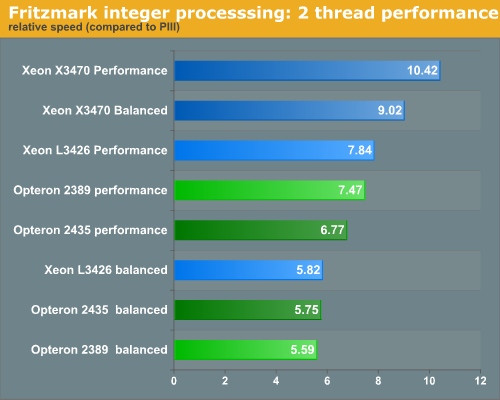 In performance mode, the Xeon L3426 is capable of pushing clock speed up to 2.66GHz, but not always. Performance is equal to a similar Xeon at 2.5GHz. This in contrast with the Xeon X3470 which can almost always keep its clock speed at 3.33GHz, and as such delivers performance that is equal to a Xeon that would run always at that speed. The reason for this difference is that the PCU of the L3426 has less headroom: it cannot dissipate more than 45W while the X3470 is allowed to dissipate up to 95W. Still, the performance boost is quite impressive: Turbo Boost offers 34% better performance on the L3426 compared to the "normal" 1.86GHz clock.
Now let's confront the performance levels with the power consumption.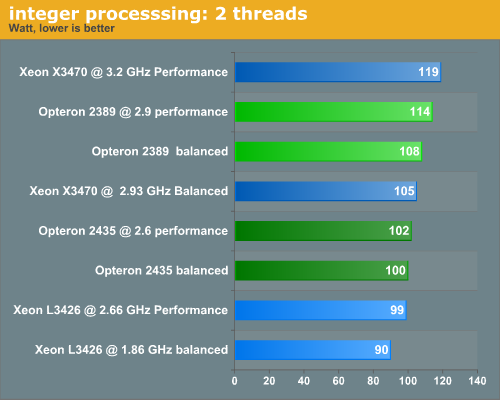 The six-core Opteron is clearly a better choice than its faster clocked quad-core sibling. In power saving mode it is capable of reducing the power by 8W more while offering the same level of performance. It is a small surprise: do not forget that the "Istanbul" Opteron has twice as many idle cores that are leaking power than the "Shanghai" CPU.
The Nehalem based core offers very high performance per thread, about 40% higher than the Opteron's architecture is capable of achieving, but it does come with a price, as we see power shoot up very quickly. Part of the reason is of course is that the Nehalem is more efficient at idle. We assume - based on early component level power measurements - that the idle power of the Xeons is about 9W (power plan Balanced), the Opterons about 14W (power plan Balanced). Note that the exact numbers are not really important. Since the RAM is hardly touched, we assume that power is only raised by 1W per DIMM on average. Based on our previous assumptions we can estimate CPU + VRM power, measured at the outlet.
System Power Estimates
System
Power Calculation
CPU + VRM Power
Notes
Xeon X3470 performance
119W - 4W (4 x 1W per DIMM) - 60W idle + 13W CPU
= 68W
(idle power of system was 73W = 13W CPU, 60W for the rest of the system)
Xeon L3426 performance
99W - 4W - 60W + 11W
= 46W
Xeon L3426
90W - 4W - 60W + 9W
= 35W
Opteron 2435 performance
102W - 4W - 70W idle + 18W
= 42W
(total idle power was 88W, 18W CPU)
Opteron 2435 balanced
100W - 4W - 70W idle + 14W
= 40W
Opteron 2389 performance
114W - 4W - 70W idle + 22W
= 62W
First of all, you might be surprised that the Turbo Boosted L3426 needs 46W. Don't forget this is measured at the power outlet, so 46W at 90% efficiency means that the CPU + VRMs got 41W delivered. Yes, these numbers are not entirely accurate, but that is not the point. Our component level power measurements still need some work, but we have reason to assume that the numbers above are close enough to draw some conclusions.
AMD's platform consumes a bit too much at idle, but...

The six-core Opteron CPUs are much more efficient than the quad-core in these circumstances

Intel's 95W Xeons offer stellar performance but the high IPC requires quite a bit of power

The low power versions offer an excellent performance / Watt ratio
So if we take the platform out of the picture, the low power Xeon with Turbo Boost consumes about the same as the "normal" six-core Opteron, but performance is 16% better. Is this a success or a failure? Did Intel's Power Controller Unit save a considerable amount of power? Or in other words, would the power of the Xeons be much higher if they didn't have a PCU? Let's dive deeper.