Our Benchmark Choice
For this article we chose Fritzmark 4.2, the chess benchmark designed by Mathias Feist. The benchmark has the disadvantage that it is not real world for most IT professionals, but it allows us to control the number of threads very easily and precisely. It is also a completely integer dominated benchmark which runs completely in the CPU caches. This allows us to isolate the CPU power savings and the performance and power measurements will still have some resemblance to the typical server loads. This is in contrast to an FP intensive benchmark like LINPACK.
Software Power Management: Windows 2008 Power Plans
On our 64-bit Windows Server 2008 R2 Enterprise two power plans are available:

The interesting thing is how the power plan affects the processor power management (PPM). With Balanced, Turbo Boost never came into action. The L3426 was stuck at 1.86GHz and the X3470 never clocked higher than 2.93GHz. When running idle, both CPUs stayed at 1.2GHz (9x multiplier). The Opterons scaled back to 0.8GHz.
Once set at the Performance power plan, the CPUs never scaled below the default clock speed. According to most clock speed utilities, the Xeons always tried to achieve the highest possible Turbo Boost clock speed. The L3426 switched between 3.066 and 3.2GHz. Note that this did not increase the power consumption significantly: it only used 2W extra on the L3426. The Opterons ran at their top speed. To measure the effect of the power plans we measured the power consumption of the different servers running idle in Windows 2008 R2. This is the power consumption of the complete system, measured at the electrical outlet minus the fans.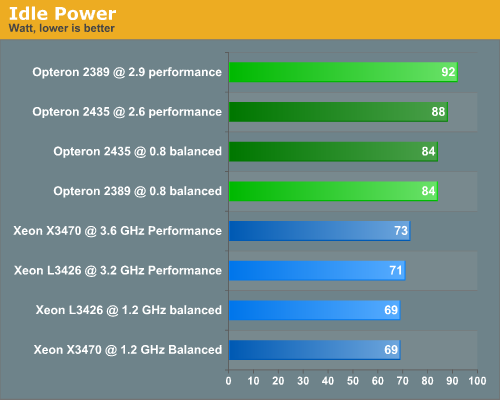 We focus on a comparison between the green and blue bars. Comparing the CPUs on each platform offers some interesting insights. Let's first check out the AMD Platform. The Opteron 2389 "Shanghai" clearly needs a higher voltage to achieve 2.9GHz (1.15 - 1.325 V). Despite the fact that the six-core has two cores more to power, the six-core Opteron needs 4W less than the 2.9GHz quad-core Opteron. The reason is that the 2.6GHz never needs more than 1.3V (min: 1.075V) and is also making very good use of clock gating with cache dump (a.k.a. "Smart Fetch").
The idle power measurement of the Xeons shows us how little power is saved by scaling back the frequency: only 2W. The power savings are a result of fine-grained clock gating and core power gating.