Although CES will go on for on for another day, the show is done for me. I've spent much of the past few days meeting with everyone from motherboard manufacturers to ARM to GlobalFoundries.Some of what I've learned you've already read about, but much of it will appear in the weeks and months to come. I don't believe there's ever been a time quite as exciting as this.
I'll start with Intel - the makers of two out of the three most exciting things I saw at CES (Dell made the third if you're curious, but I can't explain why just yet). Intel's focus was obviously Arrandale and Clarkdale, its first CPU with on-package graphics: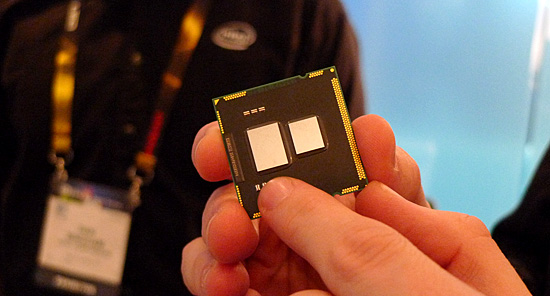 Arrandale - the larger die is the 45nm graphics core
Intel had a few demos of what you can do with the on-package 'dale graphics. The first example was Lenovo's new Clarkdale workstation that is actually AutoCAD certified using Intel's integrated graphics.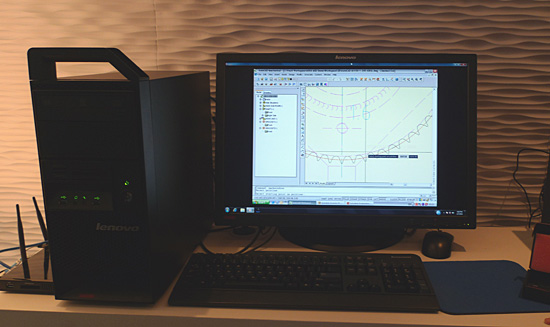 I gathered that this was a big event for Intel since no previous Intel integrated graphics could garner such a thing. I'm not sure if an AutoCAD user would want to use Intel integrated graphics, but perhaps it's finally sufficient? Either way Intel wouldn't have been able to come close to achieving this in the past. Like I mentioned in the Clarkdale review - Intel's HD Graphics is finally on par with competing AMD and NVIDIA solutions.
Cyberlink dropped by Intel and demonstrated PowerDVD 9 working with the new Blu-ray 3D spec, also on Clarkdale integrated graphics: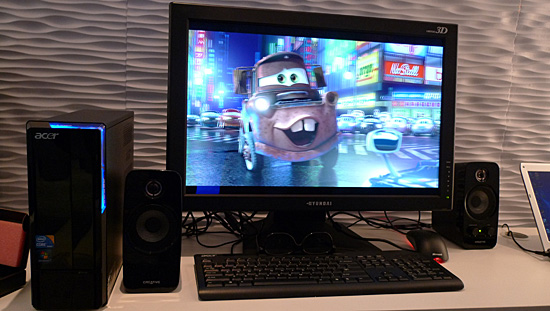 The demo worked in 3D but gave me a bit of a headache so I cut it short.