Mobile DirectX 11 Arrives… Where Are the Games?
Just as ATI was the first out of the gate with DirectX 11 hardware on the desktop, they are now the first mobile DX11 solution. That's good, but we still need gaming support, and that is at best a work in progress. So far there are three games that have shipped with DX11 features: Battleforge, DiRT 2, and STALKER: Call of Pripyat (well, it's available if you speak Ukrainian at least; we're still waiting for the English version, although a public benchmark is available). Here's a list of some other titles that are on the way: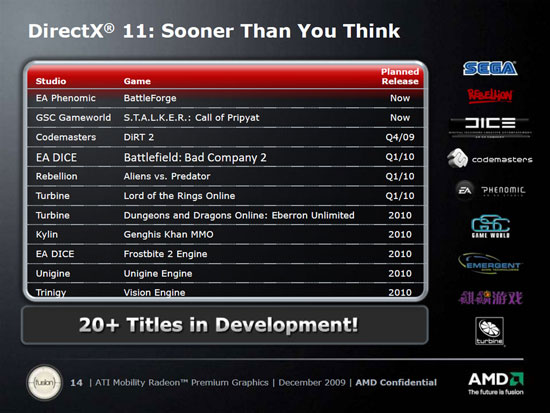 Not convinced that DirectX 11 will arrive anytime soon? Perhaps this slide will change your opinion: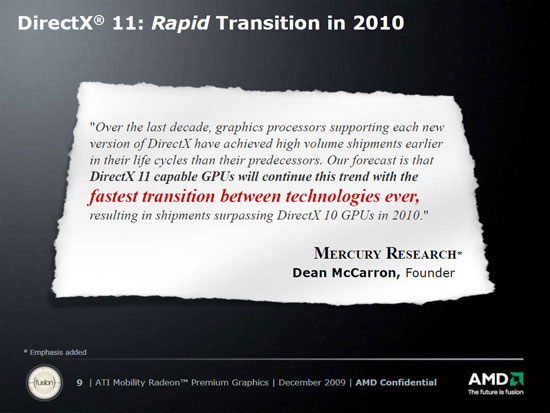 Okay, we remain skeptical as well, no offense to Mercury Research. In truth, it's only in the past year that DirectX 10 has really arrived, with most new games supporting DX10 features, but there were a few early DX10 titles not long after Vista launched. Unless adding DX11 features is very easy, or someone is footing the bill for developers (i.e. ATI), DX11 isn't likely to become dominant until the majority of graphics cards have DX11 support. Considering the installed user base for DX10 hardware, that could be several years away.

Speaking of DX11, here are some more slides showing what is possible with the new hardware: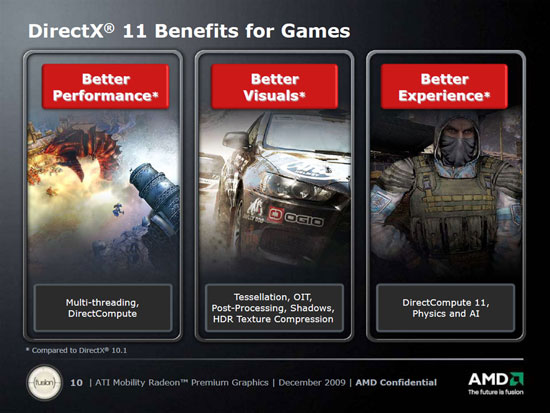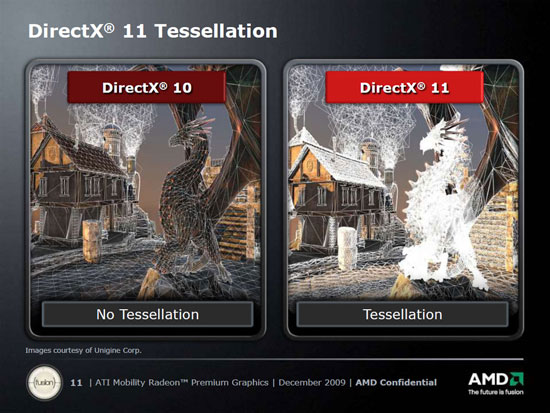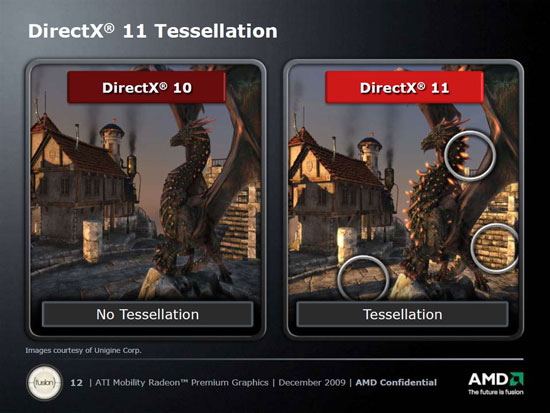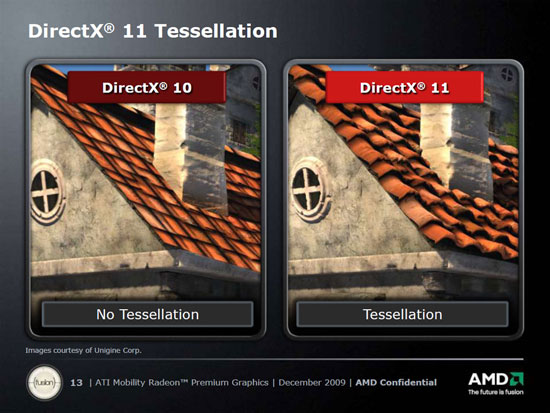 The big one in that list is obviously tessellation… but haven't we heard that before? Why yes we have! And it was only just under three years ago. Okay, you can read more about DX11 and tessellation in our DX11 article. The good news is that DX11 finally makes tessellation a required element, so we're more likely to see it utilized. Unigine is used in the above images, and you can see the complete list of Unigine projects for potential early tessellation candidates. We do like the idea, but until it becomes reality it's just a checkbox on your GPU hardware, which is what we've had since the HD 2900.