Performance Summary
It's the same old story on the performance front; all P55 boards perform about the same during fixed frequency tests.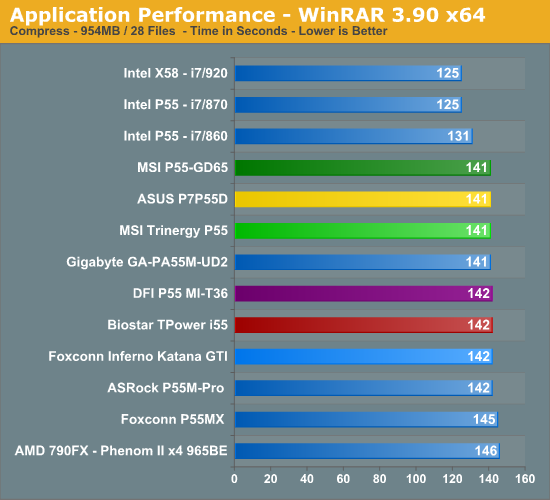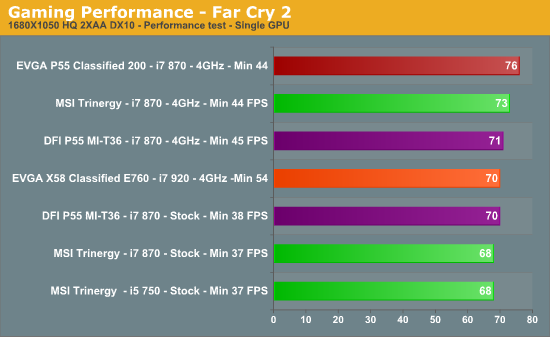 For the next test we measured AC power consumption from the wall while using the same set of components on all boards. All power saving features were turned on, with OS software installed where necessary to give maximum power saving at stock operating frequency on our i7 870 CPU. Real power consumption will probably be a few percent lower than what the AC wall meter reports but as we're going apples to apples here, the percentage of change is the important factor.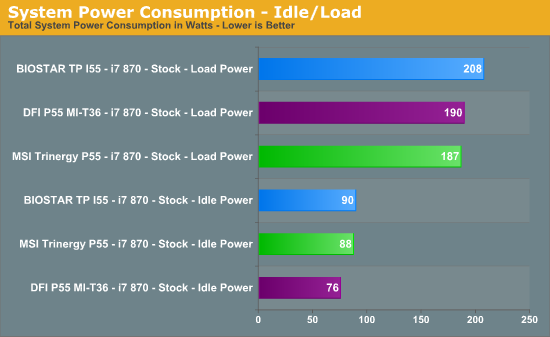 DFI's MI-T36 produces respectable power consumption figures during idle and full load scenarios, bettered only slightly by MSI, who are the class leaders when it comes to power saving features and software.
As part of the performance summary, we also include a DPC latency screenshot for the audio aficionado's out there;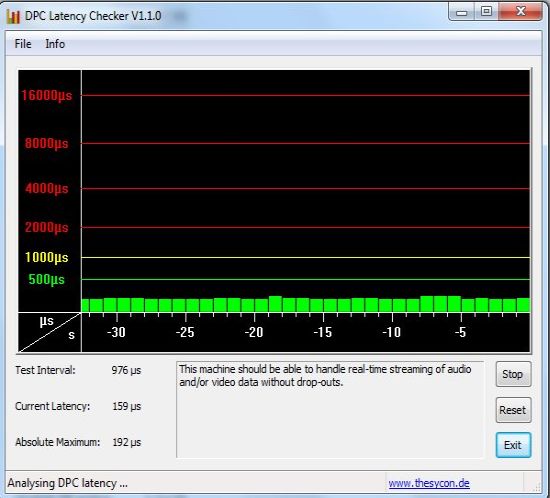 Overclocking
DFI offers plenty of overclocking features within the current BIOS. However, the VRM for processor VCore is limited to 150w max (110w in the near future). Although we managed to pass our gaming tests at 4GHz, 860/870 CPUs are best left near stock operating frequency to avoid catastrophic board failure during heavy load tests.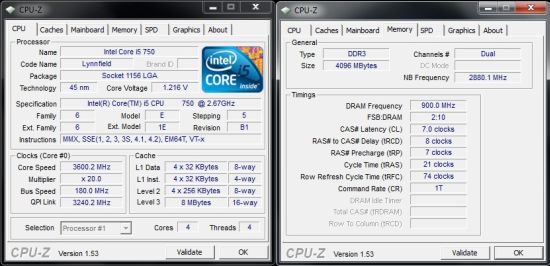 We overclocked our 750 CPU to 3.6GHz with a 1800MHz memory speed at 7-8-7-20 timings (180BCLK x 20). Voltages were 1.25V CPU VCore, 1.25VTT and 1.65VDIMM. All other voltages were left at stock. On the DRAM side, we only needed to set the primary timings; the board defaults were perfectly adequate for this speed. We must add that we were using an open test bed and pointing a high speed fan directly over the PWM area. Within a PC case, we think you're going to be limited to stock operating frequencies on the CPU. S3 Sleep mode recovery is limited to around 150 BCLK on the current BIOS too, anything higher and the board gets caught in a reboot loop.