Gaming results
The addition of the NF200 brings Triple SLI or CrossFire possibilities to P55. We've taken the time to compare graphics performance to four other boards. The P55 line-up is comprised of two native PCI-E boards, the DFI M-ITX P55 and also BIOSTAR's TPOWER i55. We've also added EVGA's Classified 200 P55 motherboard, which also utilizes the NF200 to provide additional PCI-E lanes. Unlike MSI's Trinergy, EVGA chose to keep the first PEG slot CPU native (x16 single card bandwidth, x8 when any other PEG slot is used), and routed additional slots via the NF200. Finally, one cannot ignore X58, so we've added EVGA's Classified E760 motherboard to show how P55 stacks up against the native SLI capabilities of the Intel X58 IOH.
Far Cry 2
Featuring fantastic visuals courtesy of the Dunia Engine, this game also features one of the most impressive benchmark tools we have seen in a PC game. For single GPU results we set the performance feature set to Very High, graphics to High, and enabled DX10 with AA set to 2x. For dual and triple card SLI we used Ultra high settings with 4xAA and DX10. The in-game benchmark tool is utilized with the Ranch Small level as our test of choice.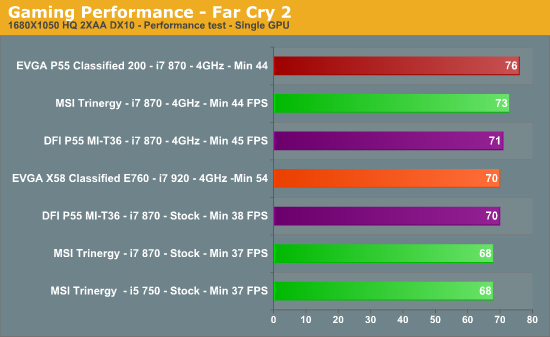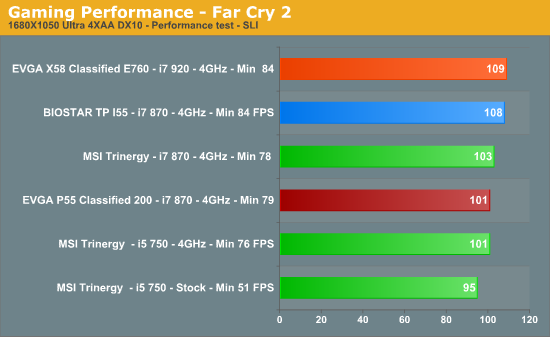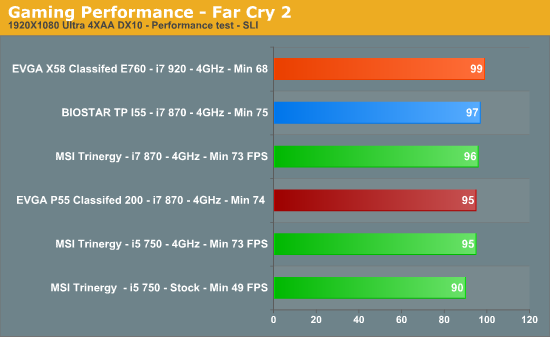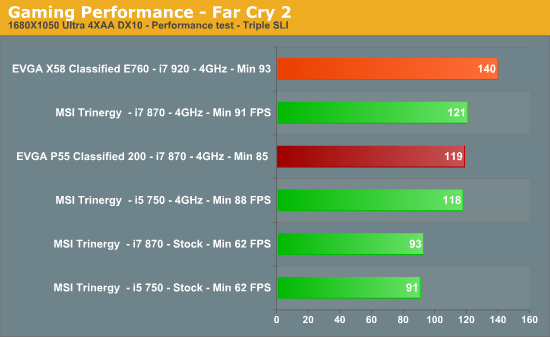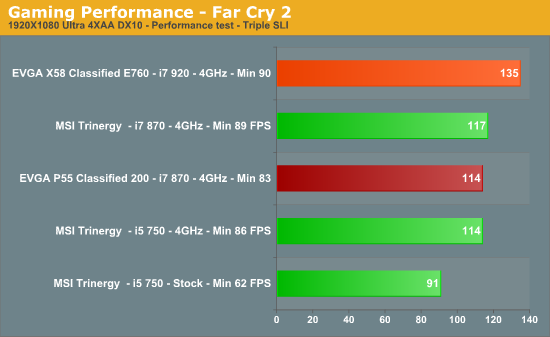 Single card performance favors all boards with native PCI-E solutions, leaving the Trinergy trailing by a couple of frames. The X58 pulls ahead in dual and Triple SLI performance in Far Cry 2, while the Trinergy is marginally ahead of the EVGA Classified 200. Note that native P55 operating at x8/x8 on the Biostar shows that x16 bandwidth is not essential for good performance.
Warhammer 40K: Dawn of War II
We are big fans of the Warhammer franchise, especially Dawn of War II. One of the latest RTS games in our library is also one of the more demanding titles on both the CPU and GPU. We crank all options to Ultra, enable AA, and then run the built-in performance benchmark for our result.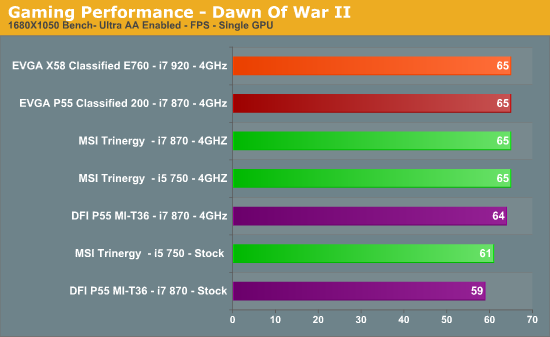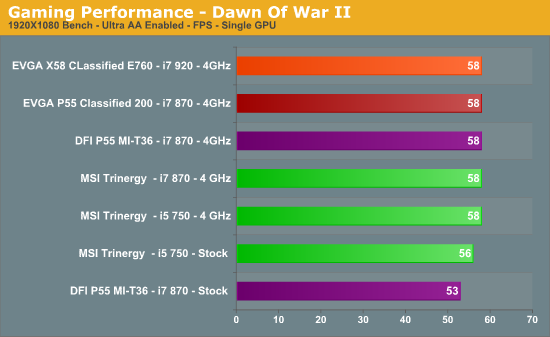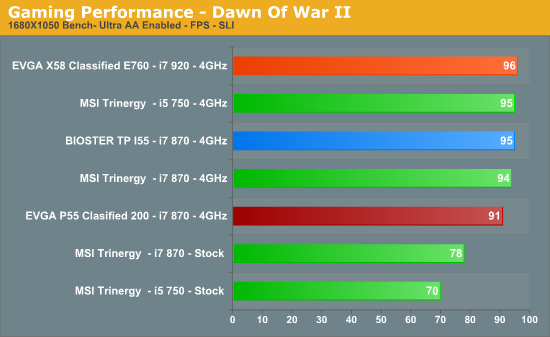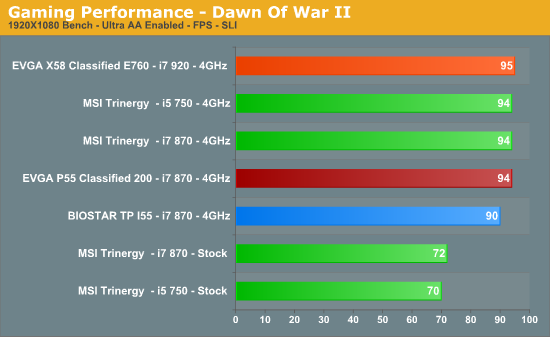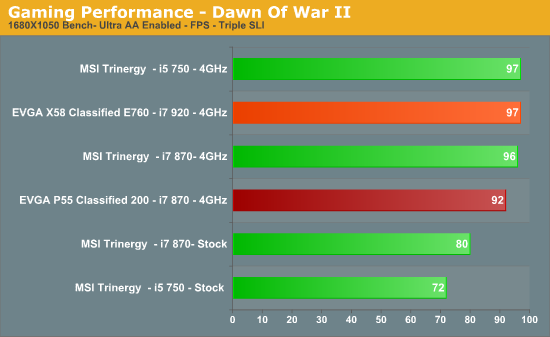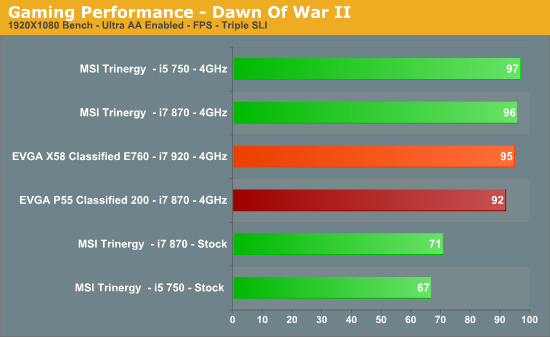 The Trinergy puts in a good show in all configurations during this benchmark. We found dual to triple card scaling was limited solely to minimum frame rates. The minimum FPS results were somewhat erratic at times though, showing wild swings between different batches of testing. Generally speaking, Triple SLI gives minimum frame rates in the region of 40 FPS at 1920X1080 resolution. In dual SLI mode, the averages drop to between 16~24 FPS. Single card mode sees minimum frame rates below 5 FPS in the worst case scenario at 1920X1080.
Resident Evil 5
For our final game benchmark we decided to add the Resident Evil 5's fixed time demo, running DX10, Ultra settings and 4xAA.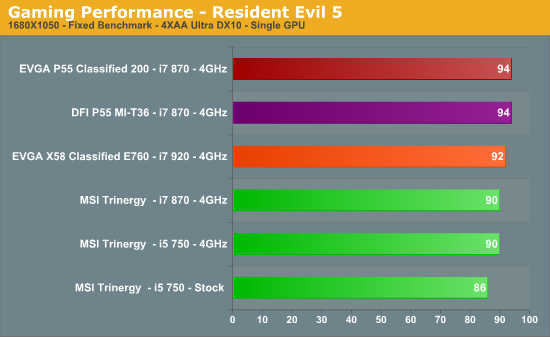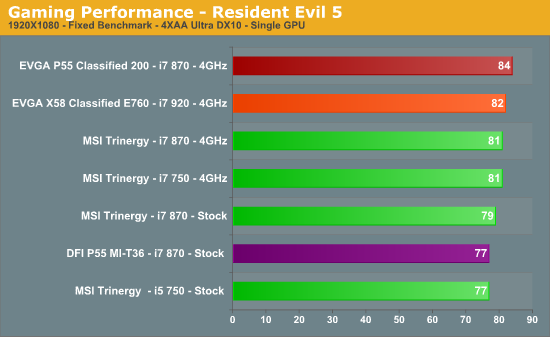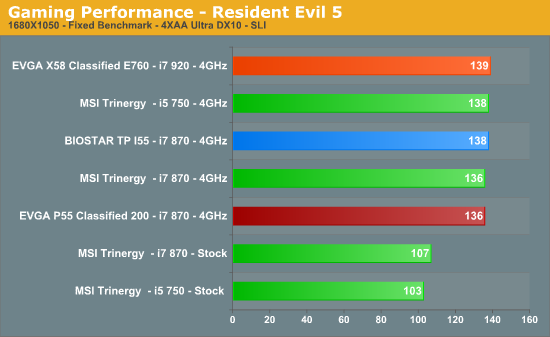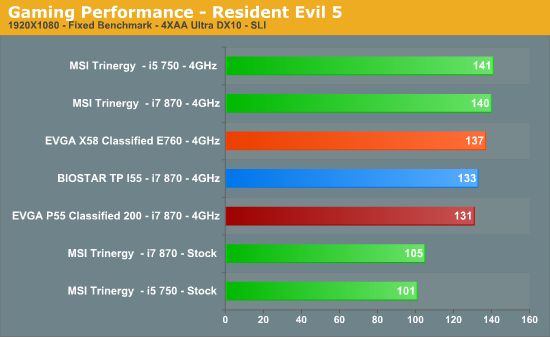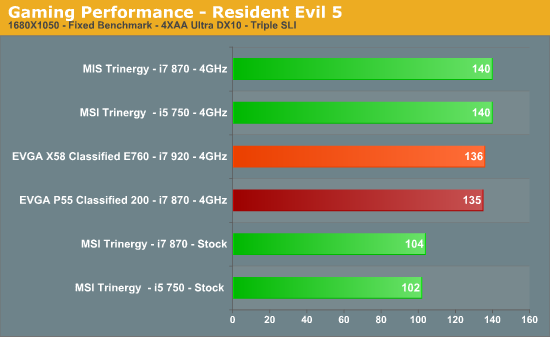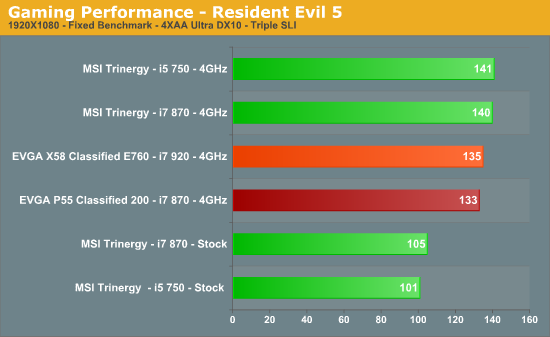 Capcom's engine seems to be CPU bound more than anything else, with all boards landing within a whisker of one another. Even X58 does not seem to show any real advantage in this benchmark.
3D Mark Vantage
For our final Triple SLI test, we thought it would be interesting to confirm scoring potential by looking at how each board fared when faced with the rigorous 3D and CPU tests of 3DMark Vantage using the High preset (1680X1050 resolution).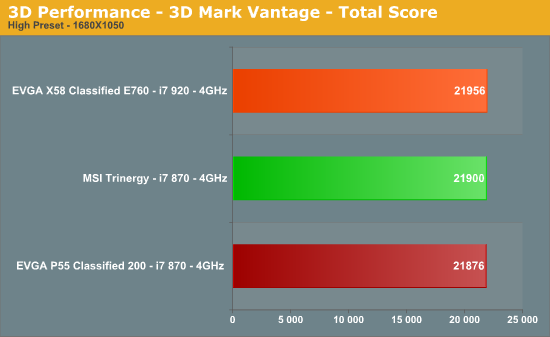 We expected more of a gap favoring X58 in this benchmark, but it appears the primary bottleneck is created by the GPUs here. Overall, the 3D benchmark scores in this section show that P55 running Triple SLI is not an embarrassment by any means.