Much Better Battery Life
So far, there really hasn't been any reason for us to recommend the 1005PE over the older 1005HA - and by extension, the new Pineview Atom N450 didn't show any benefit over Diamondville N280. Even Silverthorne Z530 beats N450 in some areas, since it has support for H.264 decoding, though overall we're not very keen on the Atom Z series. Finally, though, with battery life we get to see some improvements.
We need to make a note here that these are very much preliminary results. We like to run multiple battery life tests, but with just two days of testing there wasn't enough time to do more than a single battery life test. We will update this page with additional battery life tests as we complete them, which may take a few days. We also want to rerun the Internet test once as a sanity check - the score below might be slightly lower than normal since we didn't have a chance to condition the battery by doing a full cycle prior to testing. Okay, that said, here are the results of our one battery life test.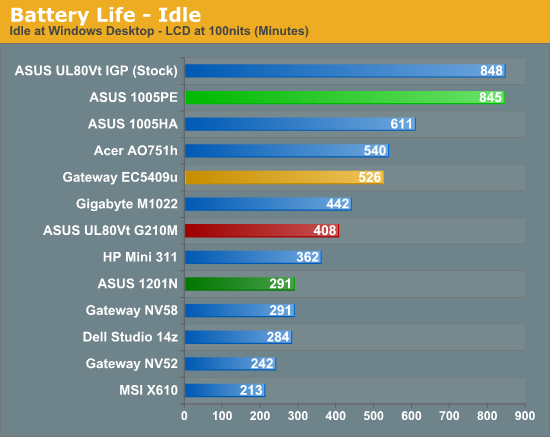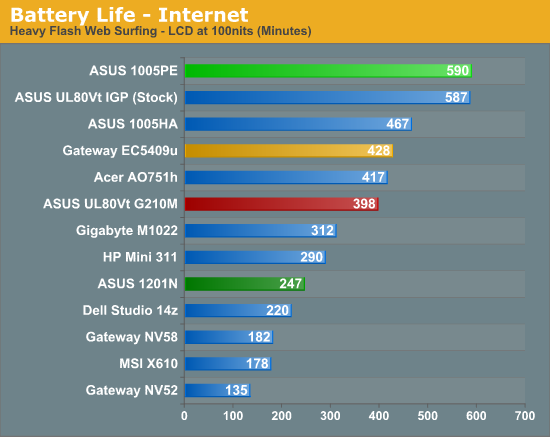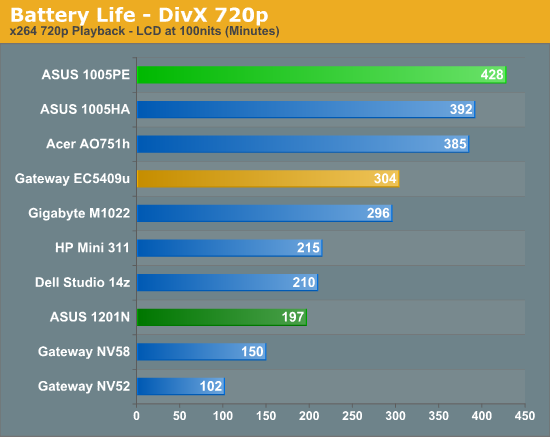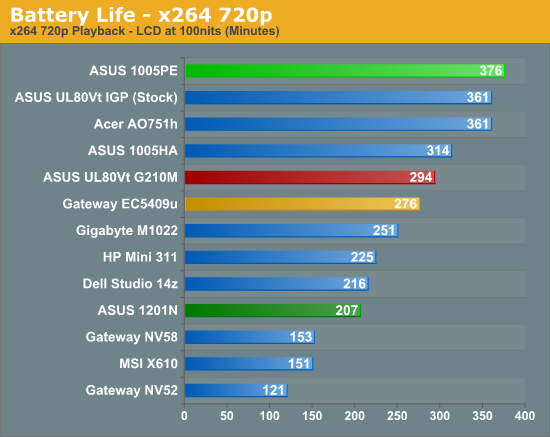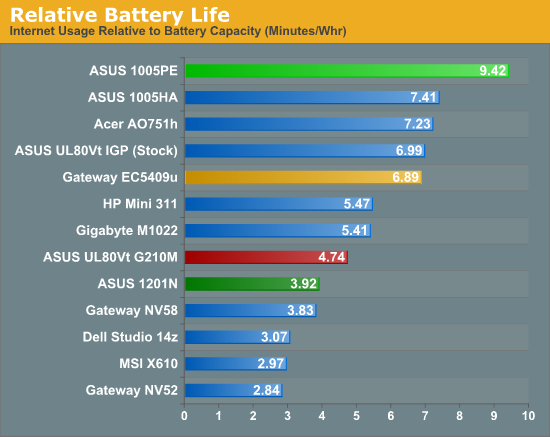 And finally we have a reason to get an N450 system. This is a relatively intense web surfing scenario, as we have multiple Flash ads visible, and yet the 1005PE still lasts nearly 10 hours. Granted, this is with the higher capacity battery (less expensive 1005PE models will ship with a 48Wh battery instead of a 63Wh battery), but the same battery capacity in the 1005HA only managed just shy of eight hours. As you can see in our relative battery life chart, the N450 improves on the closest competitor (the 1005HA) by 27%.
Update #1: We just finished the results for x264 playback, and it continues the pattern of dramatically improved battery life. The 1005PE lasts over 6 hours compared to over 5 hours on the 1005HA, which is a 20% improvement. We had to use the CoreAVC decoder for both systems, naturally, as otherwise x264 decoding is too demanding. Dual-core Atom can handle 720p in software, and with CoreAVC it can likely do 1080p as well; the single-core parts on the other hand struggle at 720p without a highly optimized codec. CPU usage with CoreAVC is still around 75-85%, and we had to run with the Balanced power profile and Active cooling to keep playback smooth. (We're not sure why setting a laptop to Passive cooling makes a difference, but CPU usage was pegged at 100% and we lost A/V synch if we used the Passive setting.)
Update #2: DivX 720p HD playback results are complete as well, and this time the battery life increase isn't quite as substantial: 9% more battery life than the 1005HA. Obviously, DivX decoding isn't quite as stressful as x264, but the real deal is over seven hours of HD video on a single charge. Remember that this is 720p content downscaled to a 600p LCD as well; if you had lower resolution videos (i.e. encoded to 1024x576 for example), the CPU requirements would drop a bit more and thus increase battery life slightly. We're now looking at the ability to watch four typical movies without the need to plug in, so that's definitely nice if you're interested in watching movies on long flights.
Update #3: Wrapping up the battery life results, Idle battery life tops out at just over 14 hours. That's the same as the UL80Vt in ultra-power-friendly mode, but then the UL80Vt has 33% more battery capacity. Compared to the 1005HA, the 1005PE boosts idle battery life by 38%, but biggest gain we've seen. It's not too surprising, as the 45nm process now extends to the "Northbridge" and IGP whereas those two items used to be 65nm parts (and the Southbridge used to be 90nm). It's unlikely you'll reach this lofty 14 hour run time if you're actually using the 1005PE, but you should be able to get 12+ hours doing basic document editing (assuming you're not playing music in the background).