ASUS UL80Vt Battery Life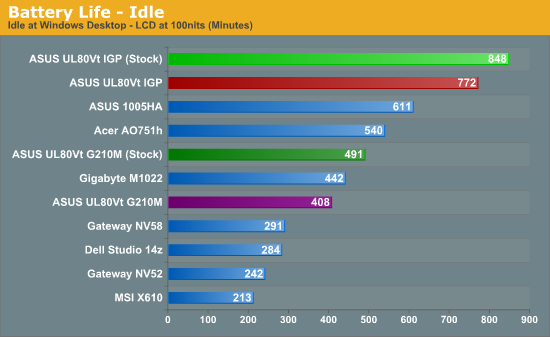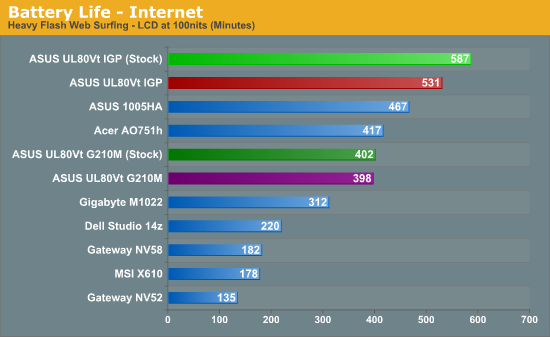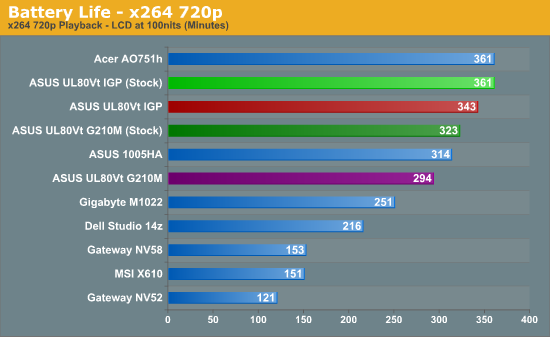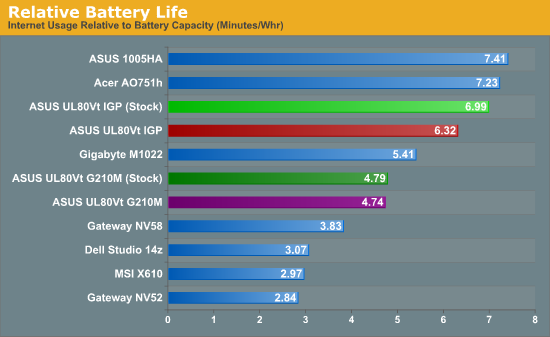 The coup de grace for the UL80Vt is the battery life. Look at those charts and try to find anything else for $800 that can match the ASUS UL80Vt. (Note: the ASUS UL30Vt doesn't count, since it's pretty much the same laptop in a slightly smaller package.) Netbooks are able to offer competitive battery life, sure, but they're less than half as fast. The best-case Idle battery life tops out at just over 14 hours, but even a more demanding test where we load four web pages every 60 seconds - including one page with three Flash ads - still ends up at nearly 10 hours using the IGP and stock CPU speed. What's more, you can run with Turbo33 and the G210M and still get over 6.5 hours of web surfing.
We've dropped the other video playback tests, mostly because they're all very similar to the x264 results. HD DivX will last about 10-15% longer, and lower resolution videos would also improve on the results, but in general you can expect 5 to 6 hours of video playback with the UL80Vt.
The relative battery life is the final element, putting things into perspective. The UL80Vt has a higher capacity battery, so getting more mobility is somewhat expected. In the lowest power mode (IGP + stock CPU) the UL80Vt can provide nearly seven minutes per Wh, which is just slightly less than the ASUS 1005HA netbook. Turn on Turbo33 and battery life drops by about 10%. Running stock with the G210M enabled on the other hand results in a drop of 46%. Internet surfing with Turbo33 + G210M doesn't really change compared to stock with G210M, with only a 1% drop. The results here are in a test that happens to be more demanding than our MacBook testing, so the stellar battery life is even more impressive. Is it any wonder we're impressed with the ASUS UL80Vt? You get awesome battery life with reasonable gaming and application performance, all for just $800.