Performance Summary
Performance is indistinguishable from other P55 motherboards - these products all perform about the same at stock or even overclocked speeds: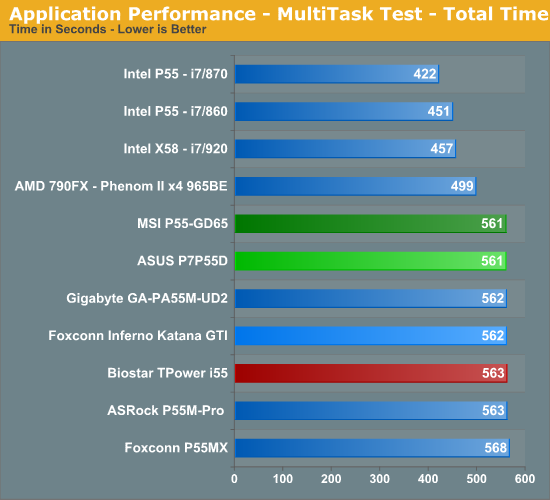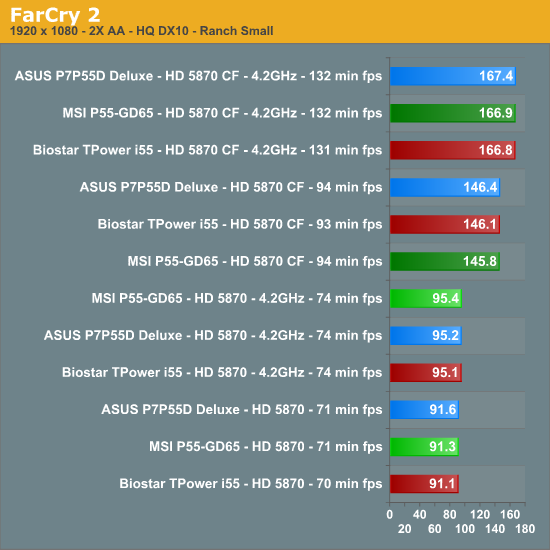 Biostar provides a great PWM/FET design for stability and overclocking, which also results in very good power consumption results..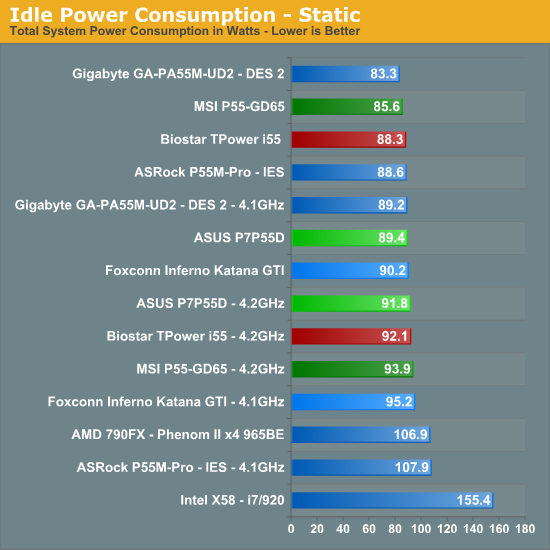 Of course, one of the key questions that invariably comes up in regards to a board's performance capability is just how well it overclocks.
Core i5/750 8GB Results -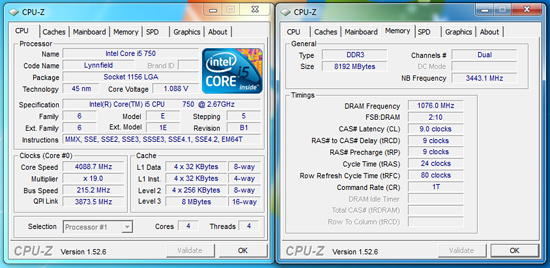 Gary had excellent results with his retail processors on this board in both 4GB and 8GB configurations. His primary problem encountered during overclocking with all three processors was the inability of the board to hold tight sub-timings with 8GB of memory above DDR3-2000. While the board would easily clock 8GB up to DDR3-2200 with 1.66V VDimm and VTT around 1.38V, we usually had to run CAS9 timings and loosen tFAW and B2B slightly to retain memory stability.
The Everest results show read/copy rates being up to 20% lower than a 4GB configuration at like timings, indicating Biostar still has some MSR/MRC tuning to complete in the BIOS. However, actual performance in games and applications never varied by more than 1%, so in some ways it just does not matter that much unless you are comparing synthetic benchmarks.
With all three processors, we never had to increase CPU PLL or the PCH voltages. VDimm was kept at 1.66V, VTT at 1.34V~1.38V, and VCore load voltages differed slightly between processors. Our i5-750 required 1.360V for 4.1GHz, i7-860 needed 1.425V for 4.3GHz, and the i7-870 hit 4.4GHz with 1.4V. Interestingly enough, our i5-750 would top out right around 4.1GHz regardless of voltages or cooling.
Core i7/860 and i7/870 8GB Results-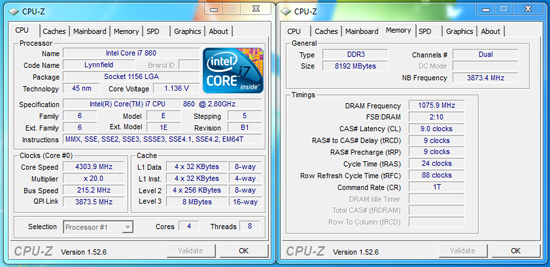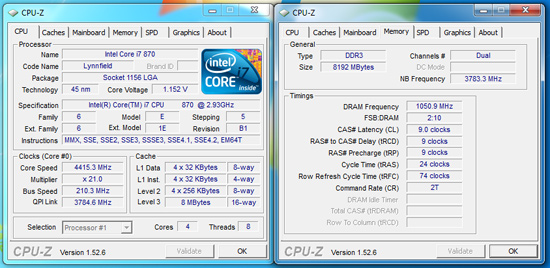 We had absolutely no problems clocking our i7/860 to 4.3GHz and the i7/870 to 4.4GHz with 8GB of memory.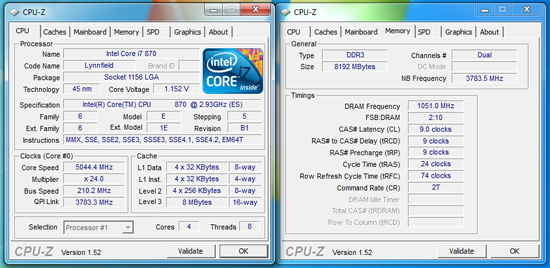 Just for fun, we pulled out our "cherry" i7-870 ES sample just to see what we could do on air in a suicide run for a screenshot. For the first time in our P55 testing, we were able to POST, enter Win7 x64, and take a few screenshots above 5GHz. The system was even stable enough to run SuperPi 1M, but not much else, in fact, just starting the Crysis or PCMark Vantage benchmarks would lock the system. However, it just goes to show that this board is capable of high overclocks for the vast majority of users on air or water cooling. Our maximum stable Bclk rate on air was 220.
If you want more details on the Biostar TPower i55, please continue on.