Crysis: Warhead
As Crysis is the only game that particularly struggled under even a single 5870, this is the only game we've gone ahead and captured data for at resolutions other than 2560.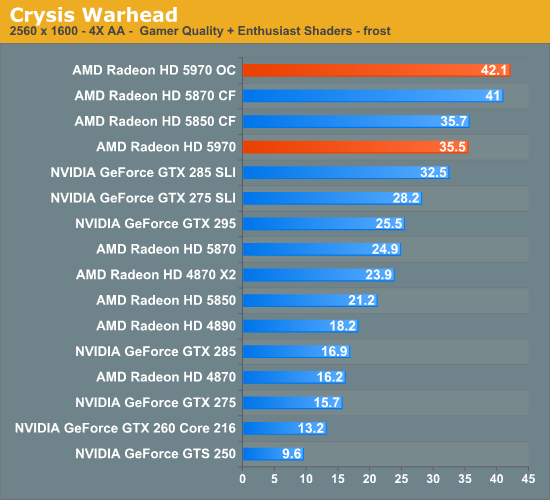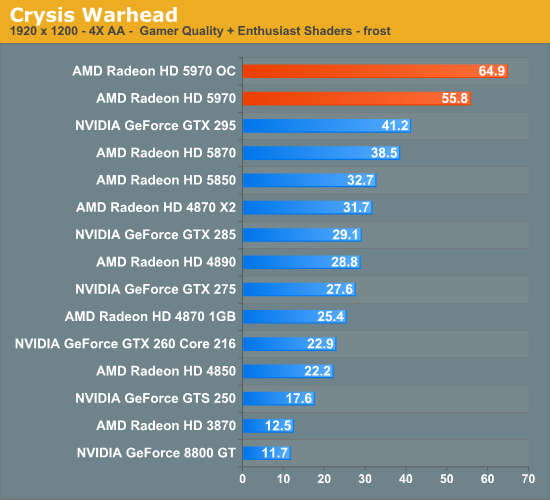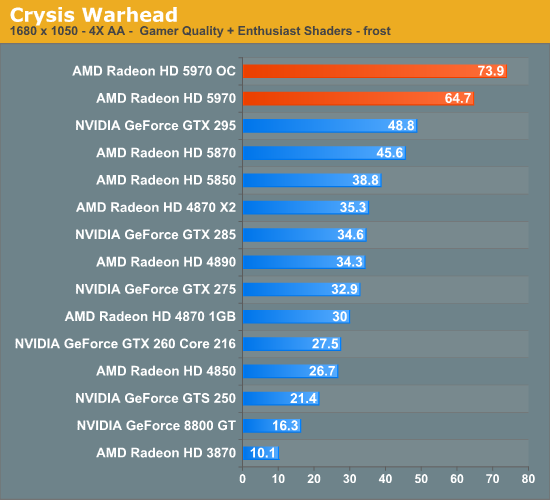 The 5970 gains the distinction of being the only single-card setup we have tested that can break 30fps on Crysis at 2560 – it's enough to at least push Crysis in to playable territory here, even though we'll gladly take more performance if we can get it. So Crysis hasn't quite fallen yet, but it's very close. It's also something where the 5970CF results would be quite interesting if we had them.
Interestingly, the 5970 manages to lose not only to the 5870CF, but the 5850CF by a very slight amount. The 5970 is clocked exactly the same as the 5850CF and has 2 more SIMDs, so we certainly aren't expecting it to lose here. This may be driver related or it may be PCIe bandwidth related (each half of the 5970 only gets 8x bandwidth) but we aren't sure which.
Meanwhile the GTX 295 sees the first of many falls here. It falls behind the 5970 by 30%-40%. The 5870 gave it a run for its money, so this is no surprise.
Finally, overclocking the 5970 to 5870 speeds nets you another 14%-18% in performance, which is quite interesting since the theoretical difference is only supposed to be 15%. But these numbers are repeatable; the 5970 likes being overclocked here.