Server Roadmap
AMD's previous CMO, Henri Richard, was a huge Ferrari fan. In turn, AMD became a sponsor of Ferrari's Formula 1 team and some of AMD's roadmap developed Italian-inspired codenames.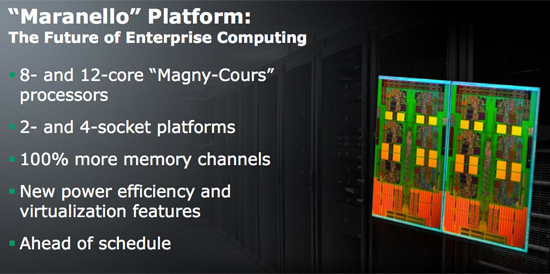 The Maranello platform is AMD's high end server platform, due out in 2010. It supports the 8 and 12 core Magny Cours processors. These are multi-chip-modules with two quad or hexa core die on a single package.
With twice the die, you get twice the memory controllers. Magny Cours has four DDR3 memory channels. With more memory channels, Magny Cours needs a new, higher pincount socket which AMD is calling Socket G34. The chips will be branded as Opteron 6000 series.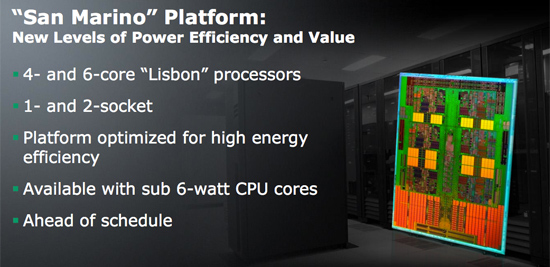 San Marino is the second major server platform of 2010 and it's for more normal servers. Four and six core Lisbon processors find their homes in San Marino. There's also a low power Adelaide platform that'll be available.
These Lisbon processors will be branded as Opteron 4000 series chips and will work in Socket C32.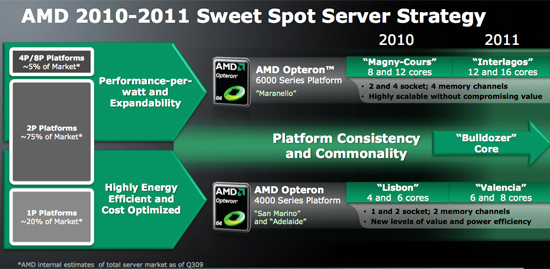 In 2011 we get Interlagos and Valencia platforms, both based on AMD's next-generation Bulldozer cores. Interlagos is a Socket-G34 platform supporting 12 and 16 core processors, while Valencia is Socket-C32 and can accommodate 6/8 core chips.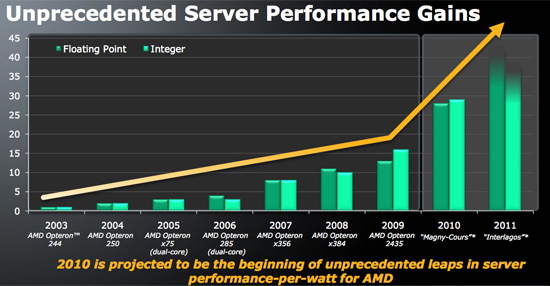 Final Words
Unfortunately for AMD, 2010 isn't really interesting. The company will have to rely on aggressive pricing and the continued success of its graphics teams to carry it for the next 12 - 18 months.
Bulldozer, from what I know, appears to be a bold enough architecture to really challenge Intel if AMD can get it done properly. Bulldozer should arrive between Sandy Bridge and Intel's first 22nm CPUs. It's too early to tell how well Bulldozer's execution is going; AMD absolutely must sample in 2010.
It's disappointing that Llano won't use Bulldozer. With 32nm Phenom II cores, Llano will be roughly one to two architecture generations behind Sandy Bridge. The GPU side should be strong though, it is ATI after all.
AMD's graphics strategy is much stronger. Bringing an already industry leading GPU architecture on die and then revving it every year is going to completely change the way we look at annual CPU releases. The big question here is what apps are we going to be running on these integrated GPU cores? The market has roughly two years to start finding out.