Cheesy Marketing Names for Cool Tech, AMD Velocity Ensures New Designs Every 12 Months
AMD's first APUs drop in 2011, but what happens in 2012? Intel is committed to new microprocessor architectures every 2 years as a part of its tick-tock strategy. AMD's GPU-inspired equivalent is called Velocity.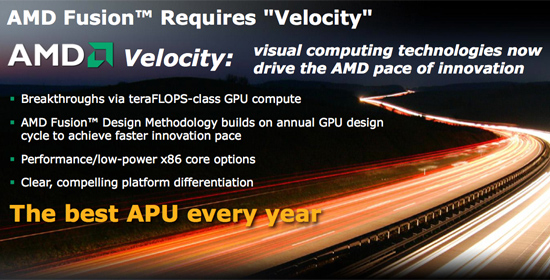 About every year we get a new GPU architecture, whether it's a strict doubling of execution resources or something more significant, it happens like clockwork assuming TSMC isn't fabbing the chips. AMD Velocity just states that, in turn, every year we'll get a brand new chip that integrates this new GPU architecture. The CPU side may or may not change, but with yearly design cycles we could see regular improvements on that end as well.
Velocity also means that even if it's difficult getting more performance out of a CPU architecture, AMD can always rely on a beefed up GPU core to give users a reason to upgrade.
This is all going to get real interesting once we have some good GPU compute applications to run on these things. For GPU compute apps, every year could be another Conroe, with ~20% performance gains just from the GPU improvements.
We just need the apps to support it. And no NVIDIA, what we have today isn't enough.