AMD's 2010 - 2011 Desktop Roadmap
Today's high end desktop platform is called Dragon. It's what you get when you combine a Phenom II, AMD 790FX/GX chipset and a Radeon HD 4000 series graphics card. Nice, but that's old news now.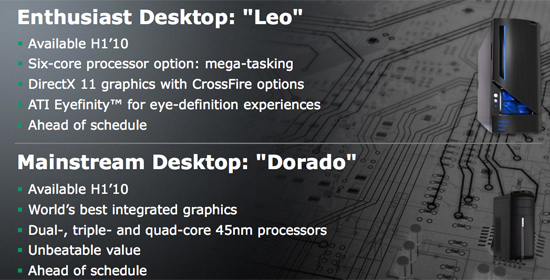 Next year the high end platform will be called Leo. It's made up of a Thuban CPU, which is an updated Phenom II rev sporting as many as six cores. It's still 45nm so don't expect much in the way of new architectural features. Graphics comes courtesy of the Radeon HD 5000 series, which we all know and love. The chipset is going to be AMD's new 8-series, complete with a new SB850 south bridge.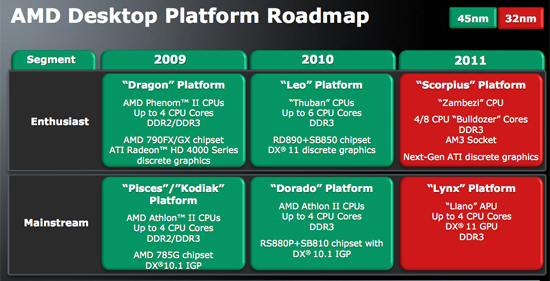 In 2011 we get Bulldozer and it comes in the form of the Zambezi CPU (AMD's codenames are such fun). You'll see four and eight core versions of Zambezi. Both will support DDR3 and both will work in Socket-AM3. Obviously guaranteeing motherboard support this early in the game is difficult, but AMD is usually good about maintaining socket compatibility. You may be able to slip a Zambezi into your current day Socket-AM3 motherboards.
All this plus a chipset and AMD's 6000-series graphics makes up what's going to be called the Scorpius platform.
Moving down one notch to mainstream, today we have the Pisces/Kodiak platforms (yep, never heard them called that either). That's made up of Athlon II CPUs and the 785G chipset with integrated graphics.
Next year we'll have Dorado, which consists of Athlon II CPUs and next-year's integrated graphics chipset. Unfortunately it won't be a DX11 chipset, AMD is only listing 10.1 support in the 2010 platform. Which means that the graphics we'll see in 2011 integrated on-die will be a derivative of the DX11 Radeon HD 5000 series we have today. Sweet.
The 2011 mainstream desktop platform is called Lynx, purr. It comes with the Llano APU, which as I mentioned before, doesn't use Bulldozer. Instead Llano is made up of as many as four 32nm Phenom II-like cores. Llano also features an integrated DX11 GPU. Llano will require a new socket as the pinout will have to support video out just like Intel's Clarkdale.