It's got roughly one billion 32nm transistors, fabbed at Globalfoundries. Four CPU cores and a single graphics core. It's what AMD calls an Accelerated Processing Unit (APU). And we'll see it in 2011.
Unfortunately that's a bit late. The APU, codenamed Llano, was originally scheduled for 2010 but got pushed back. In 2009/2010 Intel will be the first to deliver on-chip graphics with Clarkdale/Arrandale, and in late 2010 Sandy Bridge will have on-die graphics.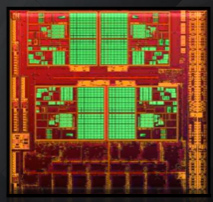 The first die shot of AMD's 32nm Llano APU based on 32nm Phenom II cores
Above is what I believe to be a die shot of AMD's first APU. The CPU doesn't use AMD's next-generation microarchitecture, that's only for the server and high end in 2011. The first APU will use the existing Phenom II architecture on the same die as DX11 graphics, but at 32nm. Sandy Bridge will use a brand new microprocessor architecture on 32nm but with updated Intel integrated graphics. It looks like Sandy Bridge will have the CPU advantage while Llano might have the GPU advantage, assuming Intel can't get their GPU act together by then. Llano is on schedule to debut in 2011 with OEM sampling happening before the end of the year.
Also on schedule is AMD's next-generation microarchitecture, codenamed Bulldozer. AMD listed its client PC goals for 2010 at this year's Financial Analyst Day, one of them is to start sampling its next-generation microprocessor next year - in 2010. If the chip is ready for OEMs by the end of 2010, that means it'll go on sale as early as 1H 2011.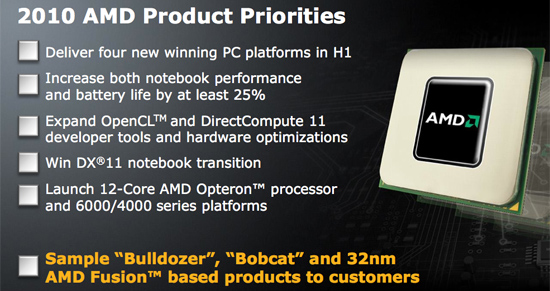 Unfortunately AMD isn't talking much about Bulldozer architecture, I suspect we won't see that disclosure until mid to late 2010. It's not to keep things secret, we already have many estimates of what Bulldozer's architecture is going to look like. And if the public already knows, then Intel is also well aware of what AMD has coming in 2011. Updated: AMD has given a high level overview of its Bulldozer and Bobcat architectures here
A major focus is going to be improving on one of AMD's biggest weaknesses today: heavily threaded performance. Intel addresses it with Hyper Threading, AMD is throwing a bit more hardware at the problem. The dual integer clusters you may have heard of are the route AMD is taking...