Multitasking
The vast majority of our benchmarks are single task events that utilize anywhere from 23MB up to 1.4GB of memory space during the course of the benchmark. Obviously, this is not enough to fully stress test our 4GB memory configurations. We devised a benchmark that would simulate a typical home workstation and consume as much of the 4GB as possible without crashing the machine.
We start by opening a instance of Internet Explorer 8.0 with six tabs opened to flash intensive websites followed by Adobe Reader 9.1 with a rather large PDF document open, and iTunes 9 blaring the music selection of the day loudly. We then open Lightwave 3D 9.6 with our standard animation, Cinema 4D R11 with the benchmark scene, and Microsoft Word with a few large documents.
We wait two minutes for system activities to idle and then start playing Pinball Wizard via iTunes, start the render scene process in Cinema 4D R11, and then the render frame benchmark in Lightwave 3D. Our maximum memory usage during the benchmark is 3.46GB with 100% CPU utilization across all eight threads.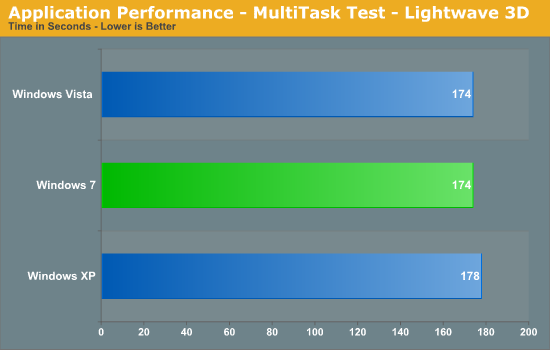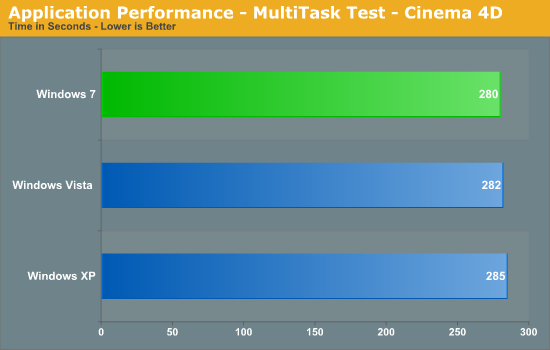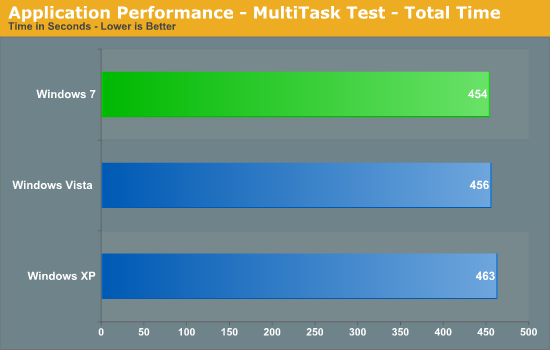 This a pattern that will repeat itself throughout our benchmarks. In well threaded applications, Windows 7 has a slight advantage over Vista and a larger one over XP. In this particular case, Win7 completes the benchmark nine seconds quicker than XP for a 2% advantage.