What's New since Win 7 RC
Unlike Vista, which was furiously being developed right through SP1, there's very little to report for Windows 7 when it comes to what has changed between the release candidate and the final version.
Internally, the issues we encountered with the RC and mentioned in our RC article have been resolved. Our stuttering HTPC no longer stutters, and Windows 7 now recognizes the JMB363 drive controller in one of our test systems correctly. At this point we have yet to encounter any issues that we can chalk up to a bug in Windows 7, which is a very promising sign.
There have been no notable changes to any of the programs or components of Windows 7 compared to the RC beyond simple bug fixes, so if you've use the RC then you're going to find that the release version behaves the same way.
The only new bit of information we have is that last month Microsoft revealed that Windows 7 has greater CableCARD support, which we believe is a product of the new Protected BDA driver subsystem. Unfortunately the Digital Cable Advisor tool needed to enable this feature, and the associated firmware for the ATI Digital Cable TV Wonder (the only CableCARD tuner currently on the market) missed their release date of the 22nd, so there is no way to use this functionality at the moment. We don't have any idea of when these will become available.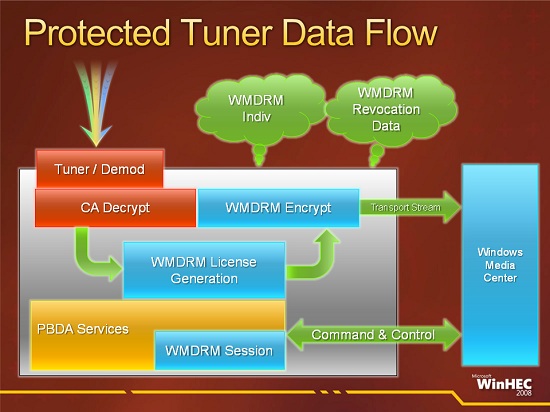 Externally, Microsoft's hardware and software partners have been getting their houses in to order. Since the driver model s aren't changing this time around there's not nearly the kind of churn we saw with Vista. AMD and NVIDIA are the outliers here: they have been pushing out new drivers to support DirectCompute, Media Foundation Transcode, and the other features that are coming with 7 and/or DX11. Anti-virus vendors are the other group that stand to be most affected by the launch of 7, as they have been publishing new versions of their suites that include official support for Windows 7.
Finally, battery life, one of the sore spots with the RC, has finally gotten the kick in the pants we were expecting to see. We'll get deeper in to this later when we look at benchmarks, but for the time being we'll note that while the RC offered a battery life similar to Vista, the release version of Windows 7 offers battery life well ahead of Vista in all cases, and depending on the exact hardware used similar to if not better than battery life as compared to XP. It looks like Microsoft and driver authors have finally come through on significantly improving Vista's lackluster mobile performance.