Gaming: DX9
As we have moved most of our benchmark suite to DirectX10 these days, it's not possible to run XP under our normal gaming test suite given its DX9 limitation. Instead we have taken a limited selection of our test suite that does run under DX9, and compiled separate results for it so that we can compare Vista to XP and Win7 using our GeForce GTX 275. On the next page, you will see our regular test suite.
FarCry 2
Featuring fantastic visuals courtesy of the Dunia Engine, this game also features one of the most impressive benchmark tools we have seen in a PC game. We set the performance feature set to Very High, graphics to High, and enable DX9 with AA set to 2x. The in-game benchmark tool is utilized with the Ranch Small level.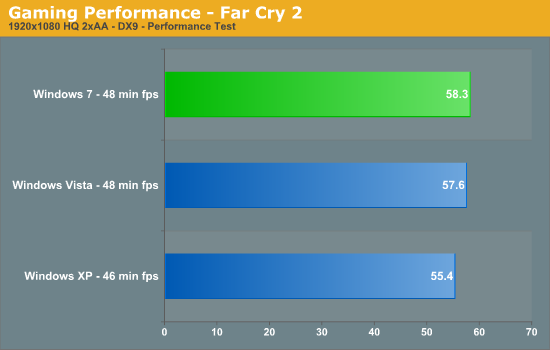 Left 4 Dead
This game is a blast and addictive to boot - provided you like killing hundreds of zombies while trying to take care of your teammates and sustaining high blood pressure rates. We enable all options, set AA to 2x and AF to 8x, and play back a custom demo of a game session from the Runway Finale chapter within the Dead Air campaign.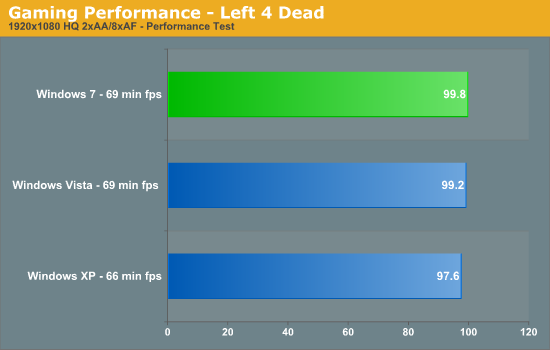 Tom Clancy's H.A.W.X.
While not a true flight simulation or even serious air combat game, it is a lot of fun and looks visually stunning on a 30" monitor with all options turned up. In our case, we set all options to high, enable 2xAA and DX9, and then use FRAPS to time a custom demo sequence.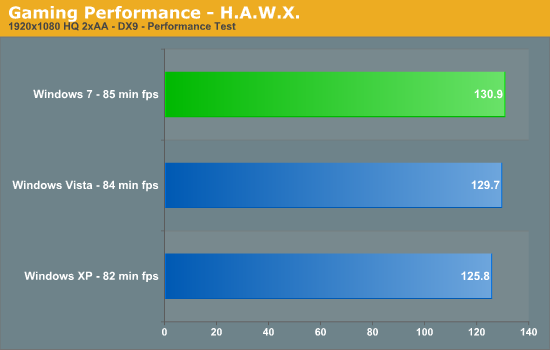 World in Conflict
We utilize the built-in benchmark for our game test. We set the resolution to 1920x1080 with 2xAA/16xAF, DX9, and High Quality options.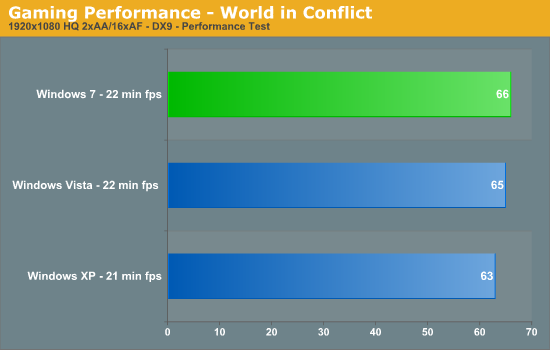 On a final note, although we didn't include a multi-GPU setup in here, there will be much greater differences in performance there. Vista and Win7 get much better multi-GPU performance, which is something we've seen before such as in our Release Candidate article.