ASUS UL80Vt Thoughts
At this point, you should probably already have a good idea of whether the ASUS UL80Vt is going to be the sort of laptop you want to purchase. Provided that raw computational or graphics performance are not your primary concern, the UL80Vt is one of the best laptops we've looked at in a long time. If you've ever considered buying a netbook simply because they're small and get good battery life, the UL80Vt is like a netbook on steroids. It will easily provide twice the performance of your typical Intel Atom-based netbook, and it can do that while still going toe to toe in terms of battery life. The only catch is that it weighs slightly more… and it costs about twice as much as most netbooks.
What you get is a laptop that can run all day on a single charge, it won't weigh you down, and it comes with pretty much every feature you would actually need. Many 14" and smaller laptops (like the Dell Studio 14z for example) omit optical drives in order to keep size down. ASUS keeps the optical drive, adds a discrete graphics card with the ability to switch to integrated graphics, gives you an overclocked ULV processor, and a large 84Wh battery. The result is a package that's extremely easy to like.
Whether you need a lightweight laptop, something you can use on a business trip without constantly worrying about plugging in, or even a system that can run most games (albeit at lower detail settings), the ASUS UL80Vt has you covered. It's possible to equal the battery life of the UL80Vt, but it's very difficult to do while still matching the performance and features ASUS offers. We've seen ULV processors before, but we've never seen one overclocked 33% -- and it's not likely to be something Sony or other large OEMs even consider.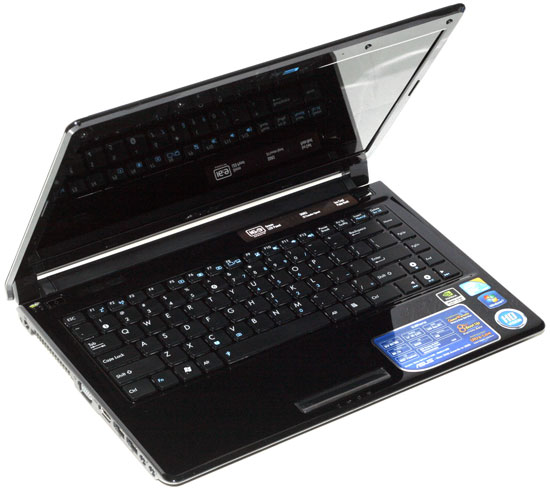 Has the MacBook finally met its match? That depends on whether or not you love/hate OS X. Windows 7 addresses many of the concerns users have with Windows Vista, and it does appear to improve battery life. ASUS has gone one step further and offered utilities (Power4Gear) that allow users to tweak performance and battery life settings even further. It's the combination of the right hardware with the right software that enables the UL80Vt to truly deliver on the long battery life promise.
The latest MacBook still has a faster CPU (the SP9300 is clocked at 2.26GHz -- 30% higher than the overclocked SU7300). However, it only has a 60Wh battery, and while the GeForce 9400M G integrated graphics are better than any other current IGP, the G210M appears to be at least 50% faster. When you don't need graphics performance, you can also shut off the G210M and used the GMA 4500MHD. It's a design that simply works. The MacBook also costs $1000 -- about $180 more. People that love all things Apple aren't likely to make a switch, but if you're a Windows user that has been looking for a decent alternative, it has finally arrived.
We'll have additional test results in the near future, including battery life tests with the G210M enabled, performance results with overclocking disabled, gaming, and anything else we can think of. If there's anything in particular you'd like to see in the follow up article, let us know. In the meantime, we've seen enough to give the ASUS UL80Vt a very strong recommendation. We'd love to see them ditch the glossy plastic bezel, LCD, and palm rest, and we'd like a higher contrast LCD panel as well. Those are the only complaints we have with an extremely well designed laptop. Kudos, ASUS: you've just raised the bar for what we expect from laptops.
Update: ASUS has informed us that the Best Buy model of the UL80Vt will have a rubberized palm rest. That's one complaint down. They also said that they don't have any data to support the assertion that people would be willing to pay more for a laptop with a better LCD; let them know if you disagree in the comments section. Unfortunately, I would guess they're probably right when it comes to most users: they may not actually pay attention to the LCD. If you were to put a good laptop LCD next to a poor LCD and explain the difference and show users what it looks like, they would be much more likely to opt for a better display, but that's probably not something most retail outlets bother explaining.