Dell Studio 14z Application Performance
You can read about our testing setup and the other laptops used in our previous MSI X610 review. The Studio 14z is more expensive than the Gateway NV52 and NV58, MSI X610, and pretty much any netbook out there. However, it has more in common with such laptops than it does with higher performance notebooks so we will compare the 14z with those systems. Here's the tested configuration of the Studio 14z.
Dell Studio 14z Test System
Processor
Intel Core 2 Duo P8600
(2.40GHz, 45nm, 3MB shared L2, 1066FSB)
Memory
1GB Onboard plus
1x2048MB Hyundai PC3-8500 @ DDR3-1066 7-7-7-20
(Hyundai Electronics HMT125S6BFR8C-G7)
Graphics
Integrated GeForce 9400M
Driver version 179.62
16 SPs; 450/1100 Core/Shader Clocks
Display
14.0" Glossy LED Backlit WXGA (1366x768)
Seiko Epson D229J 140AT
Hard Drive
WD Scorpio Blue 320GB 5400RPM 8MB
(WD3200BEVT-75ZCT)
Optical Drive
N/A
Battery
8-Cell 14.8V, 4.84Ah, 71.63Wh
Operating System
Windows Vista Home Premium 64-bit
Price
Price as configured: $1019 (with $159 instant rebate)
We will start our performance comparison with general application testing, including PCMark, CINEBENCH, and video encoding tests. As usual, we will include detailed PCMark05/PCMark Vantage results where applicable so you can see the individual test scores.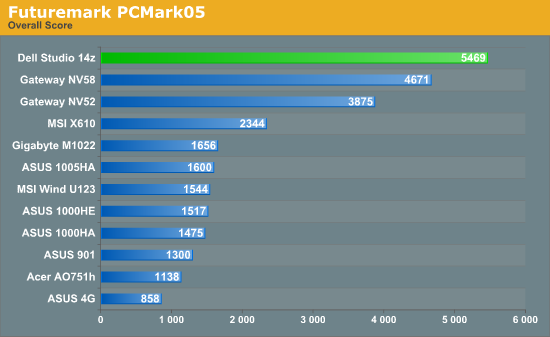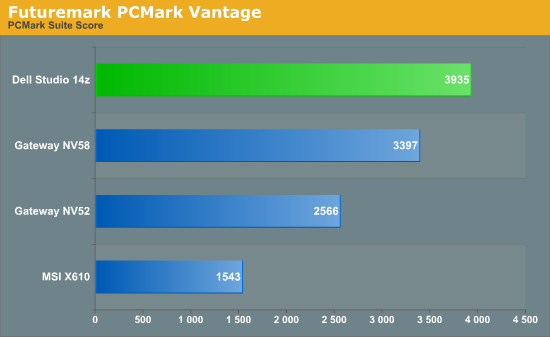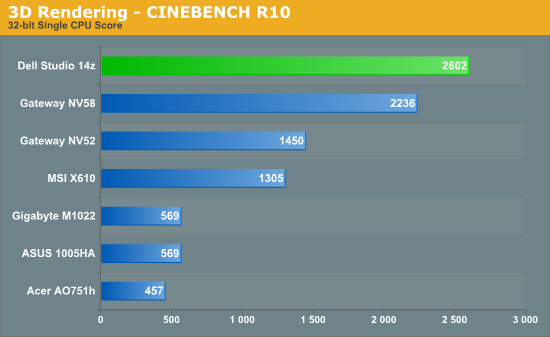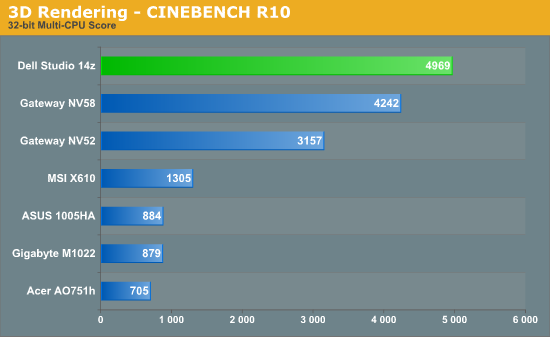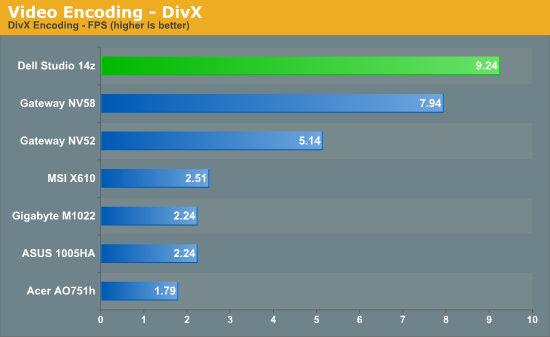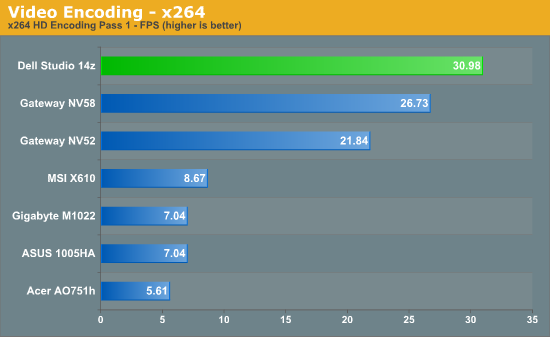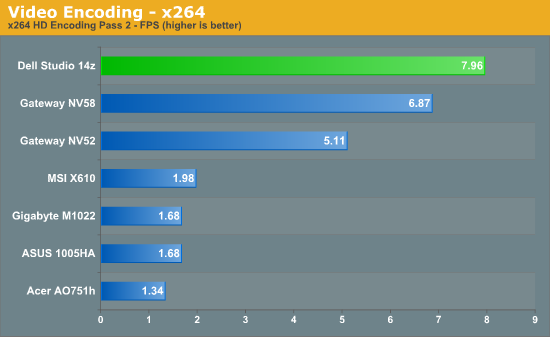 And what should come as no surprise, the Dell Studio 14z places at the top of all of our application benchmarks. Our test system includes a Core 2 Duo P8600, which is faster than any of the other laptop processors. That alone is enough to account for the above charts. Obviously, the 14z isn't going to be able to compete with faster notebooks in terms of raw performance, but it doesn't need to. It provides plenty of performance and as we will see shortly, it still offers good battery life and you get a lightweight chassis.