Battery Life Comparison
We run many scenarios for our battery life tests. Since most netbooks don't include optical drives, we previously ripped our standard test DVD to a hard drive and copied those files over. Ultimately, performance was similar to what we found with playing back HD DivX files, so we have instead chosen to focus on DivX HD, x264 HD, Internet, and idle battery life.
Video playback is one area where the HD 4330 is definitely a nice bonus, since it has no difficulty accelerating decoding on x264 and other codecs. Then again, the HD 3200 provides similar functionality and consumes less power; battery life likely would have been improved quite a bit by using an integrated solution instead of the 4330. What's truly ironic is that the X610 chipset actually includes integrated graphics, but they are disabled. An option to switch between integrated/discrete graphics in order to improve battery life would have been great.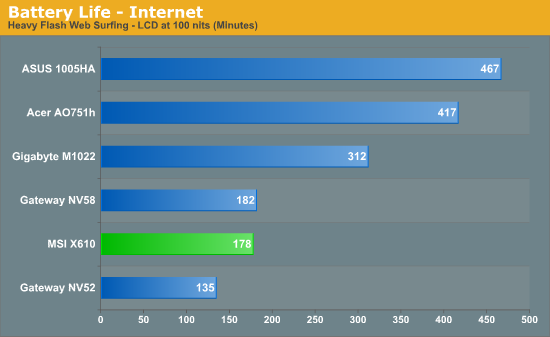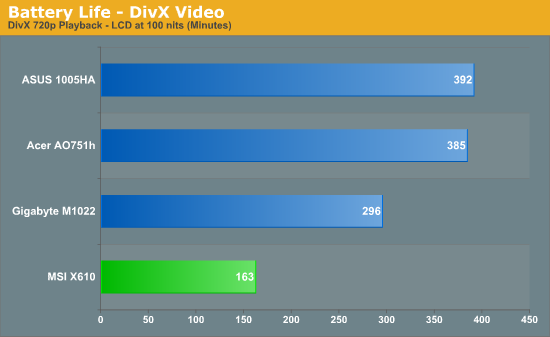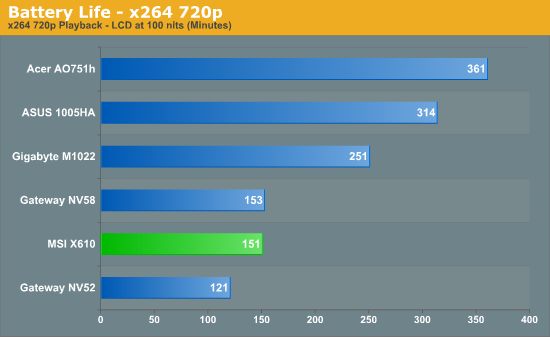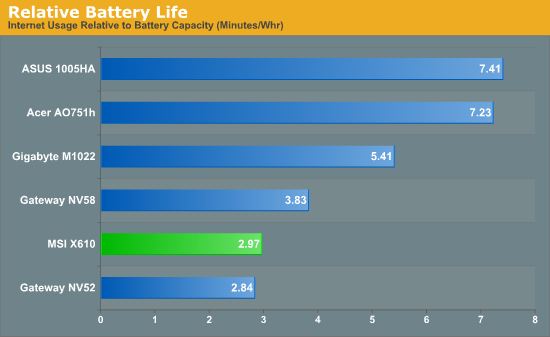 Battery life on the X610 is another mixed bag. Despite having a dramatically slower CPU compared to the NV52 and NV58 along with a slightly higher capacity battery, it only matches the NV58 in Internet and x264 playback. It does manage to beat the NV52 (except in idle battery life where the HD 4330 consumes more power than an IGP), but realistically we're still talking about 2.5 to 3 hours of battery life in most cases. Remember at the beginning where we discussed how the X610 is part MacBook Air? Sadly, one part of the MacBook Air where MSI completely missed the boat is battery life. When you consider that you can get a Core 2 Duo processor in the MacBook Air that substantially faster than the MV-40, battery life and general performance definitely aren't reasons to get the MSI X610.
Power Requirements
As a corollary to the battery life tests, we also performed measurements of power requirements using the AC adapters and a Kill-A-Watt device. These numbers are only accurate to the nearest Watt, so a difference of 1W (i.e. from rounding) could obscure up to a 12% actual difference in power requirements. Also note that power requirements change when you switch to DC power, and power supply (power brick) efficiency comes into play when using the AC adapter, so the battery life tests are a better indication of true power requirements.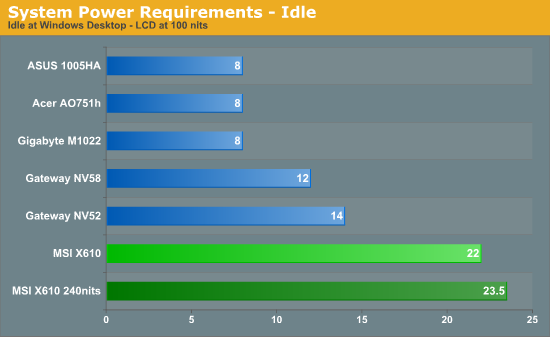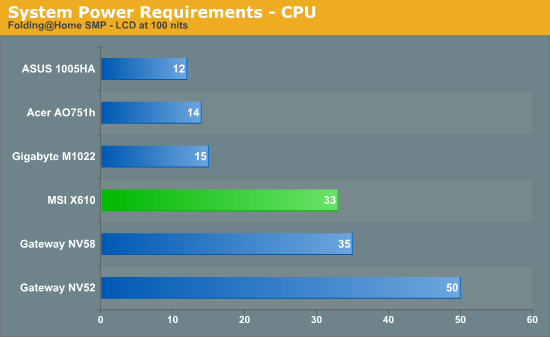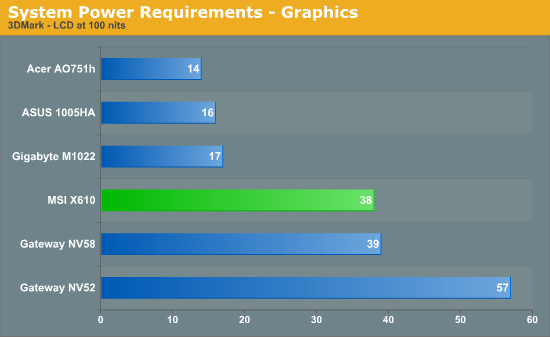 If you thought that perhaps the Neo MV-40 CPU wasn't doing a good job at saving power, at least relative to the QL-64 it clearly has a lower worst-case power requirement. It's all of the other equipment in the MSI X610 that consumes power, with idle power draw of 22W easily eclipsing the NV52's 14W. Place a significant load on just the CPU, however, and the X610 only increases its power draw by 11W whereas the NV52 jumps up 21W. Yes, the single-core AMD CPU is capable of using relatively little power. Unfortunately, it appears that the HD 4330 graphics chip is using at least 10W when idle, and 15~20W under load. The result is that the less power hungry CPU combined with a discrete GPU isn't a great low-power solution.