The Dark Side of the P55
So you just purchased a Core i5/750 or i7/860 along with a new P55 motherboard and DDR3 memory kit. Congratulations on your new arrival and hopefully it will provide years of trouble free operation or at least a few months until the latest greatest item hits the market. However, if you notice a few gremlins causing havoc with your system, as they are wont to do at times, then we possibly have good news for you. We have compiled a short list of problems that reared their head during testing and will be discussing the primary problem today and others as we continue our P55 articles.
The Great Heist
One of the most irritating problems we ran across during testing was playing "Where's Waldo" with our memory configurations. Our standard P55 test bed is equipped with 8GB of memory. We started noticing weird memory benchmark results in Everest that just did not make sense as Read/Write rates were up 30% lower than our 4GB setup on the same board or other 8GB configurations. These along with applications like Photoshop CS4 x64 and AutoCad 2010 x64 refusing to recognize up to 4GB of memory had us searching for answers.
A look at the BIOS indicated 8GB was indeed available and applications from Everest to CPU-Z along with the suppliers own tuning tools indicated no problems. So we turned to Performance Monitor in Windows 7 to solve our dilemma. Sure, enough, in every case we would only see 4080MB~4096MB listed as available memory. We dug deeper in Resource Monitor and found that the BIOS hard reserved around 4.1GB of memory and it was not available to the OS. We also ran across the same problem on a few boards with 4GB of memory installed.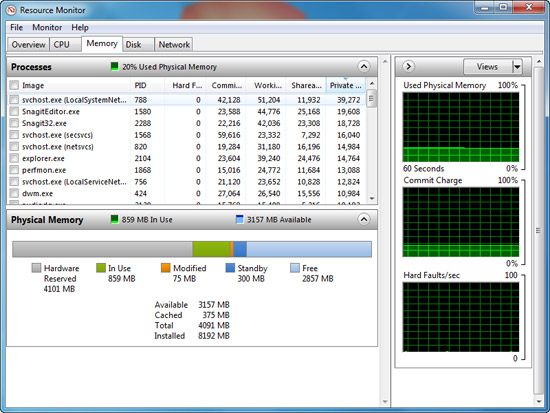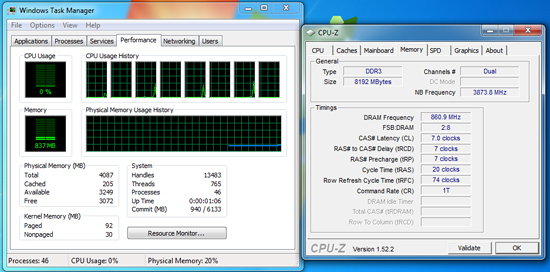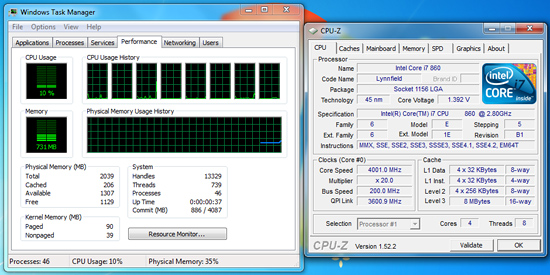 There are several reasons for this occurring. The primary reason is that the motherboard supplier did not program the BIOS correctly to automatically remap memory above the 4GB mark. In the AMI BIOS' utilized by ASUS and ASRock, among others, there is a Memory Remapping option in the BIOS setup screen that needs to be enabled on early BIOS releases. Later BIOS releases automatically enable this feature if more than 4GB of memory is detected at POST. So the recommended solution is to update your BIOS to the latest release if this is a problem in your system.
That said, even after a round of BIOS updates from all the suppliers, we still had this problem occurring, just not as often. It also turns out that high Bclks with 8GB of memory installed will also trigger the problem. Even with memory remapping properly enabled, there is a chance this problem will still occur. Depending on the BIOS, it will simply ignore the additional two channels and continue to POST or it will not POST at all.
This problem depends on a Holy Trinity combination Memory, Motherboard, and Processor quality. If the board does not recognize the memory SPD correctly or if the SPD is wrong, it can happen, but primarily it seems to be processor or motherboard related. On the processor side, it seems especially prevalent with the i5/750 as the IMC tends to have trouble handling high memory clocks above 2100 with 8GB installed, it is not impossible, but our first retail samples are not fairing very well.
Why the i5/750? Mainly because of binning as our 860 would clock up to 2150 before problems arose and the 870 would hit 2200. Of course, this is a rare situation as anyone buying this platform would probably not spend $400 on high-end memory and overclock it at these levels. But, with us trying to find the practical limits on each board, it did cause a headache or two.
The primary problem is with the motherboard design. The majority of the P55 motherboards are built on either a 4-layer or 6-layer design. The 6-layer design has (obviously) to additional layers that can be utilized for electrical routing. On a 4-layer design, Channel A memory signal and clock signal are placed on the top layer and Channel B is placed on the bottom layer. In a 6-layer design, half of Channel A is placed on the top layer and other half on the bottom layer. Half of channel B is placed on inner layer 1 and the other half on inner layer 2. This significantly reduces crosstalk between each data Group. As such, the memory capabilities of the 6-layer board will greatly improve 8GB memory clocking above 2000MHz.
Once again, make sure you are on the latest BIOS and considering the early nature of this platform, stay current with a stable release for the next couple of months as any remaining bugs are squashed.
Quick Thoughts-
We normally wait until the end of a roundup to determine our awards. However, after testing close to twenty P55 motherboards, we have a very good idea of those that deserve awards and those that will either be recommended or not. The ASRock P55M Pro is a recommended board, especially given the feature set and price. However, it ran smack into a buzz saw today from Gigabyte. ASRock has nothing to be ashamed of (their Extreme board is terrific) as this Tasmanian Devil will put a lot of P55 boards to shame when one considers its overclocking potential, feature set, quality, performance, and price.
Gigabyte has faithfully produced a board that we believe was the original intent of the P55 platform when Intel designed the platform. A platform that should stand for simplicity, low cost, and great performance from Intel's latest generation technology. True, the P55 will never match the X58 in pure performance potential, but that was not its intended mission. Instead, it was meant to deliver Nehalem technology to the masses at an affordable price point. It is almost at that point, especially with Clarkdale coming soon, except we still think the i5/750 should be priced lower, maybe in the $169 range in order to make an upgrade from the current Core 2 Quad series an almost given.
That said, based on price to performance ratios, the i5/750 is a great value in the midrange performance market at $199. What makes it even more attractive is having a motherboard that offers a full feature set, high-quality components, and performance to back it up at the $100 mark. While no longer a $100 board, the Gigabyte GA-P55M-UD2 meets just about everyone of those targets. For an entry level motherboard, it features a very good micro-ATX layout, quality components, great BIOS, superb overclocking capabilities, and a price that almost belies its feature set and performance. There are many things to like about this board but we think the price to performance ratio is just terrific.
The BIOS has just the right amount of options to allow excellent overclocking capabilities while retaining enough simplicity that a beginner can quickly overclock just utilizing the auto settings. The BIOS design and information provided is a vast improvement over previous Gigabyte designs in the price sector. As good as the board is we still think the limited amount of fan headers (two) is an inexcusable mistake and the BIOS could use additional information like stock voltage settings for each option.
Award
We are honored to present our Gold Editors' Choice award to GIGABYTE for their impressive GA-P55M-UD2. What we find truly amazing about this motherboard is that it was never intended for full release into the retail market. It was meant for limited channel distribution and OEM kits. Gigabyte was sitting on a gem of a board and had no idea just how capable it was at first glance. Sometimes you cannot judge a board by its price. This board features Gigabyte's Ultra Durable 3 technology, impressive overclocking capabilities for an entry-level board, excellent stability and compatibility, along with being consistently at or near the top of our benchmarks. It ultimately offered the best overall value we have seen in this market segment and for that it receives our highest accolades.
There is no perfect motherboard and probably never will be one. The GA-P55M-UD2 is certainly not perfect, but it meets its goal at a price point that makes us wonder about spending $250 on a P55 motherboard. Granted, there are boards in the $200 range that will also receive our accolades, primarily based on technical merit. The UD2 board does have a couple of flaws. The lack of more than two fan headers is perplexing at best and it tended to be picky with memory until the F4 BIOS release.
Also, one of its strengths is a weakness, that being a micro-ATX form factor product. Although Gigabyte did a really good job with the layout, things are cramped and having the memory installed along with all storage cables run is a wise move to make before installing the video card. One other factor is that this board features a 4+1 PWM setup that is not designed for high voltage overclocking. It overclocks very well but there is a limit to current draw if you were thinking about using the board for more extreme overclocking testing. Instead, recognize its limits (no more than 1.45V) and all will be fine or purchase a board designed with this type of overclocking in mind.
GIGABYTE has come a long way in improving their customer support, website information, technical documentation, and warranty support compared to our experiences over a year ago. We would still like to see them take a more interactive customer support role in the same way that EVGA supports their customers. The current help ticket system is just not user friendly, nor does it provide a quick answer to potential problems. While these problems do detract from the product and company, overall this board is one of the better values in the P55 family.