Quad Core Performance From Two Cores?
Intel released some preliminary performance data on Clarkdale. This data wasn't run by us and is straight from Intel. It's normalized to a Core 2 Duo E8500 and also includes a Core 2 Quad Q9400. The systems used G45 graphics for the LGA-775 parts and Clarkdale on-package graphics for the LGA-1156 setup.
We don't usually look at SPEC CPU performance, but here are the results regardless: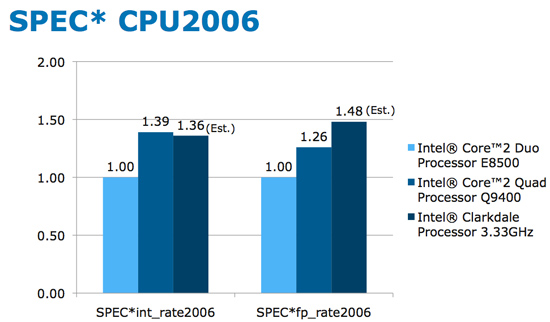 You can see that thanks to a competitive clock speed, aggressive turbo modes and Hyper Threading the 3.33GHz Clarkdale outperforms both the Q9400 and the E8500.
3DMark Vantage is of course faster on the newer platform thanks to the on-package graphics: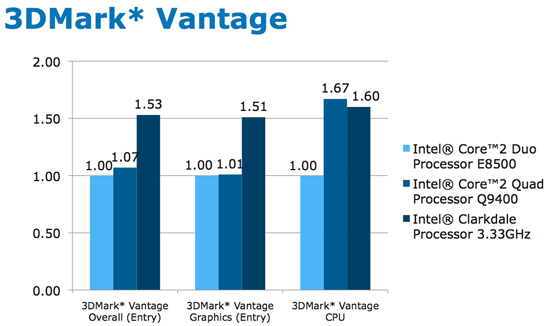 The overall performance improvement is roughly 50% in 3DMark Vantage.
Memory bandwidth is clearly better thanks to Clarkdale's on-die dual-channel DDR3 memory controller.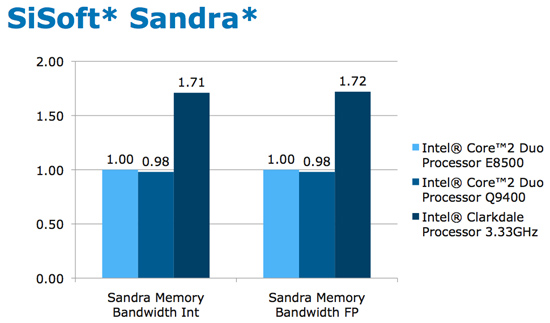 PCMark Vantage also shows a huge performance advantage on Clarkdale, however Intel mentioned that a big portion of that are the AES-NI instructions on Clarkdale accelerating one of the tests.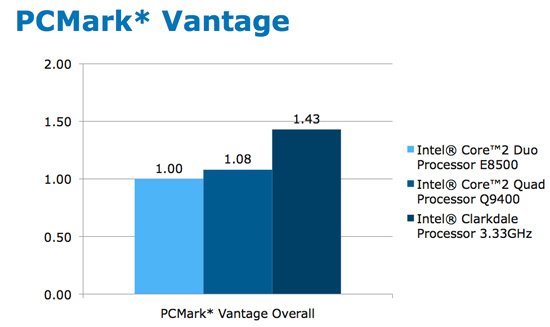 We'll be testing Clarkdale for ourselves later this year. It seems that this potent dual core with Hyper Threading could be a good alternative to making the quad-core jump.