System Performance
We'll begin with a look at general system performance using applications that can take advantage of the multi-core processors.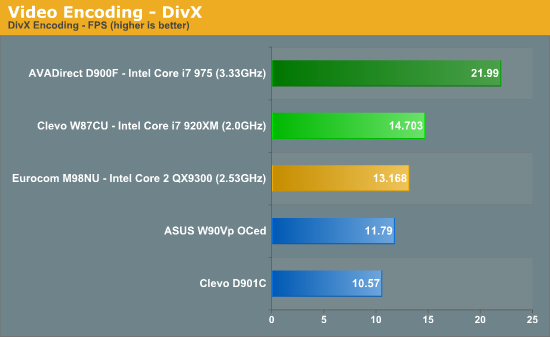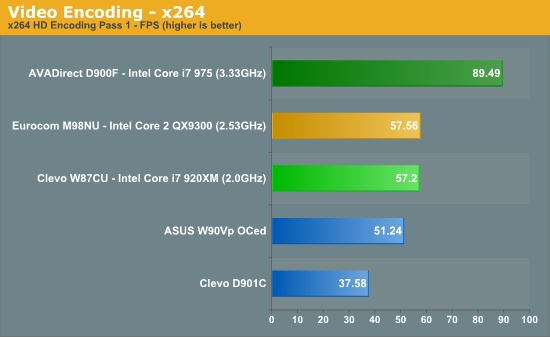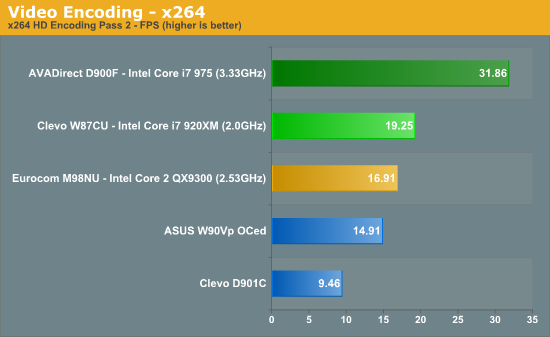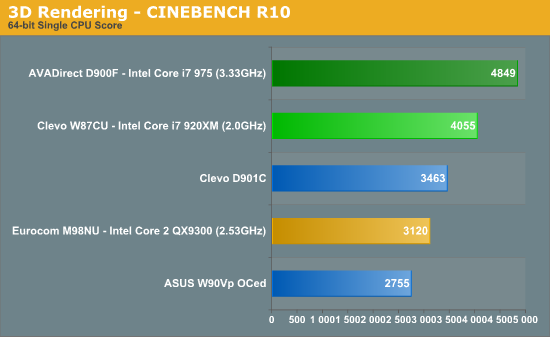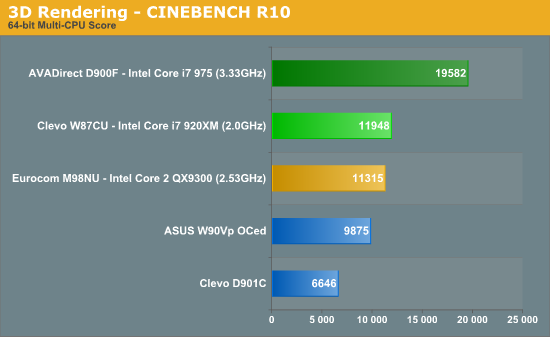 Application performance is about what you would expect given the CPU specifications. The new Clarksfield i7-920XM isn't substantially faster than the old Core 2 QX9300 when it comes to running highly threaded code. The problem is that when running highly threaded code, Clarksfield's Turbo modes aren't able to fully activate. We end up with a Core i7 running at 2.26 GHz compared to a Core 2 running at 2.53 GHz, and overall performance is relatively close. Clarksfield is 6% faster in SMP CINEBENCH, 14% faster in the second x264 pass, and 12% faster at DivX encoding. The first x264 pass is basically a tie. Move to single threaded performance and the Clarksfield Turbo modes are much more helpful, outperforming the QX9300 in single threaded CINEBENCH by 30%.
The QX9300 ends up being 12 to 15% faster than the overclocked Q9000 in the ASUS W90Vp - right in line with the difference in clock speed. Meanwhile the i7-920XM delivers a beating to the old Core 2 Duo E6850 (Clevo D901C) system. It's 17% faster in single threaded performance, but over twice as fast in the x264 second pass.
Naturally, the desktop i7-975 is substantially faster. It's only 20% faster in the single threaded CINEBENCH score, but it's 50 to 65% faster elsewhere. We should also mention that just because the rated clock speed of the i7-975 is 3.3 GHz doesn't mean the system always runs at that speed. The x264 encoding test runs each section four times, and normally all our results are very close. It appears that the i7-975 is throttling at times, as we noticed fluctuations in our x264 results. You'll want a nicely ventilated area if you want to get the advertised 3.33GHz, as otherwise it looks like the CPU may throttle down by as much as 30%.