Sean Maloney is getting his speaking practice in and he was back during the afternoon for the second set of keynotes at IDF. This one is a bit more interesting.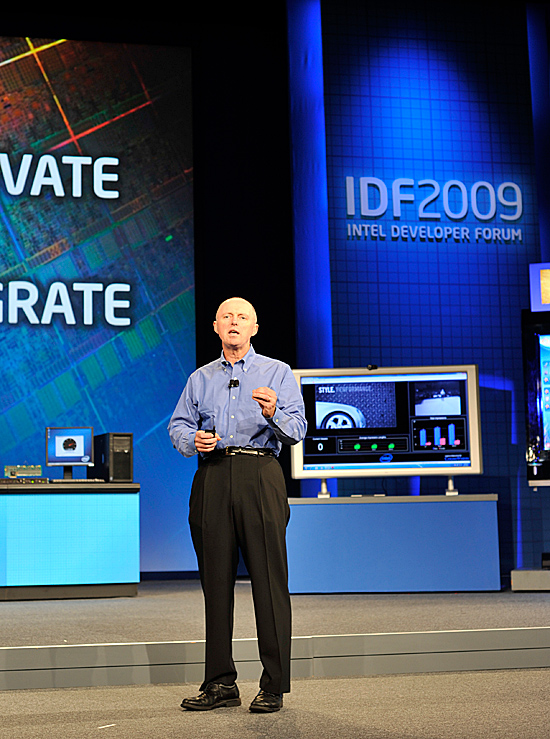 Sean started by tackling Pat Gelsinger's old playground: Servers. Nehalem-EX (8-core Nehalem) was the primary topic of discussion, but he also demonstrated the new 32nm Westmere-EP processors due out next year.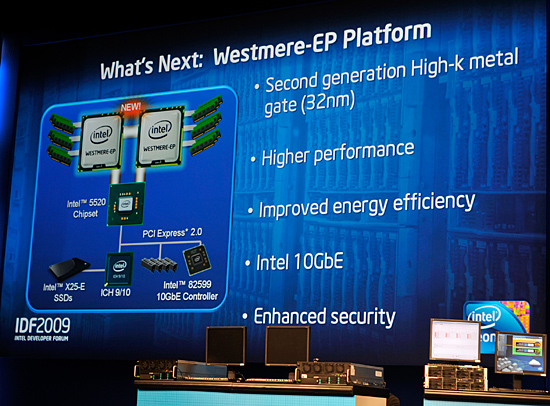 Westmere-EP is the dual-socket workstation/server version of Westmere (aka 32nm Xeon). The feature-set is nearly identical to Westmere on the desktop, so you get full AES acceleration for improved encrypt/decrypt performance. This is particularly useful for enterprise applications that do a lot of encryption/decryption.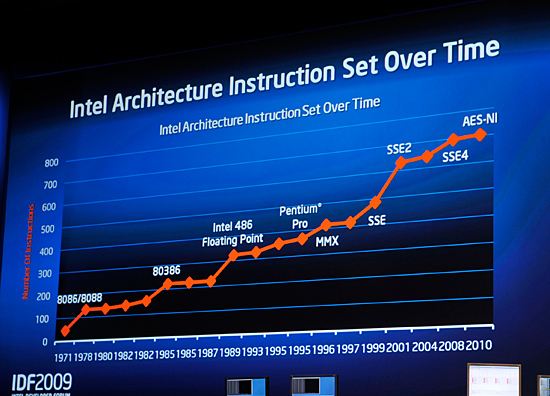 The AES-NI instructions get added to x86 with Westmere. The x86 ISA will be over 700 instructions at that point.
The other major change to the Xeon platform is networking support. The Westmere-EP platforms will ship with Intel's 82599 10GbE controller.
Power consumption should be lower on Westmere and you can expect slightly higher clock speeds as well. If Apple sticks to its tradition, you can expect Westmere-EP to be in the next-generation Mac Pro.
What if you built a Core i7 using 1000nm transistors?
Intel has been on an integration rampage lately. Bloomfield integrated the memory controller and Lynnfield brought the PCIe controller on-die. Sean held up an example of what would happen if Intel had stopped reducing transistor size back in the 386 days.
Here's an image of what the Core i7 die would look like built using ~1000nm transistors instead of 45nm: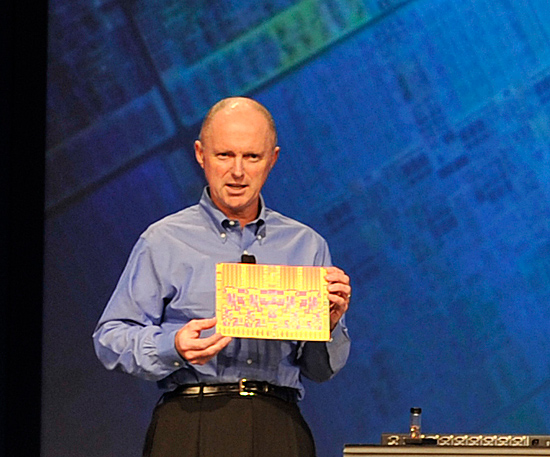 That's what a single Core i7 would look like on the 386's manufacturing technology
Assuming it could actually be built, the power consumption would be over 1000W with clock speeds at less than 100MHz.
Next he held up an Atom processor built on the same process: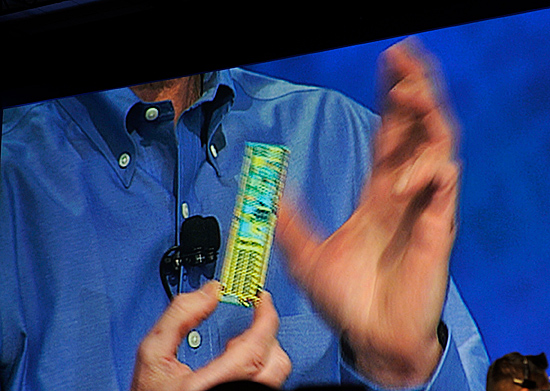 And that's what Sean Maloney shaking an Atom built on the 386's manufacturing process would look like
Power consumption is a bit more reasonable at 65W, but that's just for the chip. You could drive a few modern day laptops off of the same power.
Useful comparisons? Not really, interesting? Sure. Next.
Larrabee Demo
Larrabee is of course at IDF, but its presence is very muted. The chip is scheduled for a release in the middle of next year as a discrete GPU.
Bill Mark, a Senior Research Scientist at Intel, ran a raytracing demo using content from Enemy Territory Quake Wars on a Gulftown system (32nm 6-core) with Larrabee.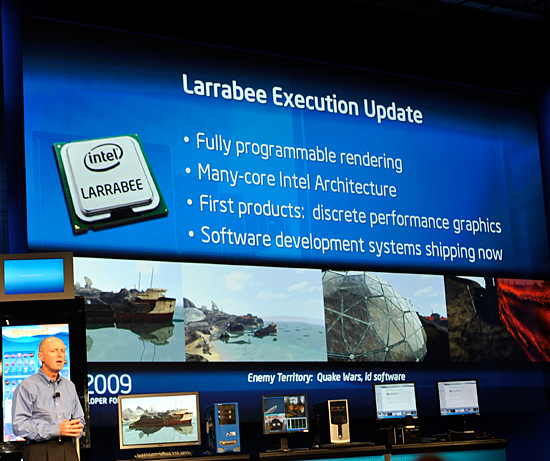 The demo was nothing more than proof of functionality, but Sean Maloney did officially confirm that Larrabee's architecture would eventually be integrated into a desktop CPU at some point in the future.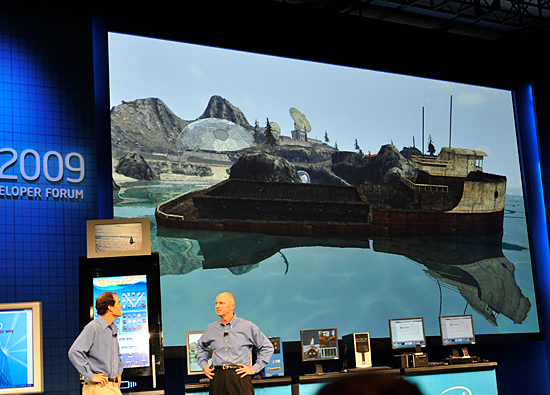 Larrabee rendered that image above using raytracing, it's not running anywhere near full performance
Clarkdale: Dual Core Nehalem
Clarkdale is the desktop dual-core Nehalem due out by the end of this year with widespread availability in Q1 2010.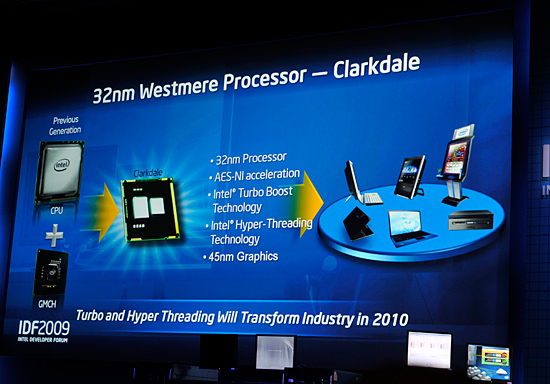 Clarkdale will be the ideal upgrade for existing dual-core users as it adds Hyper Threading and aggressive turbo modes. There's also on-package 45nm Intel graphics, which I've heard referred to as finally "good enough" graphics from Intel.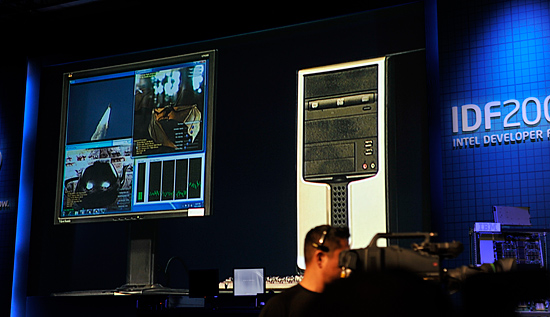 Two cores but four threads, that's Clarkdale
Jasper Forest
Take Nehalem with three DDR3 memory channels, add PCIe 2.0 and RAID acceleration and you've got Jasper Forest. Due out in Q1 2010 this is a very specific implementation of Nehalem for the embedded and storage servers.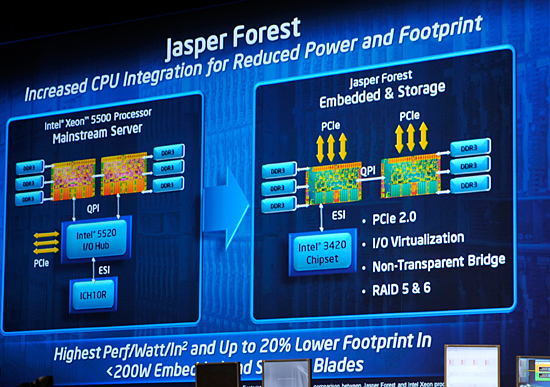 Nehalem was architected to be very modular, Jasper Forest is just another example of that. Long term you can expect Nehalem cores (or a similar derivative) to work alongside Larrabee cores, which is what many believe Haswell will end up looking like.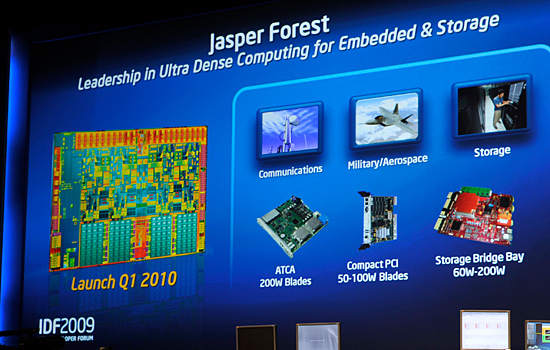 Gulftown: Six Cores for X58
I've mentioned Gulftown a couple of times already, but Intel re-affirmed support for the chip that's due out next year.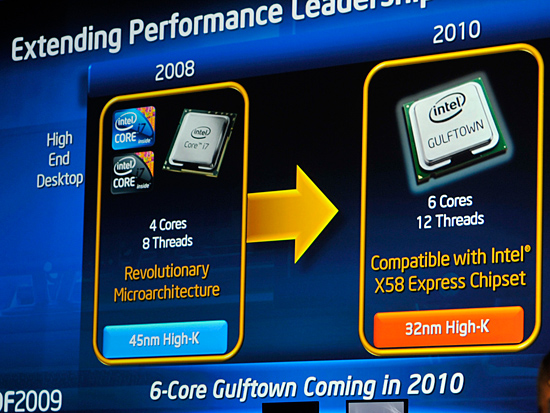 Built on the 32nm Westmere architecture, Gulftown brings all of the Westmere goodness in addition to having 6-cores on a single die.
Compatibility is going to be the big story with Gulftown: it will work in all existing X58 motherboards with nothing more than a BIOS update.