Angle-Independent Anisotropic Filtering At Last
For a number of years now the quality of anisotropic filtering has been slowly improving. Early implementations from AMD and NVIDIA were highly angle-dependent, resulting in a limited improvement to image quality from such filtering. The angle-dependent nature lead to shimmering and other artifacting that was not ideal.
As of the previous generation of cards, the quality of anisotropic filtering had become pretty good. NVIDIA's best filtering mode was pretty close to angle-independent, and AMD's only slightly worse. Neither was perfect, but neither was bad either.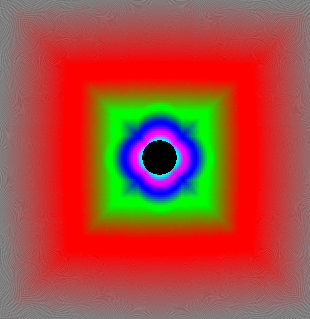 The Radeon HD 4890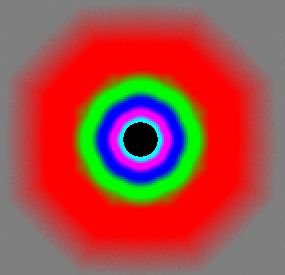 The GeForce GTX 285
However so long as no one had an angle-independent implementation, there was room to improve. And AMD has gone there. The anisotropic filtering algorithm used by the 5000 series is now truly and completely angle-independent. There are no more filtering tricks being used.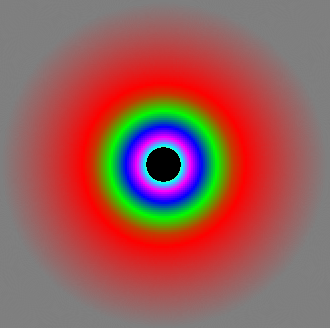 The Radeon HD 5870: Perfection
As you can see, the MIP maps in our venerable D3D AF Tester are perfectly circular, the hallmark of an angle-independent implementation. With angle-independent filtering, this effectively marks the end of the filtering arms race. AMD has won, and should NVIDIA catch up in the future the two would merely be tied. There's nowhere left to go for quality beyond angle-independent filtering at the moment.
AMD tells us that there is no performance hit with their new algorithm compared to their old one. This is a bit hard to test since we can't enable the old algorithm on the 5870, but certainly whatever performance hit there is, is similarly minor. In all of the testing we're doing today, you will see results done with 16x anisotropic filtering used.
What you won't see however is a difference, particularly with our static screenshots. When discussing the matter, AMD noted that the difference in perceived quality between the old algorithm and the new one was practically the same. After looking at matters we find ourselves in agreement with AMD; we were not able to come up with any situations where there was a noticeable difference, beyond the obvious AF quality tests that are designed to identify such changes.
Regardless of the outcome, AMD deserves kudos for making angle-independent anisotropic filtering happen. It's demonstrably perfect filtering with no speed hit versus the previous generation of filtering; making it in essence a "free" improvement in image quality, however slight the real-world results are. We're always ready to get better image quality out of our video cards, after all.