Gateway NV58 (Intel) - Battery Life
We first looked at AMD's mobile platform with several operating systems and now it's Intel's turn. Once again, here's the rundown of specifications followed by the results, starting with battery life.
Gateway NV5807u Test System
Processor
Intel Core 2 Duo T6500
(Dual-core, 2.1GHz, 2MB shared L2, 45nm, 35W, 800MHz FSB)
Memory
2x2048MB Micron PC2-5300 @ DDR2-667 5-5-5-15
(Micron Technologies 16HTF25664HY-667G1)
Graphics
Integrated Intel GMA 4500MHD
Driver version 15.13.4.64.1829
10 Shaders at 475 MHz
Display
15.6" Glossy WXGA (1366x768)
LG LP156WH2-TLE1
Hard Drive
HITACHI Travelstar 5K500.B 320GB 5400RPM 8MB (HTS545032B9A300)
Optical Drive
8x DVDRW (TSST Corp TS-L633B)
Battery
6-Cell 10.8V, 4400mAhr, 47.5Whr
Operating System
Windows Vista Home Premium 64-bit
Price
NV5814u available online starting at $580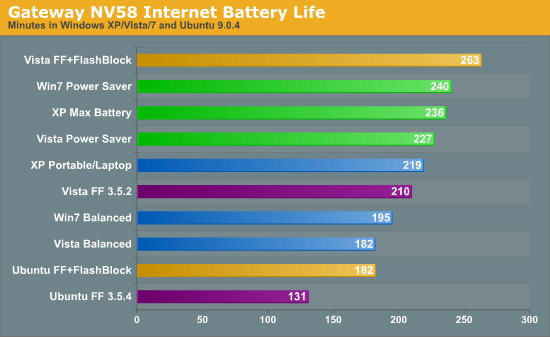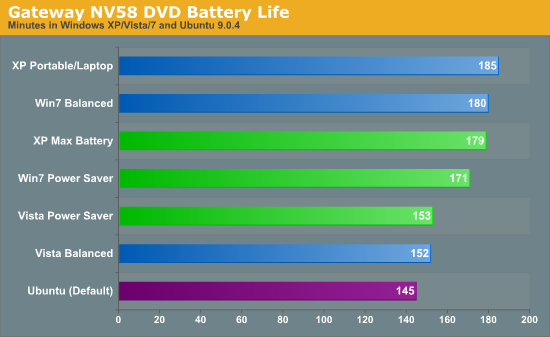 If you expected the standings to remain the same regardless of computer hardware, you might be in for a bit of a surprise by the above charts. This time, Windows XP wins in both DVD playback results, providing better battery life using the "Portable" profile than the "Max Battery" profile. Windows 7 also performs slightly better on DVD playback using the Balanced profile, whereas we saw virtually no difference between the power profiles using the NV52.
Why is Balanced beating Power Saver this time? Intel's SpeedStep technology appears to be better than AMD's PowerNow!, though minor differences in drivers may also contribute to the standings. The theory is that letting your CPU run at 100% for a short time and then returning to minimum power draw as fast as possible results in the best battery life, which is why setting the maximum CPU state to 50% isn't always the best idea. Intel CPUs are supposed to switch between C-states faster than AMD CPUs, or so we've heard, and these results seem to support that idea. However, the Internet battery tests again all favor the power saving profiles by a large margin, so power saving profiles can have a positive impact, just not in DVD playback. Ubuntu brings up the rear in both battery life tests once again.
Internet battery life shows different standings on the three Windows operating systems compared to the NV52. Windows 7 is just 2% ahead of XP and 6% ahead of Vista with the power saving profile; switch to the balanced profile and XP jumps into the lead offering 12% more battery life than Windows 7 and 20% more battery life than Vista. Looking at the profiles, Windows XP shows the smallest change by using a power saving profile, improving by 8% when using the Max Battery option. Windows 7 and Vista both improve by around 25% (23% for Windows 7). That means all three Windows OSes did better in Internet battery life with power saving profiles relative to the NV52.
Our testing with Ubuntu once again requires a bit of explanation. First, LCD brightness adjustment did not work properly under Ubuntu (with the drivers we used), with the final setting ending up at 150 nits instead of 100 nits. That means battery life is going to be slightly lower because the LCD is consuming an extra 1-2W. Second, unlike the NV52, we didn't experience any difficulties with DVD playback - hooray! Internet performance using Firefox still feels horribly slow in comparison to Firefox or Internet Explorer on Windows, and while blocking Flash content helps we still prefer Windows.
Enabling FlashBlock with Firefox again has a substantial impact on battery life; Vista improves by 25% - the same as on the NV52 - and Ubuntu improves by 39% - slightly less of an improvement compared to the NV52. The gap between Vista and Ubuntu is still huge, even bigger than on the NV52. Without FlashBlock, Firefox on Vista offers 60% more battery life than Firefox on Ubuntu. Even with FlashBlock, the gap remains at 45%, which is far more than the Power Saver profile offers.
Overall, Windows XP leads in best-case battery life for DVD playback on the Intel platform, providing 3% more battery life than Windows 7 - not a huge difference. The gap between Windows 7 and Vista is much larger, with the best-case Windows 7 result being 18% higher than the Windows Vista scores. Ubuntu almost matches Windows Vista, and it might even match Vista if we could modify the LCD brightness.