DivX 8.5.3 with Xmpeg 5.0.3
Our DivX test is the same DivX / XMpeg 5.03 test we've run for the past few years now, the 1080p source file is encoded using the unconstrained DivX profile, quality/performance is set balanced at 5 and enhanced multithreading is enabled: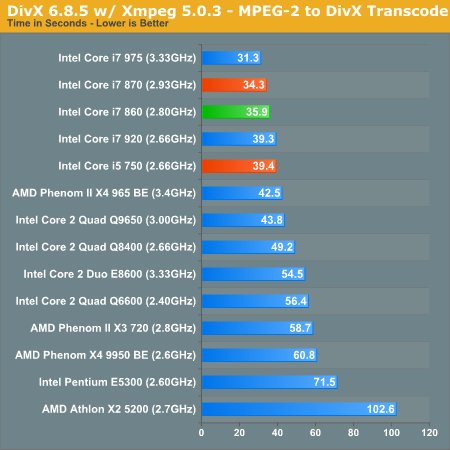 Lynnfield inches towards the crown with the 860; it's closer to the 870 than the Core i5 750, and that's to be expected. The biggest gains here are due to Hyper Threading, the clock speed is just icing on the cake.
x264 HD Video Encoding Performance
Graysky's x264 HD test uses the publicly available x264 codec (open source implementation of H.264) to encode a 4Mbps 720p MPEG-2 source. The focus here is on quality rather than speed, thus the benchmark uses a 2-pass encode and reports the average frame rate in each pass.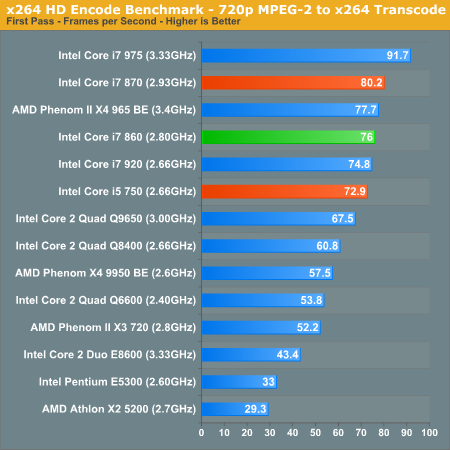 The Core i7 860 continues to do better than the i7 920, even if by only a small margin. As expected, it's closer to the 870 than it is to the i5 750 thanks to Hyper Threading.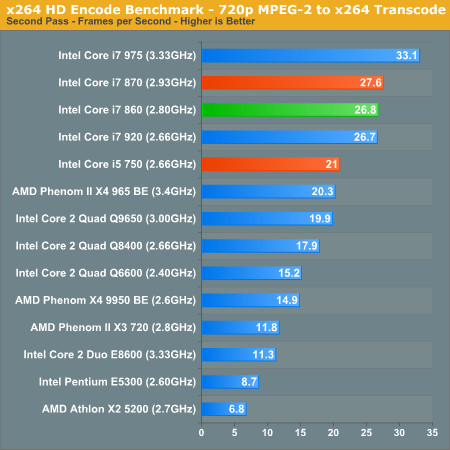 Windows Media Encoder 9 x64 Advanced Profile
In order to be codec agnostic we've got a Windows Media Encoder benchmark looking at the same sort of thing we've been doing in the DivX and x264 tests, but using WME instead.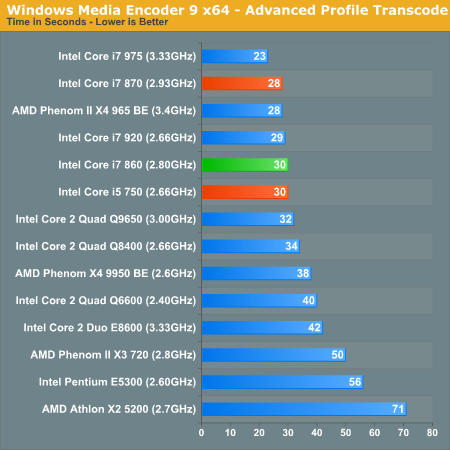 The race is close here, there's only a 2 second difference between the Core i7 870 and the Core i5 750. The 860 lands closer to the 750 this time.