Applications-
Cinema 4D R11 x64
Cinema 4D R11 is one of our favorite programs to create high-end 3D images and animations. This particular program is sensitive to memory bandwidth and is well threaded. We track the time it takes to render a swimming pool layout.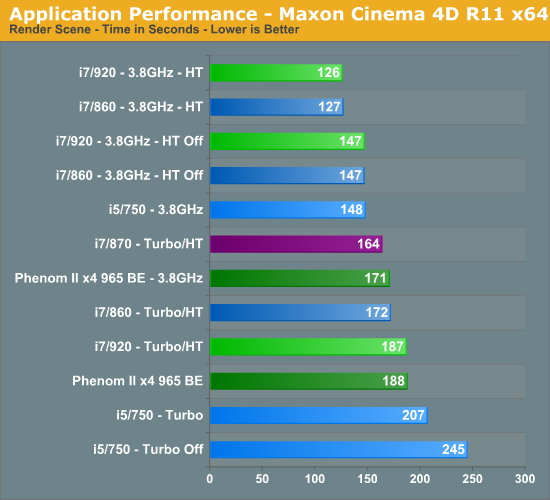 Our i7/920 finishes first with the i7/860 just a second behind at 3.8GHz and with HT enabled. Disabling HT decreases performance 15% when these two CPUs are overclocked. The 965 BE is 27% slower at 3.8GHz than the i7/920 with HT enabled and 14% with HT disabled.
Turbo mode benefits the i5/750 greatly in this benchmark as turning it off results in the 750 being 16% slower. However, pure CPU speed allows the 965 BE to finish the benchmark about 10% quicker than the 750 with Turbo enabled and 23% with Turbo disabled with a 28% higher base clock speed. Of course, the 965 BE is 17% more expensive based on CPU cost comparisons.
LightWave 3D 9.6 x64
Another popular 3D rendering program is Lightwave 3D 9.6. In this test we time the rendering of a single frame from an office building animation. The time to render the full scene is approximately four and a half hours. This title is also well threaded and sensitive to both memory bandwidth and latency.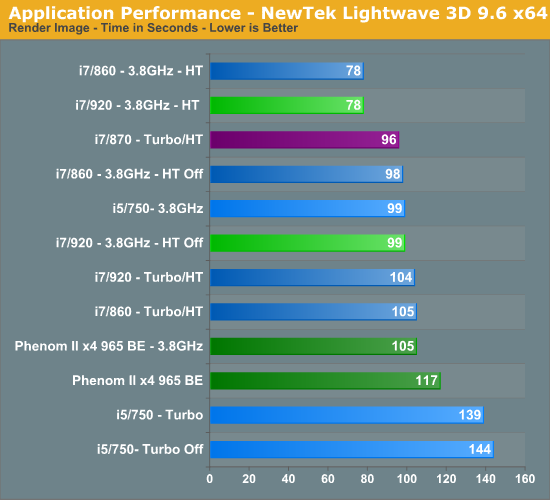 Lightwave also favors HT enabled processors with the 860/920 tying for first at 3.8GHz. Interestingly enough, Turbo mode on the i5/750 only offered a 3% improvement in this bench. The 965 BE scales very well as a 11% core speed increase nets a 10% improvement in the benchmark. However, the 965 BE still trails the 860/920 CPUs by 26% at 3.8GHz.
MainConcept Reference 1.61
One of our favorite video transcoding utilities is MainConcept Reference. We set our profile to iPOD HQ NTSC and then transcode a 651MB 1080P file to an iPOD HQ 34.7MB file.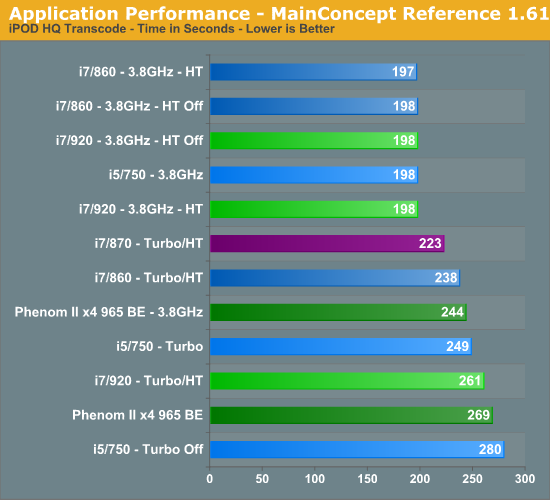 HyperThreading does not make a difference in this title with the 860/920 finishing in a dead heat again. Turbo mode for the i5/750 improves its scores by 11%. Once again, the 965 BE scales very well with an 11% increase in speed resulting in a 9% benchmark improvement. Otherwise, the 965 BE trails the 860/920/750 by 29% at 3.8GHz.
Sonar Producer 8 x64
We utilize Sonar Producer extensively at home when mixing various music tracks. This test performs a complex mix of five individual tracks into a single title. We covert these tracks into a WAV format utilizing a 192kHz sample rate along with all other options enabled. This title thrives on memory bandwidth.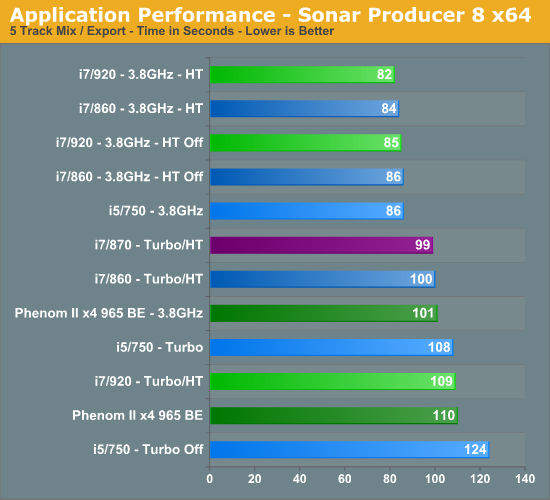 We finally see some separation between the 860 and 920 processors in this benchmark. Based on offline memory testing, we contribute this to the 920's slightly better throughput under load conditions. The i5/750 performs 13% better with turbo enabled. The 965 BE performs 15% worse than the 750 at 3.8GHz.
Adobe Lightroom 2.4 x64
Lightroom is a quick and easy to use program for batch conversions on digital photos. We perform a standard conversion of 50 RAW images into the JPEG format.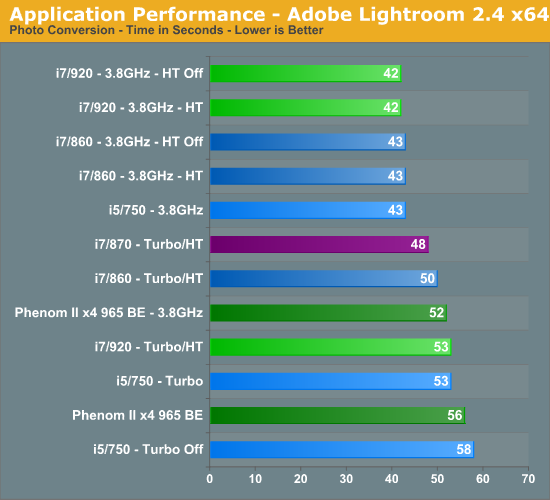 HyperThreading does not matter in this title. The 920 finishes just slightly ahead of the 860. Turbo mode makes 9% difference for the i5/750, just enough to place ahead of the 965 BE at stock speeds. Once overclocked, the 965 BE is 17% slower than the 750.
CyberLink MediaShow Espresso
We transcode a 370MB 1080AVCHD file into a HD friendly file suitable for publishing on YouTube. This program features GPU hardware accelerated decoding via ATI Stream or NVIDIA CUDA but is disabled in our test routines.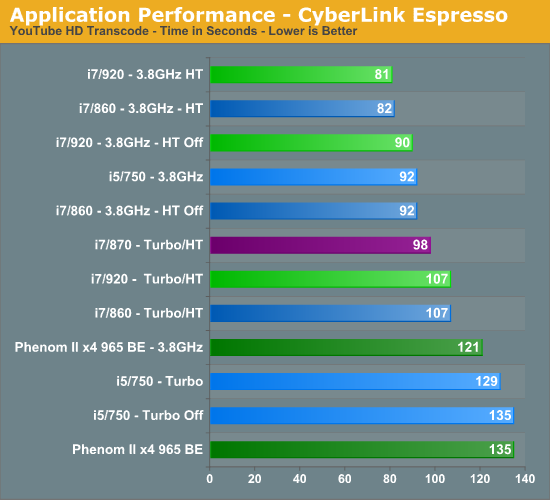 Even with a 740MHz advantage in clock speed, the 965 BE is just equal to the i5/750 with Turbo disabled in this application. Obviously, it appears this particular program behaves differently on Intel processors. Even at a 3.8GHz clock speed, the 965 BE trails the i5/750 by 24%. The 920/860 processors continue to be close, even though in this application the 920 has a slight advantage.